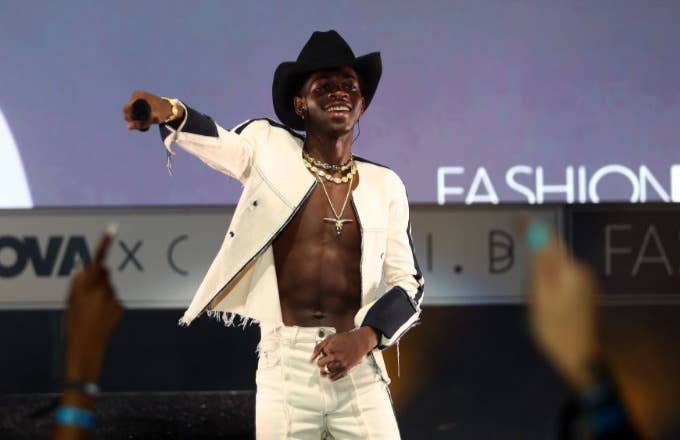 Certain artists simply carry the exact improvisational skills necessary to pull off instaclassic Nardwuar conversing. Lil Nas X is one such artist.
In just under eight minutes, the "Old Town Road" genre-smasher covered everything from the Man in Black to when, exactly, it might make sense to utilize poop emoji bubble bath.
"Billy [Ray Cyrus] told me I reminded him of him," Lil Nas X said when presented with a 1959 issue of Country Song Roundup magazine featuring Johnny Cash. Later, Nardwuar asked X for his thoughts on the ominpresence of "Old Town Road" reworks, specifically highlighting CupcakKe's excellent "Old Town Hoe."
"Amazing, I love her," he said of her take on his breakthrough country trap hit. "It's amazing having her be a part of that."
X and Nardwuar also talked his father's gospel music, cow-milking ("I can't wait to milk the cows"), the days of low Wells Fargo balances, and that aforementioned poop emoji-themed bubble bath mix.
"Maybe if they've been bad, let's put them in the poop, ya know," X explained when asked about putting the cherry popsicle-scented poop emoji bubble bath to use.
See the full Nardwuar vs. Lil Nas X interview by clicking through the YouTube video below.
This Friday, the "Old Town Road" video will be unleashed on the world.