6ix9ine's Slovakian Collaborator Details Plan Used to Make Rapper Famous
Slovakian label head explains the intensive plan use to make 6ix9ine one of music's biggest stars.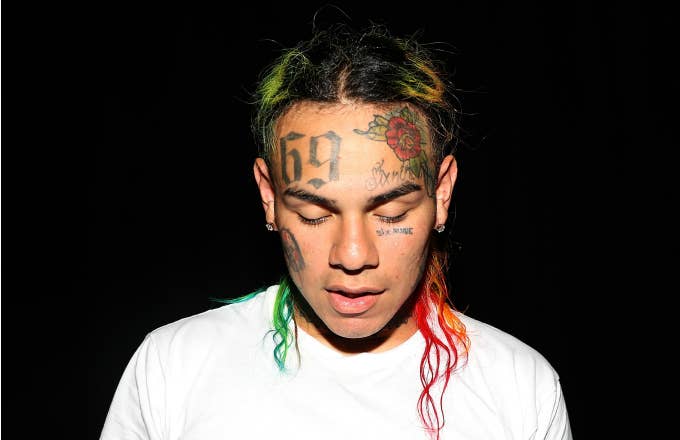 Getty
Image via Getty/Shareif Ziyadat/WireImage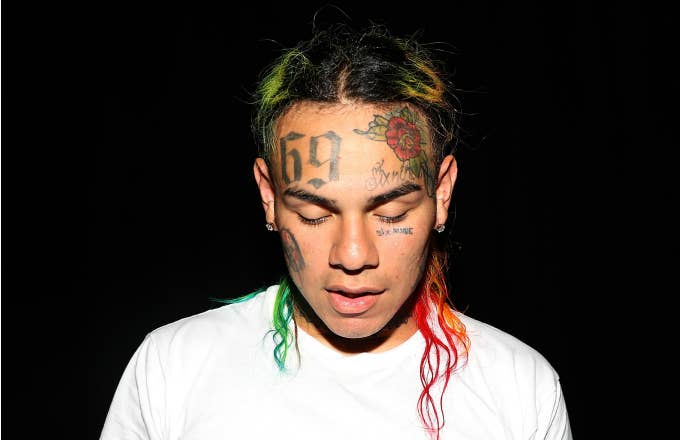 Like a Fourth of July bottle rocket, 6ix9ine's career was a quick and entertaining burst to the top of the music industry that ended with a loud explosion and anti-climatic optics. Still, the rise and fall of the 22-year-old's tenure is a story that will be documented for years to come. Now, ahead of his upcoming federal trial, the Eastern European rap label behind 6ix9ine is opening up about how it all came to be. 
In a piece published on Monday, Vulture's Amos Barshad sat down with Slovakian businessman Yaksha to draw the connection between his FCK THEM indie rap label and 6ix9ine. Prior to crowning himself the King of New York, 6ix9ine took his talents overseas where Yaksha and FCK THEM established him as a credible artist. They also helped break him in America by guiding and promoting his first hit singles "Poles1469" and "Gummo.
This was done by creating what is described as an "off-kilter marketing plan," which they called "From Europe Back to America." This plan revolved around 6ix9ine using eccentric imagery that's acceptable in the United States to shock audiences in Eastern Europe. This generated publicity and money that they used to strike it big in the States. Yaksha also talked to Complex about this strategy in a recent interview.
"His first fan base was from Europe. It was from Slovakia and Czech Republic, very small countries in Europe. And yes, it was his first fan base. And our plan was take his music to Europe, here he will grow up and after it, he will come back to US and he will continue in his career."
In addition to financial support, Yaksha was instrumental in helping 6ix9ine pursue his international stardom. He wrote a letter to the rapper's parole officer asking permission for 6ix9ine to leave the country while also tailoring 6ix9ine's image. However, Yaksha explains that the attention he created for 6ix9ine eventually became the rapper's fatal flaw. At several points in the interview, Yaksha described how he had to curb 6ix9ine's boisterous behavior in hopes to secure the rapper's longevity. 6ix9ine's desire to "break the internet" is best exemplified in the story Yaksha told where he had to convince 6ix9ine not to get a tattoo of himself on his face solely to generate reactions.
Yet, despite being vital in orchestrating the rapper's celebrity, Yaksha insists that he tried to push 6ix9ine away from the antics that landed him behind bars. He explains that he had been leery of 6ix9ine's former-manager Shotti and other Tr3yWay associates since meeting them, but that there was nothing he could do quench 6ix9ine's thirst for attention.
"A lot of people were writing me [on Instagram] saying I should have taken more care of him, I should have taken him back to Europe," Yaksha said. "His big mistake — he liked the attention of the gang. He liked the attention of the people selling heroin, shooting people. He trolled his way into the jail." 
Although the two did not see eye-to-eye about the rapper's decision making, Yaksha says that the two have been in contact since 6ix9ine's incarceration. Yaksha also disclosed that his FCK THEM label is working on a documentary centered around 6ix9ine's rise to stardom in an effort to display the side of 6ix9ine that fans did not get to experience. 
"I want to show people 6ix9ine like artist," Yaksha explained. "The humble guy. And we want to show the genius part about him. But it should not be romantic, like, he's the good hero. We don't want to make a story that nobody believes. Everything should be true, in the good way we experienced it."