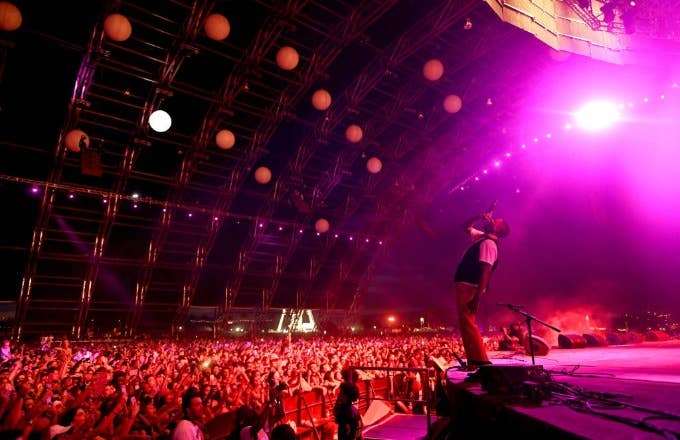 The new album YG had originally planned to release as a surprise this month has now been confirmed for a May drop date. He's also teased a new song that seemingly references 6ix9ine, his issues with whom are well-known.
YG made the announcement during his weekend 1 set at the Coachella Valley Music and Arts Festival in Indio Sunday, looking back on how the tragic death of his friend and "FDT" collaborator Nipsey Hussle inspired his decision to delay new music.
"So, I had an album coming out April 12th, it was supposed to come out on Friday but I got some fucked up news that my n***a had passed on me and shit," YG told the crowd before performing a new song titled "Stop Snitching," which utilized some 6ix9ine imagery (namely a mugshot) in its stage presentation.
"So it's like, I ain't even know how to motherfuckin' walk and talk. I couldn't get out the bed. I was in the bed every day until 4 p.m. My life was fucked up, my shit's still fucked up. The only reason I'm up here is because I've been drinking a whole lot of motherfuckin' tequila. But my n***a gone, I gotta deal with this shit, so I decided to push my album back to May 3, goddamnit."
Below, see a clip of the Coachella performance. A photo of Skinnyfromthe9 also makes an appearance.
And here's some footage of a moment of silence for Nipsey and launching into "Fuck Donald Trump."
Per TMZ, local law enforcement reportedly received a call early Monday morning about shots having been fired at YG's Coachella after-party. However, once authorities responded to the call, no victims or other evidence of a shooting was discovered.
YG's last studio album, 2018's Stay Dangerous boasted the highlights "Big Bank" and "666," the latter of which stands as one of the few album cuts to not feature production by Mustard. My Krazy Life, his 2014 studio debut, marked its fifth anniversary in March.