The year is winding down, but Pusha-T still has a ways to go in 2018 before he puts his feet up—which were adorned with a slick pair of Salomon S/Lab sneakers (because King Push is never not draped in next-level luxury). The occasion was the second event in the Samsung x AKG present Live at 837 fall concert series, where Pusha performed DAYTONA in its entirety, as a well as a few staples like "Nosetalgia" plus prolific guest features he'd be remiss to leave out.
It was a precursor to the return to road life he's embarking on next week. "I'm actually on the road until December 16, starting October 29th," he tells Complex, wide-eyed. "Then my year will be over." Pusha is quick to admit he's "dead tired," but it doesn't show in the ensuing performance, nor in the enthusiasm he has when talking about his fan base. "I stay in a 2,000 [capacity] venue other than when I do festivals, but I love that because I get to really see my fans—the energy is really tight in those places and I feel like I get my message across. I feel like I definitely can convey what I'm trying to get across from each album."
Pusha ostensibly kicked off his busy autumn last week, when he delivered yet another peak M. Night Shyamalan level-twist in his ever-mutating beef with Drake—refuting the grand story of betrayal The Boy spun on Home Box Office with the revelation that his trusted right-hand-man 40 was the leak from which he sourced "Story of Adidon's" savage details. So far, it appears Drizzy has finally realized that Push is a supervillain he can't beat, at least not at his own game. He's been sticking to the script on his own tour and posting IG pics as if nothing happened. That seems to sit fine with King Push, who's already looking ahead to his next album (he didn't shy away from performing "Infrared" with a twinkle in his eye, though) while he and his label begin an aggressive campaign to get DAYTONA heralded as the Rap Album of the Year.
"I feel damn good," he says when asked about Grammy prospects. "DAYTONA is the rap album of the year. Best produced album and best lyrically rapped album. I don't think it's even a contest in those two areas, so I don't see why I shouldn't win it." (Some 2018 albums he's feeling besides his own, though: Victory Lap, Redemption, and Drip Harder). Six months removed from its official release, he's even ready to place it number one in his discography. "Yeah, I like it better than My Name. Of [my] three albums, I would say DAYTONA is the best."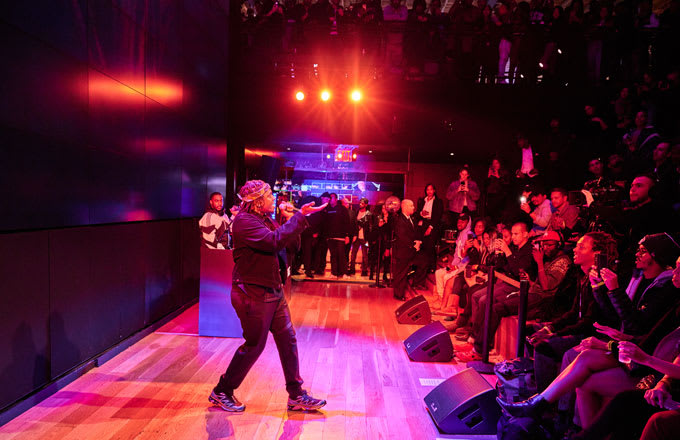 Times Square billboards aside, though, Pusha is already more focused on his next project than one might assume. Last week on The Joe Budden Podcast, he intimated that even though DAYTONA's title is a tribute to having the luxury to not rush projects, the new music climate dictates that he can't keep us waiting as long as he's been known to. With that said, 2018 onward may see him making the "Album of the Year Contender, every year" boast in "H.G.T.V. Freestyle" a reality. "That's definitely a goal, but I'm actually trying to make this year." Don't call it DAYTONA 2, though. While Push has been vocal about originally envisioning his album being closer to 10 tracks than seven, his next release won't be comprised of leftovers. "It's its own thing, a brand new cook-up."
"Everything is always based off unorthodox hip-hop with a bit of a groove," Pusha says when previewing where he plans to go sonically. "Something that gives me enough space and enough openness to black out as a lyricist. That's one thing I'm never trying to compromise in production: I don't want it dictating what it is that I do so much and I feel like I need that space. I feel like in rap, that is my space. I don't think anyone necessarily does it or even picks those type of beats."
When it comes to who is providing the beats on the next go-round, as of now at least, it's once again all Kanye-produced. "I'm going to see how he wants to finish this up. If not, I always got a heavy hitter list in my back pocket." As for the songs he made with heavy-hitters like The Neptunes and The-Dream before Kanye re-made DAYTONA (plus DAYTONA tracks that didn't make the cut last-minute like "Sociopath"), Push says he's not one to shoehorn a fire straggler into an album if it doesn't fit—he's open to letting a few loosies go for the fans. 
Outside of his own endeavors as GOOD Music's president, Pusha's hoping 2019 yields even more output from his label. "I don't want anything besides music, from GOOD Music. I feel like a lot of times, everyone's personality over there is so strong from 'Ye to Teyana to myself. We always have things going on outside of just music and I'd like to see the focus from the people on just the music. I'd like more musical albums." Don't expect that desire to manifest as simply another five-album five-week run, though. "I feel like the five album run was our best upgrade of GOOD Fridays, so now we have to find another way to upgrade the five albums. And that took a long time to figure out, from when GOOD Fridays was going on, we were always thinking of ways of how to outdo it. [Everyone ran with that model after] and it sort of cheapened it. And for us, we're off it once you wear it. We're going to have to figure out what's another way to galvanize everyone all together at once, to get them to hone in."