Where Did Tinashe Go Wrong?
An exploration into the singer's seemingly endless journey toward stardom.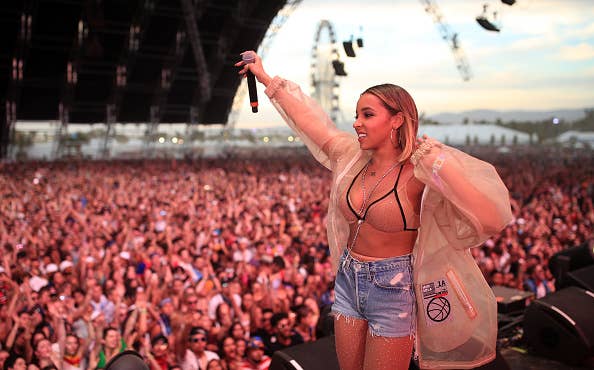 Getty
Image via Getty/Christopher Polk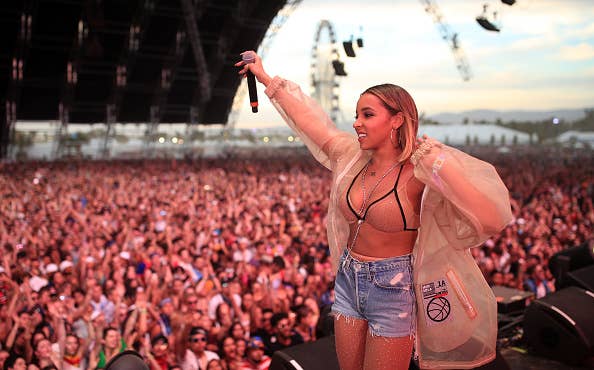 Tinashe fans like to argue that the singer is "slept on" (there's even a meme about it). Since the release of her long-awaited sophomore studio album, Joyride, there have been a number of tweets claiming that people are snoozing on everything from her fashion to her vocals to her dancing. But just a few years ago, the music world was wide awake and ready for Tinashe—unfortunately, she has yet to keep us up at night.
In 2014, Tinashe released her debut single, "2 On," featuring ScHoolBoy Q. The song peaked at No. 24 on the Billboard charts. However, that number does little to reflect the impact of "2 On." A more accurate representation can be seen in its sustained sales—the single is certified platinum by the RIAA.
The song successfully capitalized on a near-perfect formula: DJ Mustard's signature electronic trap production, arousing vocals from Tinashe, and a new way to describe how lit you are, well before "lit" took the country by storm. The song continues to bang today, and not in a nostalgic, "remember-when-things-sounded-like-this" way; the shit is hard, and, if released today, could easily still hit the Billboard Hot 100.
"2 On" should have skyrocketed Tinashe to pop/R&B dominance. Critics called it a "club thumper" and "all sorts of perfect." The accompanying video, which currently has 148,538,302 views on YouTube, features high-energy choreography that was compared to that of Britney Spears, Janet Jackson, and Aaliyah.
Instead, over four years later, "2 On" remains Tinashe's only shining moment, which left us wondering where the singer went wrong.
Joyride, released by RCA Records on April 13, 2018, gives us more of the same from Tinashe—as in, more of the same type of music that has failed to bring her success in the past. The album is thirteen tracks long; however, two of the tracks are "interludes" and one is an intro that attempts to gear us up for a quickly-abandoned car/ride/driving theme, so let's call it ten tracks. Of these ten, four include features, from Offset,Ty Dolla $ign, French Montana, Little Dragon, and Future.
The album sees Tinashe doing what she always does: breathily whining lyrics that don't say much of anything, over a watered-down version of an already-popularized sound. Take the track "Me So Bad," for example, which features Ty Dolla $ign and French Montana. The first verse and chorus are as follows:
"Don't be faking, faking, no, yeah
Say you looking for someone that'll last
I know you looking for someone that'll last
You want some me so bad
You want some me so bad
Come get this body
You want some me so bad
You want some me so bad
Come get this body now"
The song is—maybe?—about either Tinashe or the "you" not being into "something that'll last," which is apparently the opposite of wanting "some me so bad." The message is unclear—but more than that, it doesn't tell us anything about Tinashe. Any other pop singer could perform these lyrics, and we'd get the exact same amount of depth, or lack thereof. Though a few of her other songs aim for something deeper, they fail to match up to someone like SZA when it comes to letting her personality shine through. With SZA, we feel like we're reading a diary or a journal. Tinashe's music feels closer to a Tumblr page—we know what she's trying to emulate, but we can't quite see the full picture, and maybe that's because there (still) isn't one.
What Tinashe is trying to give us is unclear, which in turn makes it difficult for us to figure out what exactly we want from her. Occasionally, she does try to give us a clear message, like on "Salt," where she sings about wanting a lover to go easy on her during a breakup ("We were never meant to make it last/Take my heart and rip it out my chest/No matter what you think you got to do/Don't throw salt on the wound"). But being straightforward is only valuable if you're saying something that needs to be said, that no one else is saying; otherwise, it's boring and redundant. Of course no one wants an ex to "make [their] life miserable." Is that the entire message here? Is that really as deep as we're gonna get? 
Her most interesting work has been in collaboration with well-established artists who have already more than come into their own; in 2015, we got "All My Friends," which was well-supported by Snakehips and Chance the Rapper, and the remix to Nick Jonas' "Jealous" (though Jonas is certainly not on par with Chance, he had a very clear moment with the release of that song).
That year, we also got her cover of Bleachers' "I Wanna Get Better" on Terrible Thrills, Vol. 2, which gave us a peek into what Tinashe could be. It's a song that's both heartbreaking and uplifting, that tackles concepts like loss, mental illness, and suicidal thoughts gracefully, yet without abandon. Tinashe sounds good singing it; her soft coo of "I didn't know I was lonely 'til I saw your face," juxtaposed with the jerkiness of "I'm screaming from my bedroom window/Even if it's gonna kill me" feels authentic and reminiscent of the emotional rollercoasters that so many of us face in our everyday lives. But of course, these aren't her words—they're Jack Antonoff's. We have yet to receive anything that even comes close to that from Tinashe herself. No one is saying that every artist needs to touch on serious issues, but a sure sign of emotional investment into an artist is fans' desire to get to know them on that kind of level, and Tinashe has yet to foster that level of care among listeners.
Her inability to fulfill the promise of "2 On" has less to do with Tinashe herself and more to do with the people behind her. Her label, RCA Records, doesn't seem particularly interested in developing her talent or deepening her image. They've apparently decided on a formula for her, and it's good enough for them, even as the rest of us (and Tinashe herself) have effectively been left hanging since her breakout hit. This isn't just a hypothesis; Tinashe has spoken openly about her strained relationship with RCA, one that includes being pressured into creating music that she "wasn't cool with." She even alludes to the tension in "No Drama," singing, "Tried to be myself, but they won't AKA me."
The process appears to be cyclical; RCA feeds us surface-level Tinashe, and we ultimately fail to want anything deeper from her, which then allows them to continue to market her to us superficially.
At her album release party in New York City, Tinashe performed four songs—all of which had already been released, including "2 On" and "All Hands On Deck," another single from 2014's Aquarius. There was little pause between songs; at the end, she said into the microphone, "My album drops at midnight, so go buy that shit." No further commentary or deeper insight into the album's creation, despite the fact that the first teaser for the album was released in September of 2015, and those who have stuck by her side have anxiously awaited it.
She recently promoted the album with a performance of "No Drama" on The Tonight Show With Jimmy Fallon, where she received a standing ovation. Still, first week sales projections for Joyride are hovering around 20,000 units. Unfortunately for everyone who is still rooting for Tinashe, it appears her time has passed—we can't wait around forever.