Jay Z Reveals How Beyoncé Inspired Him to End His 6-Year Grammys Boycott
Jay Z boycotted the Grammys for six years after they snubbed DMX, but came back for Beyoncé.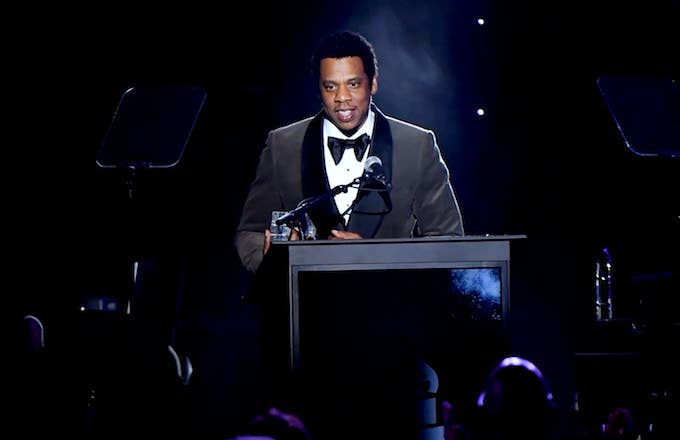 Getty
Image via Jeff Kravitz/FilmMagic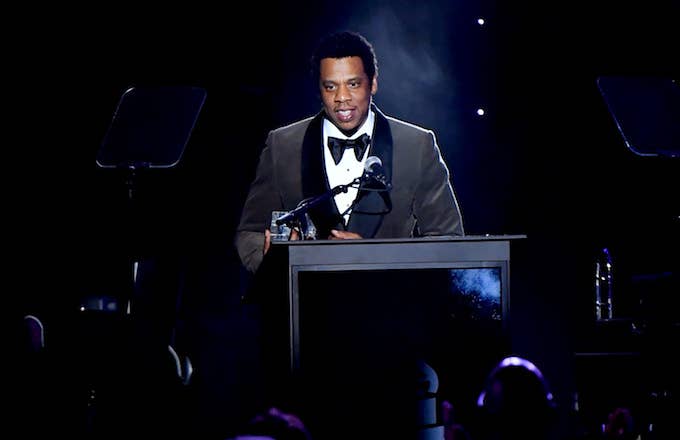 Jay Z's complicated history with the Grammy Awards is well documented. The 21-time Grammy winner skipped the ceremony for six consecutive years despite racking up several nominations and wins throughout that time.
Jay Z was honored with the Grammy Salute to Industry Icons Award at Clive Davis' Pre-Grammy Gala Saturday night. During his acceptance speech, the 4:44 rapper spoke in detail about his longtime boycott of the Grammys and how his wife Beyoncé inspired him to come back into the fold.
"I had an album called Vol. II. You like that album? And I was nominated for some awards," he said, according to People. "There was another guy. His name was DMX, and he had released two albums the same year, they did like 900,000…The same year, he had released two albums, and he wasn't nominated for any Grammys."
Jay goes on to describe how DMX's exclusion from the Grammys left a sour taste and turned him off from the music's biggest night. "I actually boycotted the Grammys that year," Jay Z continued. "My first time coming back, six years later, [was] for the 'Crazy in Love' album [Dangerously in Love] with the beautiful Miss Beyoncé."
Beyoncé herself experienced a huge Grammys upset last year when her universally beloved album Lemonadelost Album of the Year to Adele's 25. Her fan base was furious over the snub, which many attributed to racial bias.
Over time, Jay Z says he's taken a less emotional approach to the awards. "I realized, man, all this is super subjective, and everyone's doing their best, and the Academy—they're human, like we are, and they're voting on things that they like; it's subjective. And we believe in it because we do."
Ultimately, he says having a golden gramophone doesn't make or break real legends. "No matter what happens at the Grammys, it's going to be what it is: Bob Marley's gonna be Bob Marley whether he's nominated for a Grammy or not. Tupac is gonna be Tupac. Biggie is gonna be Biggie. That's true. But in this industry, we have to…the things that we hold and we love and we treasure, that we respect, we have to get involved. I stand here on the shoulders of all the beautiful people."
Hov's tribute at the A-list party was closed out by Alicia Keys, who performed a medley of his most cherished hits on piano, including their collaboration, "Empire State of Mind."
Jay is up for eight Grammys tonight, including Album of the Year and Record of the Year.