Cardi B Promises to Be More 'PG-13' for Younger Fans: 'I Really Need to Be a Better Example'
Cardi B is trying to figure out how she should act in the public eye.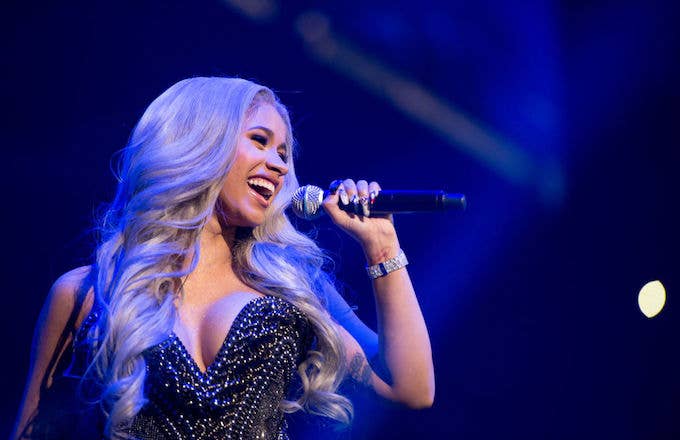 Getty
Image via Getty/Roy Rochlin
Cardi B is starting to feel the effects of her newfound fame. The rapper has really skyrocketed this year, with the breakout success of her hit single "Bodak Yellow"—which became the first solo woman-fronted rap single to hit No. 1 since Lauryn Hill's "Doo Wop (That Thing)" back in 1998—and fire guest verses like the one on "Motor Sport" alongside Migos and Nicki Minaj. She also just recently got engaged to her boyfriend Offset, and is working on her first studio album, so the Bronx former stripper and reality TV show star is really on the up and up.
But she recently uploaded a video to her Instagram in which she addresses some recent concerns to her 12 million followers. She's beginning to notice that young girls are starting to look up to her, and she feels she should start to censor her already very outspoken personality a little bit in order to cater to her younger fans.
"I realized, after Halloween, a lot of little girls, they be looking up to me," Cardi said in the video. "They love me, and I'm thinking to myself, like, 'yo, I really need to be a better example.'"
"But I be trying to be a better example, though, you know what I'm saying? I've been trying to be more PG-13, less rated R," the "Bodak Yellow" rapper admitted. "But I be hanging out with my hood rat friends and then they fuck me up all over again."
"But I'm gonna change for you, little girls, because I deadass love ya," she said at the end of the video.
Although these recent comments are pretty commendable, they run counter to what the Bronx native recently told Rolling Stone in an interview. Cardi voiced some concerns over having to change her outrageous, outspoken, and often R-rated ways. "I used to tell myself that I will always be myself," she said. "Little by little, I'm feeling like I'm getting trapped and muted."
It sounds like Cardi is just coming to terms with her success and trying to figure out her place in the spotlight, and no one ever said that doing that would be easy.