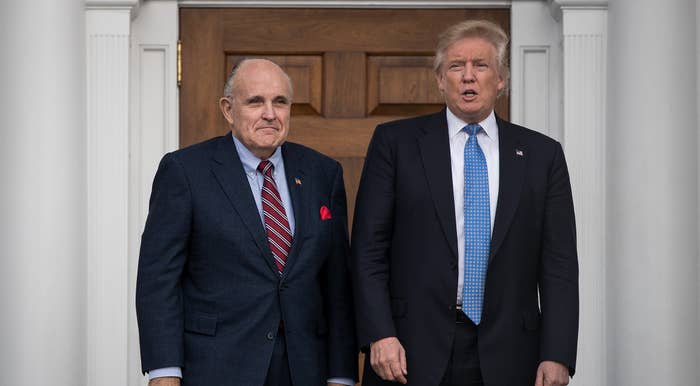 Rudy Giuliani, whose 2020 onslaught of f*ckery included a particularly disgusting appearance in the Borat sequel, has reportedly had discussions with outgoing POTUS Donald J. Trump about the possibility of securing a preemptive pardon for himself.
Per the New York Times, Giuliani—Trump's lawyer—has discussed this with Trump "as recently as last week." According to their sources, it wasn't made clear whether Giuliani or Trump initially raised the pardon topic, though the more recent reported instance of pardon chatter is said to have not been the first.
Also unclear is the exact nature of any potential federal crime a pardon for Giuliani would be aimed at squashing, though it's worth noting that he was under investigation last summer in connection with Ukraine dealings.
Peep Maggie Haberman and Michael S. Schmidt's full report, filed Tuesday, right here.
If your tolerance for matters of Ghouliani was understandably tapped out early into the year, here's a quick primer on a selection of ridiculousness from recent months:
Giuliani and Trump have continued to publicly make baseless claims about voter fraud despite clearly losing the election.
A clip from a (really awful) 2003 Giuliani biopic resurfaced and everyone had some fun trashing it.
Giuliani appeared to enter a state of full-on melting during a desperate press conference.
Giuliani allegedly requested $20,000 a day to lead Trump's post-election legal team.
Giuliani's widely mocked Four Seasons Total Landscaping presser featured a convicted sex offender.
And just for the hell of it, I'd like to remind everyone reading this about that time Giuliani married his cousin.