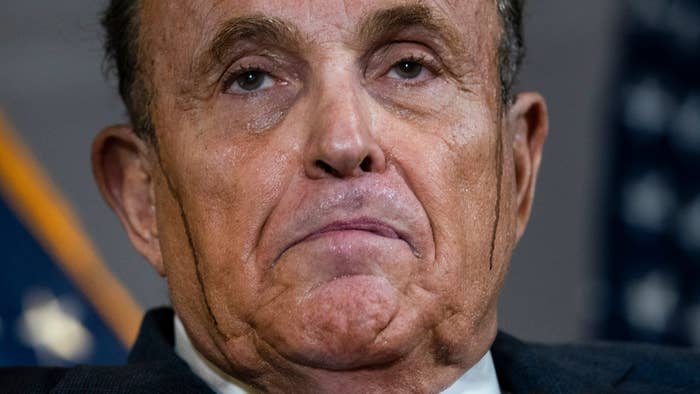 Rudy Giuliani, a former NYC mayor and present-day sweaty Trump lackey, is alleged to have forced a woman he hired as his Director of Business Development to perform oral sex on him while he took calls.
Per Reuters, Giuliani has denied the allegations in the $10 million lawsuit filed by Noelle Dunphy, plans for which were first reported on back in January. Dunphy says she was hired by Giuliani in early 2019, at which point Giuliani was serving as Donald Trump's personal lawyer. At the time, the former Apprentice host and failed steak salesman was serving as president.
The full complaint, available here via the New York Daily News, further outlines the extent of the allegations against Giuliani. As for the alleged forced oral sex, Dunphy says Giuliani "enjoyed engaging in this conduct" while taking calls, including from Trump, because it made him "feel like Bill Clinton."
For the Director of Business Development position, Dunphy says she was offered a million-dollar salary. Giuliani is also alleged to have offered her pro bono legal representation. At the time of her employment, Dunphy explains in the complaint, Giuliani was in the middle of contentious divorce proceedings. Due to this, Giuliani is said to have argued, Dunphy's promised pay was deferred.
In a recorded statement cited in the complaint, Giuliani is alleged to have admitted that he "wanted [Dunphy]" from the day he interviewed her for the position. Furthermore, his hiring of her was allegedly "a sham" designed to fulfill what's described as a "secret desire to pursue a sexual relationship."
Despite the promised million-dollar salary, Dunphy says she was only paid "$12,000 in cash" for approximately two years of employment. All told, the suit is seeking $10 million from Giuliani and his business enterprises, including—as directly named in the suit—Giuliani Partners LLC, Giuliani Group LLC, and Giuliani Security and Safety LLC.
Of course, this isn't the first legal controversy Giuliani has faced. It's also far from the first controversy he's allegedly brought on himself by attaching his long-past-its-expiration-date brand to that of Trump's.
At any rate, do enjoy the supremely unflattering image of Giuliani at the top of this article, preferably while asking yourself "What the hell is that streaming down his face?"