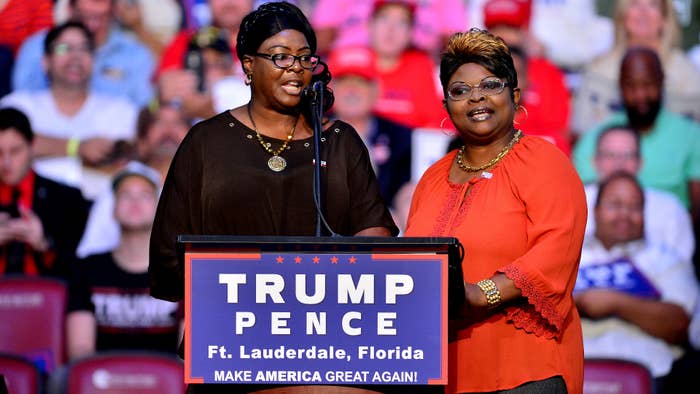 Lynette Hardaway, a.k.a. Diamond of Diamond and Silk, has died.
In a public statement shared to social media on Monday, official Diamond and Silk accounts said the death marked the loss of "a true angel and warrior patriot" when directing followers to a memorial fundraising effort.
"The World just lost a True Angel and Warrior Patriot for Freedom, Love, and Humanity!" the statement reads. "Please respect the privacy of Diamond's family! Memorial Ceremony TBA."
The duo, comprised of sisters Lynette Hardaway (Diamond) and Rochelle Hardaway (Silk), was most known for consistently speaking out in support of former president Donald Trump, who was this month sued in connection with the death of a Capitol cop. The two also made headlines for sharing false information and conspiracy theories about the COVID-19 pandemic, which appears to have spurred a split from Fox News in 2020.
Prior to the official statement from the Diamond and Silk Twitter and Instagram accounts, Trump himself announced the death on his Truth Social platform. In the post, Trump said Diamond "has just passed away at her home in the State she loved so much, North Carolina." Elsewhere in the same post, Trump called her death "totally unexpected."
Lynette Hardaway was 51 at the time of her death. At the time of this writing, a cause of death had not been formally announced. Per a report from NBC News, however, the duo—self-billed as "President Donald J Trump's Most Loyal Supporters"—asked fans to "please pray for Diamond" back in November.