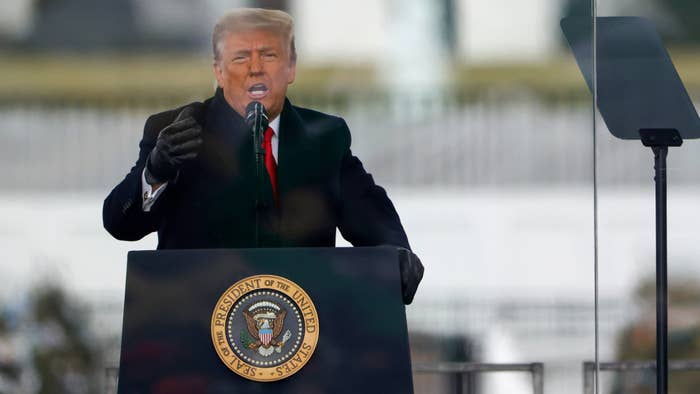 Donald Trump, who lost the 2020 presidential election, is being sued for millions in connection with the death of U.S. Capitol Police officer Brian Sicknick.
As previously reported, Sicknick died in January 2021 after suffering two strokes following the Capitol riot, which itself was preceded by Trump's aforementioned loss. In a statement in April of that year, U.S. Capitol Police (USCP) said it accepted the findings from D.C.'s Office of the Chief Medical Examiner, notably the determination that he had died from natural causes.
"This does not change the fact Officer Sicknick died in the line of duty, courageously defending Congress and the Capitol," the USCP said in a statement dated April 19.  "The Department continues to mourn the loss of our beloved colleague. The attack on our officers, including Brian, was an attack on our democracy."
This week, per NPR, Sicknick's longtime partner Sandra Garza argued in a lawsuit against Trump and two Capitol rioters that his death was "a direct and foreseeable consequence" of the former POTUS' own words. The two rioters, Julian Elie Khater and George Pierre Tanios, have appeared in past riot-focused reports for allegedly assaulting Sicknick with spray during the events of Jan. 6, 2021.
"As a direct and foreseeable consequence of Defendant Trump's false and incendiary allegations of fraud and theft, and in direct response to Defendant Trump's express calls for violence at the rally, a violent mob attacked the U.S. Capitol," the complaint, available in full here via Axios, states. "Many participants in the attack have since revealed that they were acting on what they believed to be Defendant Trump's direct orders in service of their country."
The suit asks that a court grants relief against Trump and the other defendants, stipulated in court documents as amounting to each having to "individually pay actual money damages of not less than $10,000,000 to the Plaintiff." A specific amount, however, would be determined in connection with a trial, which the suit is seeking.