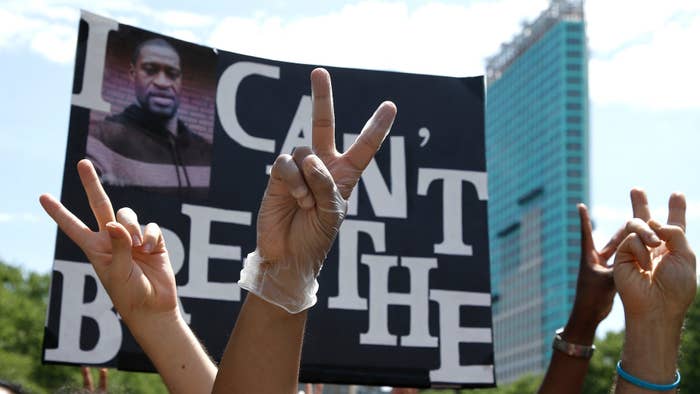 As protests continue nationwide worldwide in support of social justice, particularly in the wake of the murder of George Floyd and amid ongoing acts of aggression from police, companies small and large have been entering the mainstream discussion with messages of support for various organizations including Black Lives Matter and others pushing for societal reform.
And while many of those messages have received criticism for feeling more performative than genuine, a number of companies have also backed up their statements with announcements of financial assistance ranging from hundreds of thousands of dollars to—in some cases—millions.
Of course, given the massive wealth accumulated by a number of these companies, criticism is still circulating regarding how much more could be given in an effort for a sustained and united push for reform.
At any rate, we've compiled a list below of noteworthy companies and brands—including those in the film, tech, and music spaces—that have publicly announced donations to social justice groups. If you're looking for info on how you can help and/or donate to these causes and others, click here.
Disney
As announced earlier this week, the Walt Disney Company is pledging $5 million toward nonprofit organizations advancing social justice. This includes $2 million to the NAACP, as well as the matching of employees' donations to eligible organizations.
A24
The independent entertainment company behind Uncut Gems will be giving $500,000 to organizations including Black Emotional and Mental Health Collective, Black Lives Matter, Communities United for Police Reform, Equality for Flatbush, IntegrateNYC, Movement for Black Lives, National Bail Out, Releasing Aging People in Prison, Southerners on New Ground, and Voices of Community Activists and Leaders.
Bad Robot
Bad Robot, in conjunction with the Katie McGrath and J.J. Abrams Family Foundation, will disperse $10 million across five years to multiple organizations. An initial wave of individual $200,000 donations will go to Black Futures Lab, Black Lives Matter, Community Coalition, Equal Justice Initiative, and Know Your Rights Camp. 
TikTok
As revealed in an extended statement to creators this week, the popular social media platform is donating $3 million from its Community Relief Fund to non-profits that help the black community, noting in the statement that the disproportionate effects of COVID-19. TikTok is also committing another $1 million toward "fighting the racial injustice and inequality that we are witnessing in this country."
Twitter
Twitter boss Jack Dorsey is stepping up with $3 million for Colin Kaepernick's Know Your Rights Camp. The donation is part of Dorsey's Small Grants fund, which was established as part of his effort to donate nearly one-third of his total wealth to various organizations.
Apple
Though a dollar amount has not been announced, Apple boss Tim Cook said in a recent open letter that the company would be providing financial assistance to organizations including the Equal Justice Initiative, which challenges racial injustice and mass incarceration.
Facebook
Mark Zuckerberg, despite still allowing Facebook to remain recklessly Facebook-y, said in a recent post that the company would be putting $10 million toward organizations "working on racial justice" in the U.S. 
Amazon
Amazon's pledge of $10 million will be distributed among multiple social justice organizations including Black Lives Matter, Equal Justice Initiative, and more.
YouTube
Stating the company stands "in solidarity against racism and violence," a tweeted statement late last month revealed the company was pledging $1 million in support of efforts addressing social injustice. It was later announced that funds would go toward the Center for Policing Equity.
Following its initial donation, Youtube announced that it's committing $100 million to "amplify" black creators. YouTube CEO Susan Wojcicki laid out the plans in a Thursday blog post. "We're committed to doing better as a platform to center and amplify Black voices and perspectives," she said.
Google
In addition to their YouTube donation of $1 million to the Center for Policing Equity, Google at large is giving $1 million to the Equal Justice Initiative, as well as another $10 million to various organizations that remain to be announced.
Warner Music
Warner Music Group and primary owner Len Blavatnik's Family Foundation are launching a $100 million fund aiming to provide assistance for organizations "on the front lines of the fight against racism and injustice, and that help those in need across the music industry." Decisions regarding the fund will be handled by an advisory panel.
Universal Music Group
UMG has established the Task Force for Meaningful Change, co-chaired by Jeff Harleston and Ethiopia Habtemariam. As part of the first wave of the task force's efforts, a $25 million fund has been announced that will benefit organizations including Black Lives Matter, the Colin Kaepernick Foundation, Color of Change, and more.
10K Projects
The independent record label has committed to spend $500,000 over five years in support of progressive charities (including Color of Change), youth empowerment, and black-owned businesses in Los Angeles.
Fenty
Rihanna's fashion house announced earlier this week that it would be giving money to Color of Change and Movement for Black Lives. 
Palace
Palace has pledged $1 million dollars, starting with donations to Black Lives Matter and the Stephen Lawrence Charitable Trust. In a statement, the brand affirmed its support of "protesters seeking justice against police brutality and racism."
LEGO Group
In addition to stopping the marketing of several toy sets featuring police, the LEGO Group has announced a donation of $4 million to "organizations dedicated supporting black children and educating all children about racial equality."
Pokémon Company International
Noting there is "no place for oppression within our community," thePokémon Company says it's making a $100,000 donation to the NAACP and a $100,000 donation to Black Lives Matter.
EA
In addition to donating $1 million to multiple social justice organizations, the gaming company—through a partnership with the NAACP Legal Defense & Educational Fund and the Equal Justice Initiative—will double-match employee donations to those causes.
Airbnb 
The popular rental app is giving $500,000 to the NAACP and the Black Lives Matter Foundation.
Lyft
Through their LyftUp initiative, the transportation company is proving an additional $500,00 in ride credit to National Urban League, NAACP, National Action Network, Black Women's Roundtable, and National Bail Fund Network.
Uber
Per CEO Dara Khosrowshahi, the ride share company is giving $1 million total to the Center for Policing Equity and the Equal Justice Initiative.
DoorDash
The delivery company is offering $500,000 to Black Lives Matter, as well as an additional $500,000 for a new fund directed by the Black@DoorDash ERG aimed at state and local-level organizations.
Republic Records
Through their newly launched Republic Records Action Committee (R2AC), Republic Records will no longer use the term "urban" on all fronts of the record label, including departmentally and in employee titles and music genres. Republic will also work with Universal Music Group's Task Force to donate $25 million to different organizations including, but not limited to, Black Girl Ventures, Black Lives Matter, Black Mental Health Alliance, Colin Kaepernick Foundation, Color of Change, and more. 
Sony Music Group 
Sony is purposing a $100 million fund in support of social justice and anti-racist initiatives globally. There is reportedly a task force underway as well. Columbia Records EVP Peter Gray is also one of several executives under the Sony umbrella uniting to develop The Promotion Coalition, a fundraising and anti-racism endeavor seeking to raise $100,000. 
Comcast
On June 8, Comcast announced plans to pledge $100 million toward fighting injustice and inequality against "any race, ethnicity, gender identity, sexual orientation or ability." Chairman/CEO Brian Roberts outlined the pledge in a companywide memo that will comprise $75 million in cash and $25 million worth of advertising inventory over the next three years. Furthermore, Roberts says the goal is "to build programs, allocate resources and partner with national and local organizations to drive meaningful change."
The new initiative will be led by Craig Robinson, EVP and chief diversity officer at NBCUniversal, with the help of executives across Comcast, NBCUniversal, and Sky. You can read the key focus areas here.