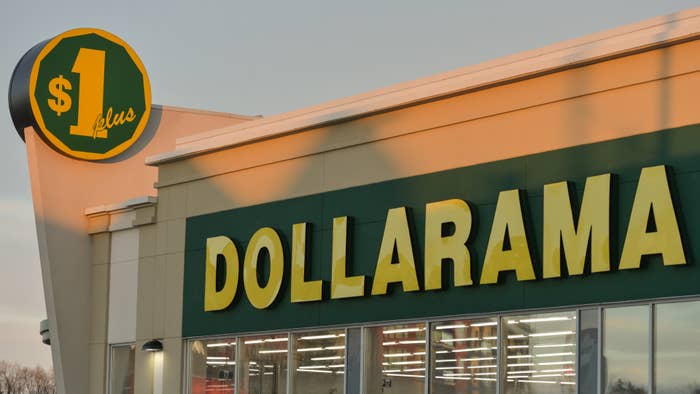 The entire student body of a west Toronto high school has been permanently banned from a local Dollarama after employees had to call the police due to teens acting up in the store. 
A Grade 9 student named Ty from York Memorial Collegiate posted a TikTok of the announcement over the school's P.A. System declaring the school had been banished from the nearby Dollarama at 1500 Royal York Road.
"You are banned permanently from Dollarama. I am receiving a trespass notice given to me for the entire student population. For those students whose behaviour was unacceptable this afternoon, congratulations, you have now ruined it for everyone," says the announcer as Ty applauds his rowdy classmates.
Not-so-lovingly called Memo by some, York Memorial apparently has a wild reputation. "Only at memo.." reads a pinned comment with over 2,500 likes on Ty's TikTok. According to the TikTok's comments, Hilltop Middle School, which is just around the corner from Memo, was apparently once banned from the nearby Metro for a week. The middle school was apparently also involved in the incidents that eventually got York Memorial perma-banned. 
Dollarama HQ is backing up the stores decision to ban the hooligans. "In the event of an escalating situation or if they ever feel unsafe, employees are instructed to avoid confrontation and immediately call the police, to ensure their safety and that of others," said Dollarama spokesperson Lyla Radmanovich to BlogTO. "Our employees followed this protocol following disruptive behaviours by several individuals attending the store in question. It is our understanding that the police subsequently issued trespass notices directly to the schools attended by the individuals involved based on their assessment of the situation, and we respect their decision."
In 2019, the school caught on fire and burned for over 24 hours. Though nobody was hurt in the incident, the school had to temporarily move to the Scarlett Heights Entrepreneurial Academy, and is still there to this day. Who knows, maybe the Dollarama closest to the school's original location will ban Memo too when they eventually return.