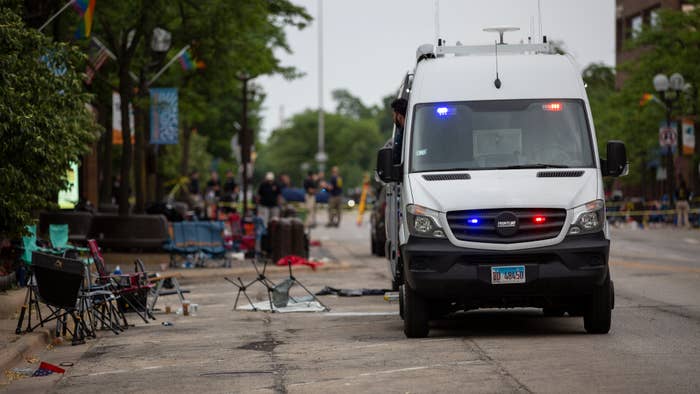 Robert E. Crimo, the 21-year-old suspect in the mass shooting in Highland Park, Illinois, has been arrested, NBC News reports. The shooting took place during a Fourth of July parade, claiming the lives of six people and injuring at least 38 others.
The moment Crimo—who was previously said by police to be 22—surrendered himself over to authorities was caught on camera:
After his identity was released, reports soon suggested Crimo tried his hand at hip-hop and posted alarming music videos on YouTube. Law enforcement officials confirmed Crimo's photo matches up with the image used on the YouTube page, according to the Daily Beast. 
The visual for one song shows an eerily similar depiction to Monday's events, where a gunman, believed to be Crimo, opened fire from a rooftop in the direction of parade attendees. According to Deadline, the music video features an animated heavily-armed individual firing a long gun at people before lying in a pool of blood after seemingly being shot by police. The video for another song Crimo inside an empty classroom in tactical gear and holding the American flag, per the Daily Beast. 
An anonymous neighbor told the outlet that Crimo's father was a small-business owner who had an unsuccessful bid for mayor of Highland Park in 2019. The alleged neighbor said they never had an interaction with Robert Crimo, but had seen him driving around the neighborhood in a vehicle with "pussymobile" written on the back and blaring metal music. 
Gun violence, as is sadly the case every year, was rampant around the Fourth of July. Chicago police shared that 71 individuals were shot, resulting in eight fatalities. (In 2021, over 100 were hit by gunfire and 19 died.) NBC New York reported on Tuesday that 21 people were shot in NYC over the weekend, with three dying. The Indianapolis Starwrites that three deaths occurred and "more than 20 were injured in acts of violence that swept across Indianapolis." St. Louis experienced its deadliest weekend of the year with 19 individuals shot and seven dying. Boston experienced shootings leading to 11 injuries, at least two of them serious; about 20 miles away in Randolph, a man died and another was critically wounded at a country club.
Elsewhere—and neither this list of U.S. shootings nor the accompanying tallies are final or all-encompassing—Baltimore saw three killed and nine injured; eight were hospitalized after an incident in a Minneapolis park; seven people were shot and one died in Richmond, Virginia; numerous fatalities and at least seven shootings were recorded in Washington, D.C.; in Sacramento a man died and four were hurt in a shooting outside a club; two police officers in Philadelphia were injured by gunfire, while—separately—a man was wounded by teens who shot at him five times; a murder occurred in South Carolina; one Florida incident took the lives of two partygoers, while another left one dead and two injured; Kenosha, Wisconsin shootings killed one and severely injured four; two died in Rochester, New York and more suffered injuries; a pair of shootings in New Orleans wounded three people; one man was killed in New Albany, Kentucky; a teen was slain and a man was injured in Grand Rapids, Michigan; and two died and four were non-fatally struck in Kansas City.