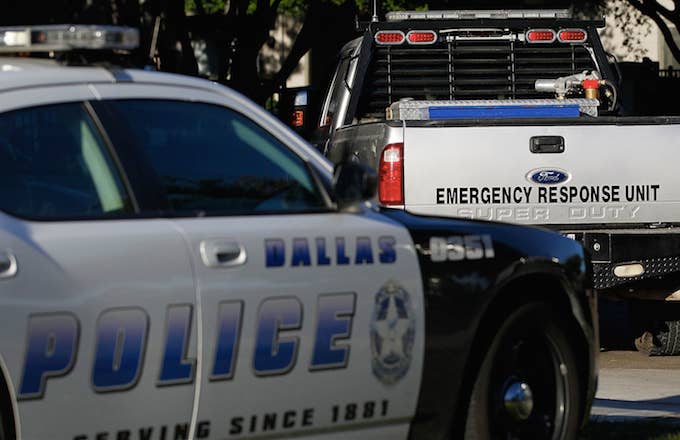 A Dallas police officer is facing manslaughter charges.
According to the Washington Post, the unidentified officer fatally shot 26-year-old Botham Shem Jean. The officer claims she mistakenly entered his Dallas apartment late Thursday believing it was her own. According to a Dallas PD news release, the shooting occurred at around 10 p.m. local time. Jean was pronounced dead shortly after.
"At some point she fired her weapon striking the victim," the police department's news release read. "[The off-duty officer] called 911—officers responded in about four minutes. Dallas Fire Rescue also responded and took Mr. Jean to the hospital where he later died."
Dallas Police Chief Ulysha Renee Hall could not say whether or not the officer was in custody; but she did confirm that the woman was placed on administrative leave and could be charged with manslaughter.
"Right now, there are more questions than we have answers," Hall told reporters Friday. "[…] as we continued the investigation it became clear that we were dealing with what appears to be a very unique situation."
WATCH: Dallas Police give an update on the officer-involved shooting of Botham Shem Jean. Jean was killed when an o…

https://t.co/qHYDZmlbsz
Jean's uncle, Earl Jean, posted a tribute to his nephew Friday morning.
People took to Twitter to express their disbelief at the situation. 
Dallas cop mistakes someone's else apartment for hers and shoots the tenant DEAD. Yes, a true story that took an innocent, young Black man's life. Black people aren't even safe in the privacy of their homes. Enraging. Unacceptable. Get LOUD.

#BlackLivesMatter #BothamShemJean pic.twitter.com/8WuUjYQr3E
So getting this straight, you "accidentally" walk into someone else's apt (how do you get in?) shoot them dead, realize then it wasn't your apt, be like "oh my bad"? Y'all had identical furniture & family photos?

#BothamShemJean https://t.co/wVi10aqsm9
How in the hell can you "accidentally" go into the wrong apartment, shoot the homeowner, and then get PAID LEAVE?!? This is MURDER. That "cop"needs to be identified. Rest in Power

#BothamShemJean

We will not allow your memory to fade!!!!
Stay tuned as more information about the case becomes available.