Wanted Man Arrested After Taunting Cops on Facebook for Not Catching Him (UPDATE)
The 20-year-old suspect previously responded to the police department's Facebook post about him having multiple warrants out for his arrest.
UPDATED 5/30/23 10:07 a.m. ET: Tanner Rhinehart, a 20-year-old Ohio man who spurred numerous headlines earlier this month after taunting cops on Facebook to "be quicker," has now been arrested.
Per a press release from the Newark Division of Police, Rhinehart was arrested last week "on numerous warrants" after initially diving into a river to evade being caught by officers. When announcing the arrest, police also shared a new photo of the suspect.
Online jail records show that Rhinehart was booked into custody on May 24 on listed charges including probation violation, theft, and obstructing justice—all misdemeanors. He's slated to be released next month.
See original story below.
A wanted Ohio man recently decided to taunt law enforcement under a Facebook post.
WHMC-TV reports the Newark Division of Police took to Facebook in an effort to catch Tanner Rhinehart, a 20-year-old with multiple warrants out for his arrest. Back in January 2022, Rhinehart pleaded guilty to felony theft, with his most recent warrant handed down after he failed to appear at his sentencing hearing for a probation violation.
The Newark Division of Police posted a photo of Rhinehart alongside his height, weight, and hair color, noting that the suspect has "multiple warrants."
Using his own Facebook account, Rhinehart hopped in the comments section to call out authorities for having not yet arrested him.
"Y'all almost had (me) the other day you gotta be quicker than that (sic)," Rhinehart wrote. "What willll I get if I turn myself in(?)" he said in another comment.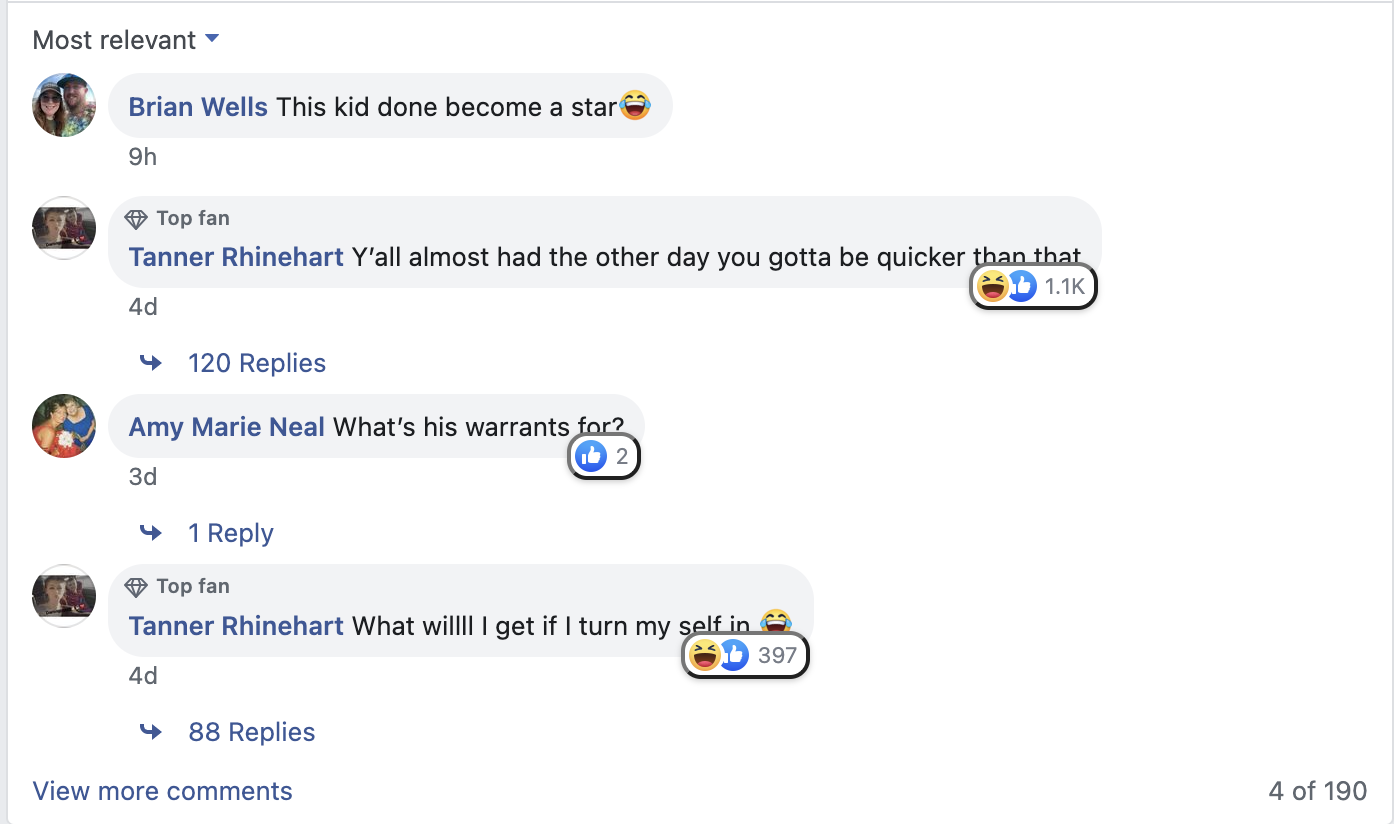 WHMC-TV notes that Rhinehart's violation stems from a one-year probation sentence he received in November 2021, when the man was convicted of receiving stolen property.
According to court records obtained by Fox 28, Rhinehart was previously arrested on charges of aggravated menacing and domestic violence. The 20-year-old has also faced burglary, theft, and weapons under disability charges in recent years. All of the aforementioned cases were dismissed.