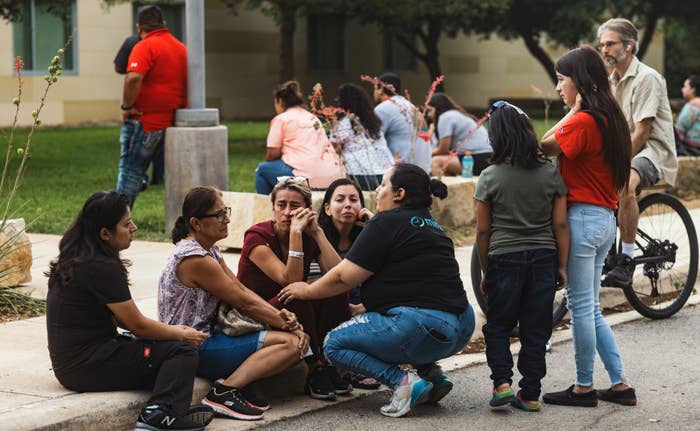 The daughter of Eva Mireles, a fourth-grade teacher killed in Tuesday's mass shooting at Robb Elementary School in Uvalde, Texas, took to Twitter on Wednesday to share a tribute to her mother.
"Mom, I have no words to describe how I feel right now, tomorrow, and for the rest of my life," Ruiz wrote. "Mom, you are a hero. I keep telling myself that this isn't real. I just want to hear your voice. … You are so known by many now and I'm so happy that people know your name and that beautiful face of yours and they know what a hero looks like."
Ruiz said she "will forever say your name so you are always remembered, Eva Mireles, 4th grade teacher at Robb Elementary, who selflessly jumped in front of students to save their lives."
Ruiz's post concluded, "I want to thank you mom, for being such an inspiration to me. I will forever be so proud to be your daughter. My sweet mommy, I will see you again."
Mireles was one of the 21 victims killed on Tuesday, as an 18-year-old killed 19 children and two teachers at Robb Elementary. The gunman, later identified as Salvador Ramos, reportedly shot his grandmother before going to the school. Once inside, he barricaded himself in by locking the door and shooting "children and teachers that were inside that classroom," according to an official with the Texas Department of Public Safety.
U.S. Senator Chris Murphy from Connecticut took the Senate floor following the tragedy to deliver a passionate plea, urging Congress to address gun violence.
"What are we doing? What are we doing?" Sen. Murphy said. "Days after a shooter walked into a grocery to gun down African American patrons, we have another Sandy Hook on our hands. What are we doing?"
He continued, "Our kids are living in fear every single time they step foot in a classroom because they think they are going to be next. Why do you spend all this time running for the United States Senate? Why do you go through all the hassle of getting this job if your answer is that as this slaughter increases, as our kids run for their lives, we do nothing. What are we doing?"
Watch Murphy's full speech below.