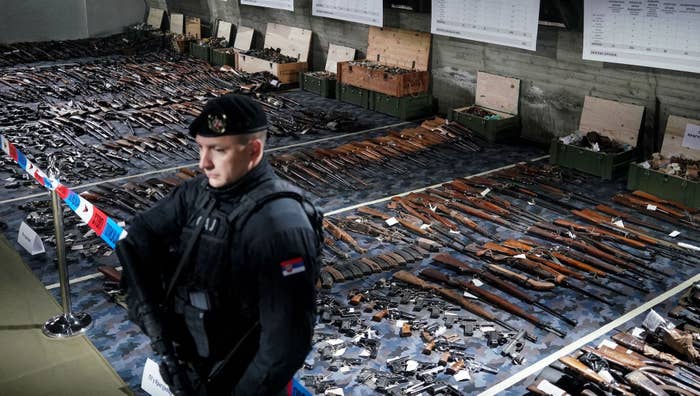 Serbian citizens are turning over thousands of weapons after government officials announced a one-month amnesty period to crack down on weaponry in light of two recent mass shootings.
The Associated Press reports Serbian residents have surrendered roughly 13,500 weapons, including rocket launchers, ammunition, and other explosives since the amnesty went into effect on May 8. President Aleksandar Vucic, in an effort to crack down on unregistered guns, issued the ruling after two separate shootings left 17 people killed and 21 others injured.
According to Vucic, Serbians who are caught possessing illegal firearms once the amnesty period ends could face up to 15 years in prison.
"After June 8, the state will respond with repressive measures and punishments will be very strict," Vucic said, per the AP. "What does anyone need an automatic weapon for? Or all these guns?"
Earlier this month, Serbia experienced its first-ever school shooting, when a 13-year-old boy took his father's guns and opened fire on a school, killing seven girls, one boy, and a security guard.
The next day, a 20-year-old man used an automatic weapon to gun down eight people and wound 14 near a village in central Serbia.
Since then, thousands of Serbians have joined forces to protest Vucic's administration in the wake of the two tragic events.
"We have to learn anew how to speak to each other and how to create a healthy future...to nurture the beauty of living, of art, science and humanity," Biljana Stojkovic, a leader of the leftist Zajedno party, told a crowd over the weekend. "The worst among us have been in power for an entire decade, and they imposed the norms of aggression, intolerance, crime and lies."