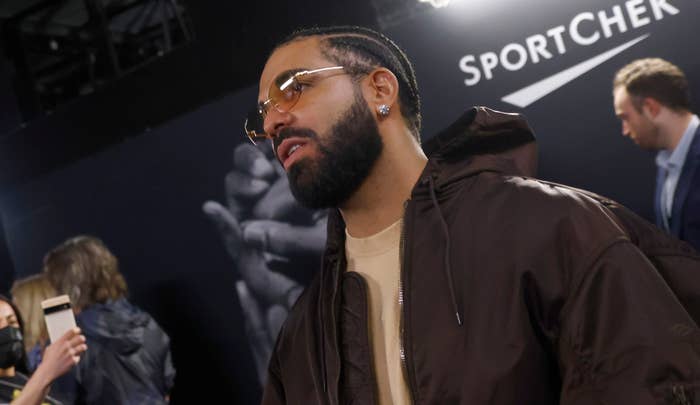 In an Instagram photo set simply captioned "Sandra Gale 💖," Drake showed off a new face tattoo of his mother's initials.
The artist, @_n.a.l on IG, shared a brief clip on Thursday of Drake looking extremely peaceful while getting the ink under his left eye.
Elsewhere in the Drake, Tattoos, & Faces Department, father Dennis Graham got the Honestly, Nevermind artist's likeness put on his arm several years ago, and the 6 God decided to revisit the art—and the fact he's not exactly crazy about it—this week.
"I was just sitting here thinking why you do me like this we family 😂😂😂," Drake captioned a photo of the tatt, tagging his dad.
This prompted tattooist Money Mike to speak out. "When I was done with it [Dennis] was stoked, his family was stoked, his girlfriend liked it," he recalled to TMZ. "Drake's sister liked it, everybody was happy with it. Once Drake found out about it, that changed."
Dennis shouldn't be catching any FOMO over Sandi Graham getting a permanent tribute on their son's face, as Drake had his father's own mug put on his forearm in 2014:
Check out Drake's new ink below.