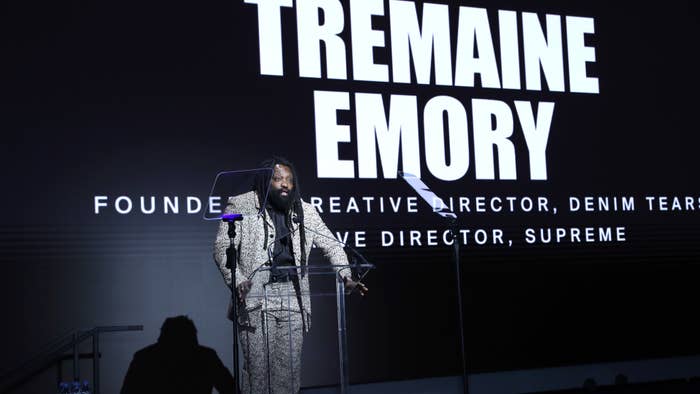 Tremaine Emory is currently recovering from a lower aorta aneurysm.
As revealed in a new interview with the designer, he suffered this type of aneurysm—also referred to as an abdominal aortic aneurysm—last October. This spurred a two-month stay in the hospital, with the recovery process ongoing at the time of his discussion with Justin Richmond on the latest episode of the Started From the Bottom podcast.
"I'm recovering," Emory said near the top of the interview. "So I had an aneurysm. I had a lower aorta aneurysm and I'm recovering. You know, eight of 10 people pass from having it so I was fortunate enough to survive it. I went in the hospital in October and [by the] end of December, right before New Year's, got out."
Emory added that he's been doing physical therapy as of late because the aneurysm "messed up" his legs, forcing him to build back muscle while waiting on "the nerves to wake up." But on a more general level, he noted, his health "is great" and he actually feels healthier than he has in quite some time. 
The hospitalization and subsequent recovery process, he added, "definitely" marks the first time in a long time he's seen such a slowdown along his artistic journey. During the process, he said, he was "on the verge of death" a couple of times.
"I wanted to be here," he said. "Not just being grateful for surviving—because in the end we all die. So you survive something but it's only extending. So my focus has been on the five Ws: who, what, when, where , and why. Why and what do I want to do?"
As Emory further detailed, he has always lived his life following those guidelines, which were established in his life at a young age by his parents.
When asked about his own health scare happening so close to the shocking death of Virgil Abloh, Emory pointed out that he first got his offer letter about taking on the role of Supreme's creative director the same week his friend died.
"The last time I seen him, the last thing he said to me was, 'What are you gonna do with Supreme? You gonna take the Supreme job?'" Emory said.
For the full interview, which also sees Emory speaking more about his and Abloh's importance within the larger infrastructure of fashion and his Supreme role, listen on Apple Podcasts here.
In October of last year, which is around the time Emory says he first entered the hospital, multiple headlines were spawned amid an exchange of words between Emory and the artist formerly known as Kanye West—the issues, in fact, stemmed from alleged details of Ye and Abloh's professional relationship. Worth noting here, as always, is that Ye later went on to publicly praise Hitler in an interview with Alex Jones.
In December, Emory was enlisted to guest design a new capsule for Dior.