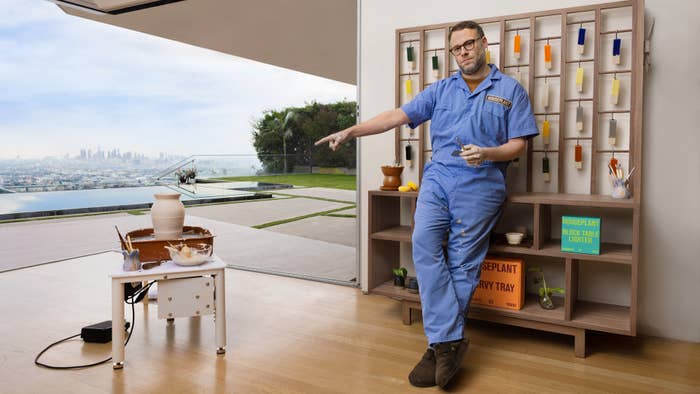 Starting Feb. 7 at 1:00 p.m. ET, prospective guests can request to book an overnight stay hosted by Rogen, complete with unbeatable views of the greater Los Angeles area and a carefully curated assortment of design touches including ceramics and pieces from Houseplant's Housegoods line.
The listing includes a decidedly to-the-point description from Rogen himself, who pointed to the overall "Houseplant-ness" of the mid-century modern getaway.
"What makes it Houseplant-y, you may be asking? Well, it's stocked with some of our favorite Housegoods (even a pre-release copy of our NEW Vinyl Box Set Vol 2!)," Rogen noted. "The mid-century styling and LA views also have a distinctly Houseplant feel. And there's the fact that I'll be there to welcome you, which given that I'm the founder, adds to the Houseplant-ness. I AM HOUSEPLANT!!!"
U.S. residents will be eligible to throw down two-guest booking requests for three, one-night stays (for $42 plus taxes and fees) at the Houseplant-inspired retreat. The dates available are as follows: Feb. 15, Feb. 16, and Feb. 17. Alongside the stay's launch, Airbnb is set to make a donation to the Hilarity for Charity nonprofit, which was founded by Seth and Lauren Miller Rogen in 2012. Earlier this month, the two spoke with NBC about new technology that can help provide at-home assistance for seniors living with dementia.
Below, get a tour of what the new Airbnb space looks like in person.