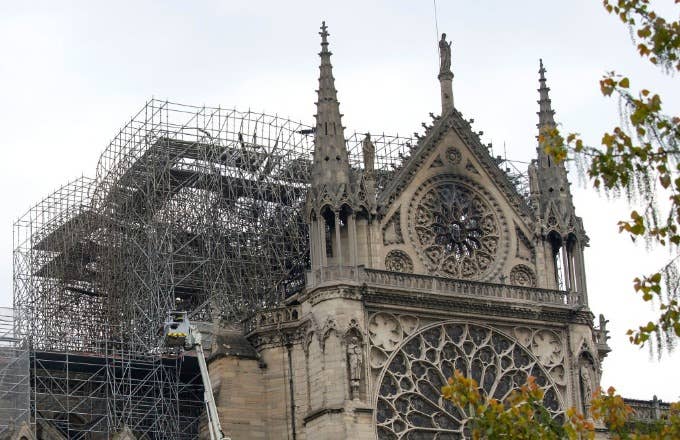 Leaders in the worlds of fashion, beauty, and tech are among those stepping up to help preserve the legacy of the Notre-Dame Cathedral, which was left severely damaged following a heartbreaking fire Monday.
Tuesday morning, Apple boss Tim Cook said he and his team were "relieved the fire didn't result in any injuries. Cook also announced plans to contribute to the cathedral's ensuing renovations. "We are heartbroken for the French people and those around the world for whom Notre-Dame is a symbol of hope," Cook said. "Relieved that everyone is safe. Apple will be donating to the rebuilding efforts to help restore Notre-Dame's precious heritage for future generations."
Cook's message of support in the wake of the historically unsettling cathedral fire follows announcements of massive donations from fashion giants Kering and LVMH.  Kering, of course, is the owner of brands like Gucci and Alexander McQueen, while the latter is over Louis Vuitton and others.
"This tragedy is striking all the French people, and beyond that, all those attached to spiritual values," Kering CEO François-Henri Pinault said in a statement, per Vogue. "Faced with this tragedy, everyone wishes to give life back to this jewel of our heritage as soon as possible."
Pinault pledged 100 million euros to rebuilding efforts, while LVMH chair Bernard Arnault pledged 200 million. According to CNBC, the amount of Apple's planned contributions has not been publicly announced. Other companies to have confirmed Notre-Dame Cathedral donations include L'Oréal (200 million euros) and Total (100 million), a regional energy company.
The cause of the fire remains under investigation.