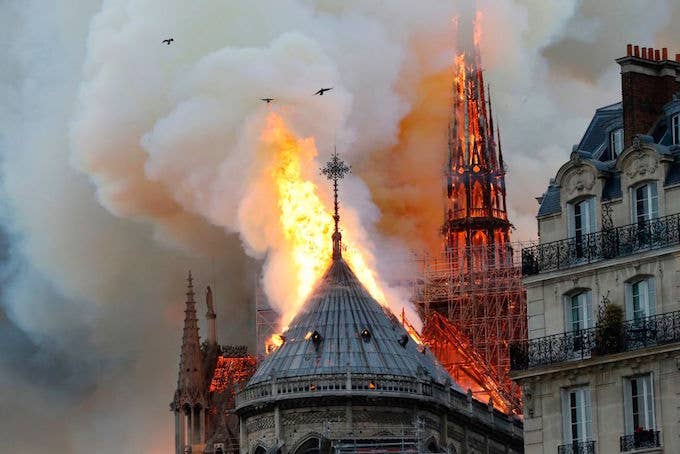 On Monday, it was reported that Paris' historic Notre-Dame Cathedral had been engulfed by a horrendous fire.
According to a spokesperson for the cathedral, the blaze was first reported at 5:50 p.m. local time. Once the fire was confirmed, the popular tourist attraction swiftly evacuated visitors before emergency officials attempted to subdue the flames. The fire is said to have started in the attic of the nearly 850-year-old church before spreading to encompass a bigger section of the roof with reports confirming that at least one of the church's spines fell and the roof collapsed. 
The Notre-Dame Cathedral is not only the place of worship for the Archdiocese of Paris, but it is also considered the best example of French Gothic architecture in Europe. As a result, the historic landmark has been subject to several renovation projects since first being erected in 1260 in hopes to preserve its prestige. However, city officials predict it was the cathedral's most recent construction project that sparked the flame. ​​​​​
Due to the building's notoriety, the fire has taken an emotional toll on the city. French President Emmanuel Macron has reportedly cleared his schedule to attend to the fire. Various eyewitnesses described the scene. Along with French politicians, the First Family as well as Vice President Mike Pence reacted to the terrible incident. 
"A lot of people are crying," Carolyn Marguiles disclosed to NBC News, before witnessing the building's roof give way. "Oh my God, it just fully collapsed!"