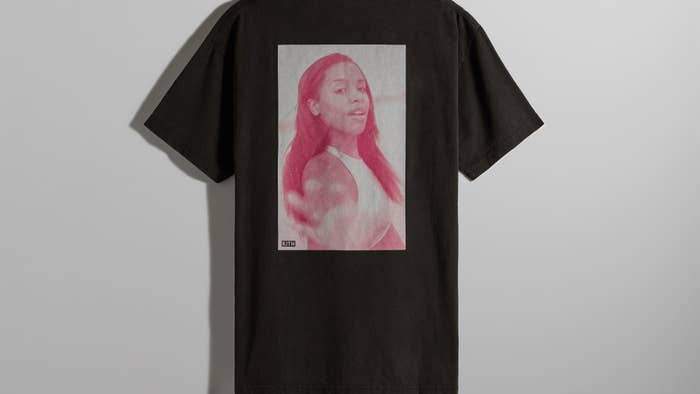 Launching on International Women's Day, Kith has put together a new collection boasting never-before-seen images of Aaliyah.
The collection, proceeds from which will go toward the Detroit School of Arts and the I Support the Girls foundation, is part of a Kith Women partnership with the late singer's estate and photographer Robert Whitman. 
In a statement, Rashad Haughton—the late One in a Million artist's brother and estate manager—praised "all that Ronnie [Fieg] has achieved" and said he's a longtime fan of the Kith brand.
"Aaliyah was born in Brooklyn, grew up in Detroit, and went on to touch the whole world with her light and creativity," Haughton said. "That's why I felt that Kith would be the perfect partner to release unseen photos of my sister on their incredible fashion designs."
Inspired by the fact that Aaliyah—as the Kith team found out during the development of the new collection—graduated from Detroit School of Arts with a 4.0 GPA, the brand shot a short film in the Michigan city highlighting the school's dance team, as well as principal Dr. Mayowa Lisa Reynolds.
As for the collection, fans can expect to see Whitman-captured photos of the singer—who died in a plane accident in 2001 at the age of 22—on a variety of pieces, including the "Rock the Boat" hoodie in black and white.
Below, see product shots of the Kith Women for Aaliyah collection, as well as photos taken of young creatives at Detroit School of Arts. Starting Tuesday, the pieces are available at all Kith shops, as well as the Kith site.