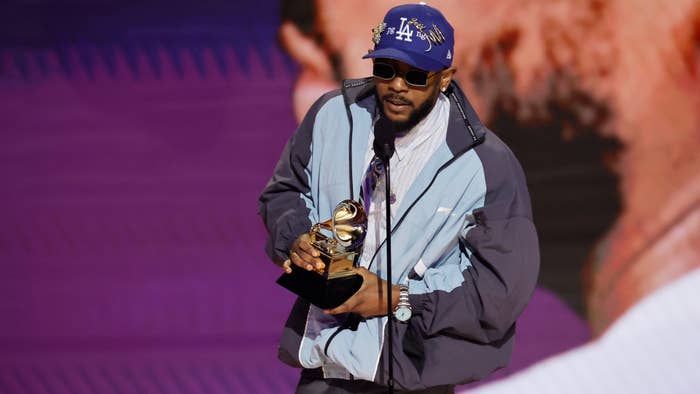 Per a breakdown straight from the Tiffany team, Kendrick's archives selections included a Paloma Picasso "Scribble" Graffiti Brooch (in gold and diamonds) and a Paloma Picasso "Gold" Graffiti Brooch (in gold). Additionally, he wore a pendant boasting gold, platinum iridium, diamonds, colored diamonds, emeralds, and sapphires.
As for the earrings, Kendrick went with a pair of Tiffany Soleste in platinum with round brilliant diamonds.
Stylist Taylor McNeill, who's also worked with Baby Keem and Margaret Qualley, noted on Instagram that Kendrick was also rocking custom Martine Rose.
The assortment of pieces were on full display during Sunday night's broadcast, which saw Kendrick's Mr. Morale & the Big Steppers selected for the Best Rap Album distinction. Other albums nominated in the category included DJ Khaled's GOD DID, Jack Harlow's Come Home the Kids Miss You, Pusha T's It's Almost Dry, and Future's I Never Liked You.
Of course, Kendrick has worn Tiffany for a number of memorable moments in the Mr. Morale era. In November, for example, he wore a Tiffany & Co. Schlumberger Ring (among other Tiffany pieces) for the official "Rich Spirit" video. Earlier that year, he performed for fans at Glastonbury while wearing a custom "crown of thorns" headpiece from Tiffany.