Kanye West has again called out Gap via a succinctly worded social media post.
On Wednesday, Ye shared a screenshot of an exchange involving an unknown person in which it's claimed that the brand is "copying YGEBB"—i.e. Yeezy Gap Engineered by Balenciaga—with a recently shared photo of a children's shirt design.
In the caption, meanwhile, Ye alleged that Gap "canceled" a photo shoot with his children "without me knowing."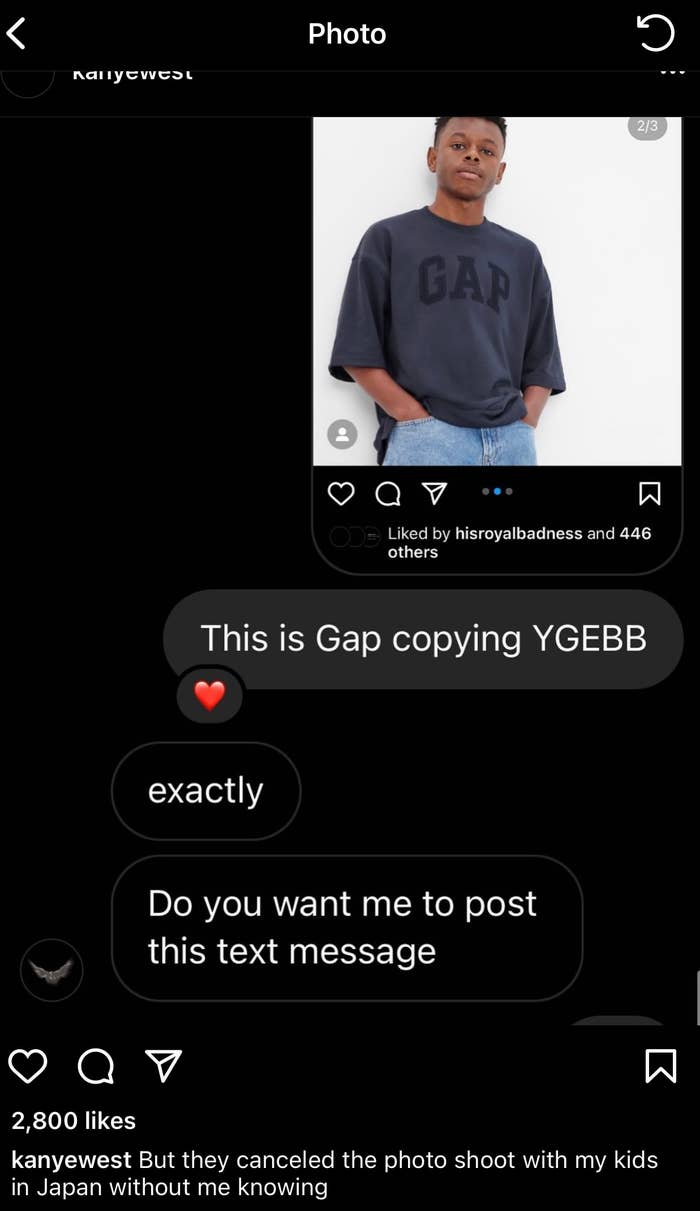 Hours after calling out Gap executive, Ye posted a six-minute video in which he's seen delivering an impassioned speech to the company. He reiterated his commitment to the brand and the larger creative project, which he referred to as a "life mission."
"This country is based on industry, and with us—collectively—we all have a responsibility to bring it back. … We can do it with this team," he said in the clip.
Ye continued, "This is bigger than us, and we shouldn't argue amongst ourselves. But I'm saying I have to go pull that sword out the stone. You either believe me or I'm going to show you. … You're gonna see it."
Ye said today's youth have a clear interest in the brand, but are purchasing their pieces not at the Gap stores, but at second-hand shops.
"Thrift stores is not going to save the Gap. It's not enough," he explained, before highlighting some of the company's mistakes. He called out the executives for failing to run multiple "Perfect Hoodie" ads and canceling pre-orders for the YZY Gap blue jackets.
Hours later, Ye returned to Instagram to lay out his plan for Yeezy's retail expansion. He said he intends to open stores in cities in all 50 states, starting with Atlanta. He told his followers he's willing to buy land and/or a building, but needs to connect with the right people.
"Who would be best to open it? … Anyone who has over 10 years of retail experience and is ready to change the world, post your Instagram handle or store location in the comments and we'll find you," he wrote.
Ye then claimed he signed his Gap and Adidas deals because they agreed to build permanent brick-and-mortars, but he pointed out neither company has kept that promise "even though I saved both of those companies at the same time."
Ye then shared a screenshot of his FaceTime call with 2 Chainz, claiming the ATL legend was connecting him with the city's mayor.
In swift succession after the post featuring 2 Chainz, Ye shared a text from Fivio Foreign saying he's "gotta run the NY store" and one from Consequence connecting him with an Atlanta shop owner. Ye also posted an IG comment from Pusha-T reading, "Well since we doing every state…And we talking over 10yrs of retail experience…😎 Put us down for Virginia and Pennsylvania."
Hours later, Ye returned to Instagram to share a clip of Christopher Walken's oft-referenced Poolhall Junkiesmonologue.
"The monster('s) about to come alive again," Ye wrote in the caption, which fans will note is a slightly paraphrased line from "On Sight."
The latest Gap-focused update comes one day after Ye said the company had held a meeting about him, albeit without him in attendance.
Ye has also shared other points of criticism about his relationship with Gap in the past, including during hisDrink Champs interview earlier this year. Speaking at the time on the rollout of what's widely known as "the perfect hoodie," Ye revealed he took issue with how the pieces were presented in promo material.
"Ain't nobody care about the Gap until we went to the Gap, bro," Ye said at the time. "I moved that stock. … Even when they dropped the hoodies, they made it look like the Drake cover on purpose and didn't show me. You know, it had the multiple colors."
On the music front, a long-teased reworking of the Jesus Is King track "Use This Gospel" made its way into the world last Friday by way of its inclusion on DJ Khaled's latest album, God Did. The remix features a verse from Eminem and production by, among others, Dr. Dre. Revisit both versions of the JIK era standout below.