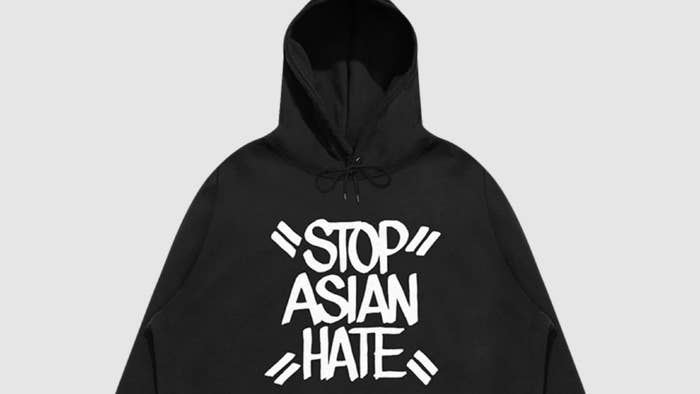 Amid a troubling surge in violence against Asian Americans, including the Atlanta-area spa shootings that left multiple people dead, Futura and Haze have teamed up with GoFundMe and NTWRK for a two-piece Stop Asian Hate collection that will serve as a fundraiser for the AAPI Community Fund.
On Monday, sales were launched for the run of t-shirts and hoodies, each of which are emblazoned on the front and the back with "Stop Asian Hate" in two different fonts. 
The tee is a 100-percent cotton medium-weight jersey in standard fit and runs $40. The hoodie, meanwhile, runs $90 and is a standard fit in cotton medium-weight fleece. Both products are expected to ship out no later than six weeks from now. All profits from the pieces will go toward the AAPI Community Fund, which is organized by the team at GoFundMe.
The fund, per GoFundMe, aims to address the urgent issues facing the AAPI community, as well as systemic problems. Using the donations given to the fund, GoFundMe will issue grants to "trusted AAPI organizations" that work toward rectifying racial inequalities. Organizations are reviewed by an advisory group consisting of AAPI advocacy and activist leaders, as well as the GoFundMe board.
Get a closer look at the t-shirt and hoodie below. And for purchase info, head over to the NTWRK site here.