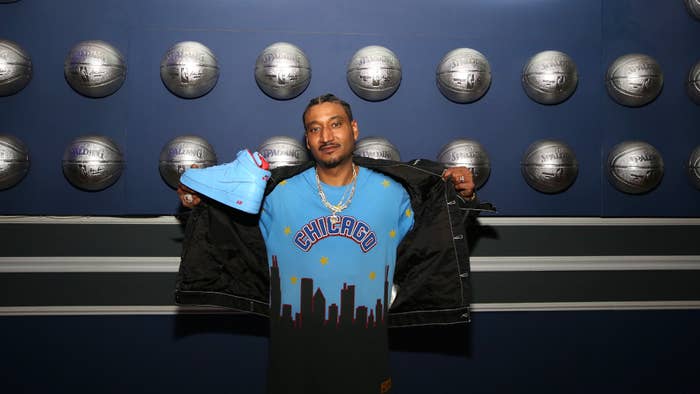 Don C has been named the new Creative Strategy and Design Advisor for the Chicago Bulls. 
In a statement, the designer celebrated the appointment as a "dream come true" and outlined his ambitions for the role.
"There are few things I have loved as long as I have loved the Bulls," Don C said when announcing the news on Wednesday. "It's a dream come true to be able to combine my passion as a fan and my passion as a creative to help this legendary franchise to tap into the culture around the game. Our goal will be to deepen connections with fans and make an impact in their lives. This isn't just about designing merch, but combining bigger things like music, lifestyle, and fashion to represent the Bulls as both an NBA team and a global brand. I can't wait to work with their talented team of people."
The role will see Don C, whose Just Don brand recently partnered with the Bulls for a charity-supporting Joakim Noah t-shirt, contributing to multiple "projects and initiatives" ranging from retail to outreach.
Wednesday, Susan Goodenow—the Bulls' Executive VP of Marketing and Communications—touted Don C's "unique skillset" and teased their "next level" plans for the future. "We look forward to partnering with Don to create deeper relationships with our fan base in new and previously unimagined ways," Goodenow said.
Further celebrating the news with an IG post, Don C added that he was "beyond honored and happy" to join the Bulls crew.
Last November, Complex caught up with Don C for a conversation that ultimately resulted in the reveal of the designer and prolific collaborator's plans to open a museum in his hometown. As Don C explained, the Fashion Athletics Art Museum (FAAM) will be located on the Southside of Chicago.