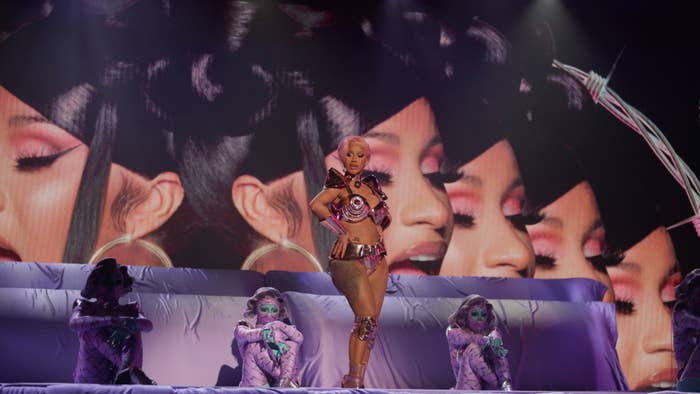 Cardi B, fresh off her feature on Normani's "Wild Side" single, is giving fans a glimpse at her collection of Hermès Birkin bags.
On Wednesday, Cardi shared a three-slide post featuring a photo (see below) of dozens of Birkins, which have long been a favorite for the Grammy winner. For those counting, there are at least 26 Birkins present in the photo, though it's possible the photo only represents a portion of the total collection.
In October of last year, fans were given a similar glimpse at the assortment of Birkins, with the latest photo suggesting that the collection has continued to grow since fans were last invited to take a look.
As Cardi previously explained, the current status of Birkins are a testament to the power and influence of hip-hop. 
"Hip-hop, we start trends," Cardi said in October, echoing similar comments from Offset. "When y'all say that we devalue shit? No. We actually add value." Cardi also questioned why she and other Black artists were being faced with so many comments about something like a Birkin bag when the same treatment often isn't extended to other artists. 
"Y'all don't do this to these white celebrities," she said at the time. "So why is it that y'all gotta be asking us? What the fuck? It just makes you wanna brag. … But no. I'm not even gonna take it there."
In June, Cardi—whose other 2021 collabs include the recently released "Type Shit" with Migos—spoke out about the mistreatment women often face as artists, co-signing a fan's comments about women rappers being held to a higher standard than men. 
"Female rappers have to bust their ass on performances, great visuals, hours on make up, hours on hair, pressure by the public to look perfect, make great music, and yet are the most disrespected," Cardi said.