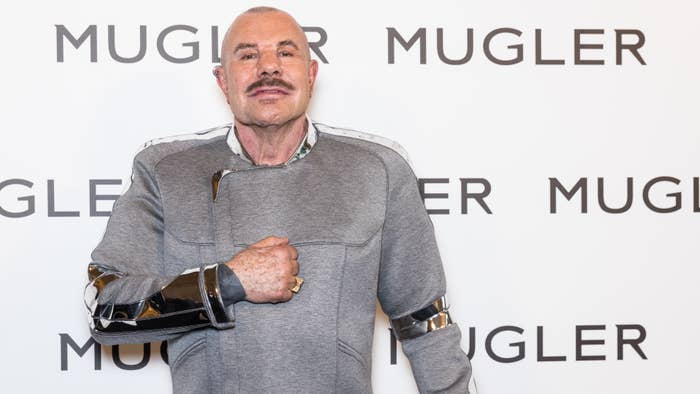 Manfred Thierry Mugler, the French fashion designer whose work was embraced by Beyoncé and Kim Kardashian (among many others across multiple decades), has died at the age of 73.
In a statement shared to Twitter and Instagram early Monday, a rep for the eponymous Mugler label remembered the creative force as a "visionary" whose work helped empower other creatives on a global scale. 
"It is with deep sadness that the House of Mugler announces the passing of Mr Manfred Thierry Mugler," the rep's statement reads. "A visionary whose imagination as a couturier, perfumer, and image-maker empowered people around the world to be bolder and dream bigger everyday."
In addition to his label, which he launched in 1973, Mugler was also revered for his work in fragrance. Silhouette-wise, Mugler was known for creatively facilitating looks that often hinged on broader shoulders and tight waists.
In an Interview Magazinediscussion with Tippi Hedren back in 2019, Mugler was asked about the impact of his work in 1995, specifically in light of Cardi B having (then recently) worn a dress that was adapted from a piece of his from that pivotal year.
"Fashion was very easy for me, so I said, 'I have the power to make big shows,'" Mugler said. "The music, the sets, the light, the attitudes—it all helped to tell my story. Something I say to young people is, 'Be clear what you want to say. Make sure that people get it.'"
Amid tribute messages shared in response to the news his death, Tracee Ellis Ross shared memories of having worked for Mugler in the early '90s.
"My mother agreed to walk in the show as long as they allowed me to model in the show as well," the Black-ish actress said. "My 18th birthday present: I GOT TO WALK IN THE BUTTERFLY SHOW. And then Thierry invited me back the next year without my mom and I walked again." Mugler, she added, stood as a "defining force" in the fashion world whose unique sense of creativity allows "even his archive collection" to seem futuristic in the present day.
Beyoncé, meanwhile, has updated her official website to pay tribute to Mugler. "Rest in peace," she said when sharing photos and clips of herself, including multiple instances of her wearing Mugler pieces.