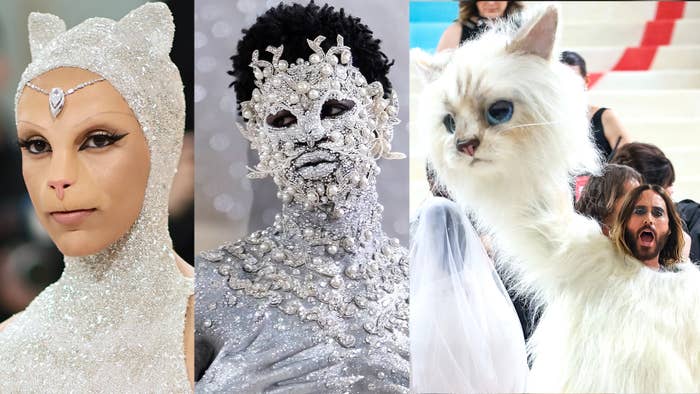 While some celebrities chose to wear designs as a tribute to Karl Lagerfeld for the Met Gala, some chose to emulate his cat, Choupette.
Doja Cat, Lil Nas X, and Jared Leto all had their own takes on the late fashion designer's feline. Doja wore an Oscar de la Renta dress that reportedly took 5,000 total hours to create and included 30,000 Swarovski crystals. The gown had a long, feathered train and a hood with cat ears, and she accessorized with some jewelry. In addition to the thousands of house spent on her dress, her makeup took around an hour, really transforming herself with facial prosthetics.
"The second that they mentioned the theme for the gala and I was like, Cats, immediately."
Lil Nas also came as Lagerfeld's white Burmese cat, his body adorned in crystals. He also wore a mask that extended to his neck and chest with beaded whiskers, a bejeweled, silver thong, and silver boots. Both he and Doja conducted interviews by meowing at reporters.
Lastly, Jared Leto's version of Choupette was quite literal, in comparison to Doja and Lil Nas. The 51-year-old actor arrived in a furry cat costume that had blue eyes.