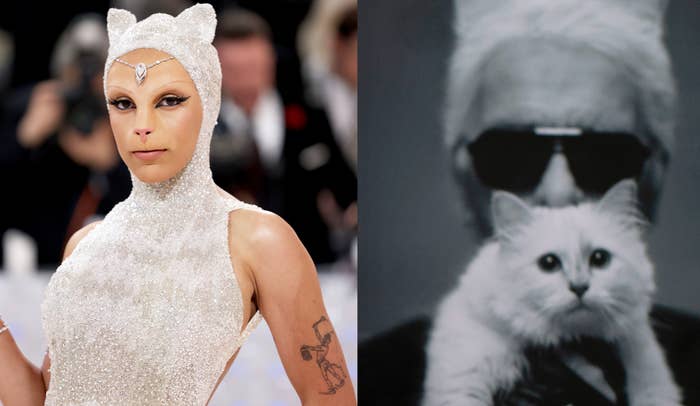 Doja Cat showed up to the 2023 Met Gala in New York City Monday dressed as Choupette, the cat of the late designer Karl Lagerfeld. 
The theme of this year's Met Gala is "Karl Lagerfeld: A Line of Beauty," the same name as the exhibition which opens at the Met on May 5.
"The show spotlights Lagerfeld's unique working methodology, focusing on the late designer's stylistic vocabulary as it was expressed in 'through lines'—aesthetic and conceptual themes that appear time and again—in his fashions from the 1950s to his final collection in 2019," the museum's description reads.  
Doja and her team did their best to ensure that her outfit was unveiled at the right time, using umbrellas to hide her as she exited her hotel. 
According to USA Today, Doja was covered in gold paint and draped in 30,000 Swarovski crystals from Schiaparelli. She wore face prosthetics to complete the look. 
Doja took the role so seriously that she conducted a whole interview where she meowed with Emma Chamberlain for Vogue.

The musician also spoke with La La for Vogue about attending her first Met Gala.  

Jared Leto also paid tribute to Choupette with a full body costume, which kept his identity shrouded in mystery until he removed the head. The actor/musician had a full outfit change on the carpet, switching into a black ensemble.