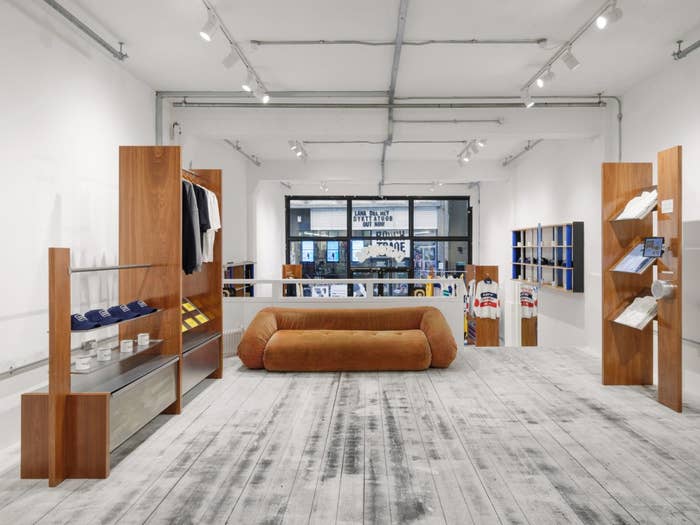 Following the debut of its mobile Archive Exhibition in New York last month, American heritage sportswear label GANT has now arrived at its second destination in London.
Showcasing the brand's history since 1949, the four-day presentation highlights GANT's position as one of the first American sportswear brands and features iconic pieces from its past catalogue, co-curated by Dalston-based denim expert Samuel Trotman. Hosted by DIJONSS, a dedicated space in east London run by creative collective Bone Soda, the event presents a broad collection of '90s sportswear and skate style, accompanied by an exclusive soundtrack featuring co-founder Marty Gant.
Talking about the exhibition, GANT creative director Christopher Bastin commented: "When I joined GANT in 2005, I realised there was absolutely nothing in our records from the first 30 years, so I started to piece together an entirely new brand archive. Today, the GANT archive contains thousands of pieces that represent our history, from 1949 to the present day.
"As protective as I am about our legacy and archive, it's always interesting to get someone else's view on it. I've been a fan of Sam for a long time and I was really delighted when he said yes to curating the London leg of the archive exhibition. His deep understanding of streetwear and this dive into the cultural impact American sportswear has had on it really makes London something different from the exhibition we did in NYC."
Samuel Trotman also commented: "It's always exciting to partner with a brand who is the opposite of me as it's within this space where the best ideas arise. I spent a few days at the HQ with Christopher Bastin, pouring through the thousands of vintage garments and I'm really excited to present my curation of grails.
"Prep is something that has continuously evolved throughout popular culture so it was important for me to uncover the stories that speak most to today's generation of young fashion enthusiasts. I think people attending the London exhibition will take away a lot of inspiration. Plus, we have some dope collaborative merch that will be available too."
The GANT Archive Exhibition will run from March 30 – April 2 at DIJONSS, 6 Dray Walk, London, E1 6QL. Get a closer look at the space in the shots below.