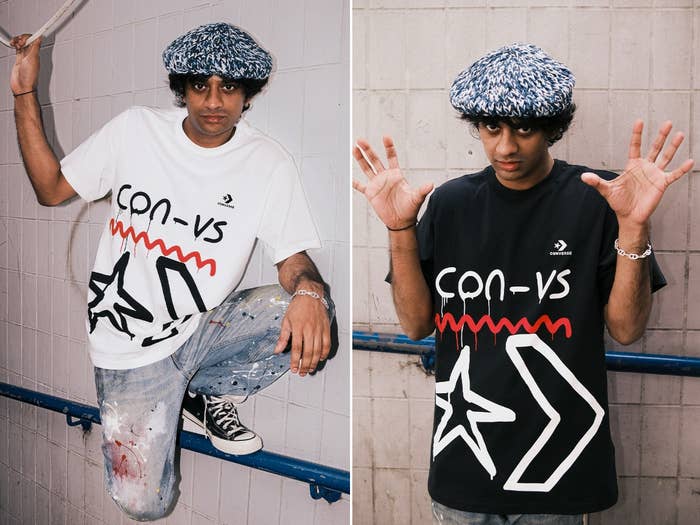 For the latest instalment of its All Star program, Converse has teamed up with Northamptonshire-born graffiti artist and stylist Navinder Nagla to tag up a new series of City Tees.
Launched in 2018, the community-focused initiative previously partnered with Star Wars star John Boyega, and offers mentorship, commissions and funding to create more opportunities for emerging creatives around the world.
Renowned for his sartorial takes that play on global fashion concepts, Nagla has designed a capsule of doodle-doused tees reminiscent of his work across Soho. Featuring CON-VS lettering, the collection includes two black and white T-shirts complete with his signature red underlining, as well as a reimagined dripping Converse One Star motifs.
Having already worked with Converse on various creative projects and its Create Now, Create Next campaign, the 27-year-old's work has quickly become an essential shot in fashion month Instagram dumps. Praised by the likes of Diet Paratha and Dazed, the collab was showcased at an exclusive pop-up in London on May 11, featuring a live graffiti installation on the fixtures and windows.
The Converse x City Tees by Navinder Nangla is available now via the Converse webstore.