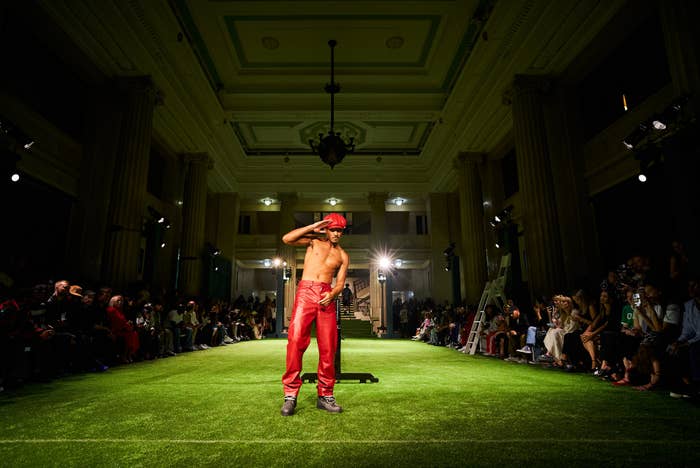 London Fashion Week has officially concluded for another season. Taking place over five days, the biannual spectacle once again infused the British capital with a renewed sense of anticipation and style, with a multitude of new and promising talent gracing the stage.
With a line-up that included MAINS, JW Anderson and Burberry, Spring/Summer 2024 was a melting pot of creativity. Encompassing the breadth of the city from the Docklands in the East to the skateparks of West, the runway was a canvas for experimentation, innovation, and bold statements as seasoned vets and emerging talents collectively delivered one of the most diverse and eclectic offerings of late.
LFW also saw the launch of Vogue World—a star-studded event billed as Britain's answer to Vogue's Met Gala in NYC—in aid of London's performing arts centres. Talks, launches and parties rounded out the week of fun and fashion, featuring everything from Ahluwalia's A-list after-party to Mia Khalifa's runway debut with KNWLS.
We rounded up some of our favourite shows from London Fashion Week SS24. Tap in below.
---
Set in the marbled halls of Trinity Square's Four Seasons hotel, London-based label Labrum delivered an emotive, informative and meticulously considered ensemble filled with classic British tailoring and West African influences. Like previous Labrum presentations, SS24 was a festive affair, with guests enjoying a captivating narration by Battersea-bred vocalist Tawiah and the melodious piano artistry of Karim Kamar.
West African folktales served as the initial inspiration for creative director Foday Dumbuya, resulting in a series of Nomoli figurines (a sculpture which represents good health and harvest) seamlessly integrated into fabrics and embroidered onto trench coats. Raffia and frayed textiles added a distinctive flair, paying homage to traditional masquerade attire, while bold prints and textures drew inspiration from Mende and Temne tribal masks.
The show commenced with a special appearance by legendary Arsenal player Ian Wright, who previewed a custom Hackney Wick tracksuit in collaboration with Top Boy, alongside a pair of custom adidas Sambas. As the collection unfolded, notable fashionheads like Unknown T and Wretch 32 graced the catwalk. Dumbaya also pointed out that the journeys of labour-seeking migrants passing through the Port of London Authority HQ—now the location of the prestigous Four Seasons Hotel—played a significant role in influencing his choice of runway venue.
---
As the curtain rose on another morning of Fashion Week, BFC NEWGEN recipients Stefan Cooke and Jake Burt revealed an exquisite collection that drew its inspiration from the vibrant essence of warm-weather living. With an unassuming aesthetic that celebrates the allure of exposed skin, the runway spectacle began with sun-bleached studded ponchos, which gracefully paved the way for the unveiling of sensuously low-slung skirts.
Throughout the showcase, subtle yet unmistakable references to American culture permeated the designs. Quarterback-inspired silhouettes, stars and stripes motifs, and playful foam fingers intermingled to create a bold visual narrative that paid homage to the iconic Americana ethos. One of the highlights of the presentation was the collaboration between Stefan Cooke and accessory brand Mulberry. The partnership not only elevated the collection as a whole, but also firmly established the designer's place within the luxury fashion sector. The Mulberry touch brought with it the whimsical charm of ribbon bows and vintage rugby shirt tassels, offering an exciting evolution that has since become synonymous with the brand.
---
Having successfully executed a marketing campaign that included a collaborative pop-up cafe and the transformation of London's Bond Street tube station, it's fair to say that the stakes were high for Burberry's creative director, Daniel Lee.
Making its debut inside a giant green tartan tent, the show for Burberry SS24 showcased the whimsical and playful facet of the heritage fashion house, presenting innovative interpretations of its iconic styles. With guests ranging from Kylie Minogue, Gabrielle Union and Barry Keoghan to Skepta, Jammer and D Double E, the luxury UK label presented sleeveless, cropped and bomber jacket iterations of its beige trench coat. Remaining faithful to Lee's inaugural collection's vibrant aesthetic, the former Bottega Veneta alumni incorporated ample vibrant blue tones, notably Burberry's signature shade, ensuring a profound connection to the brand's 167-year history.
---
Mowalola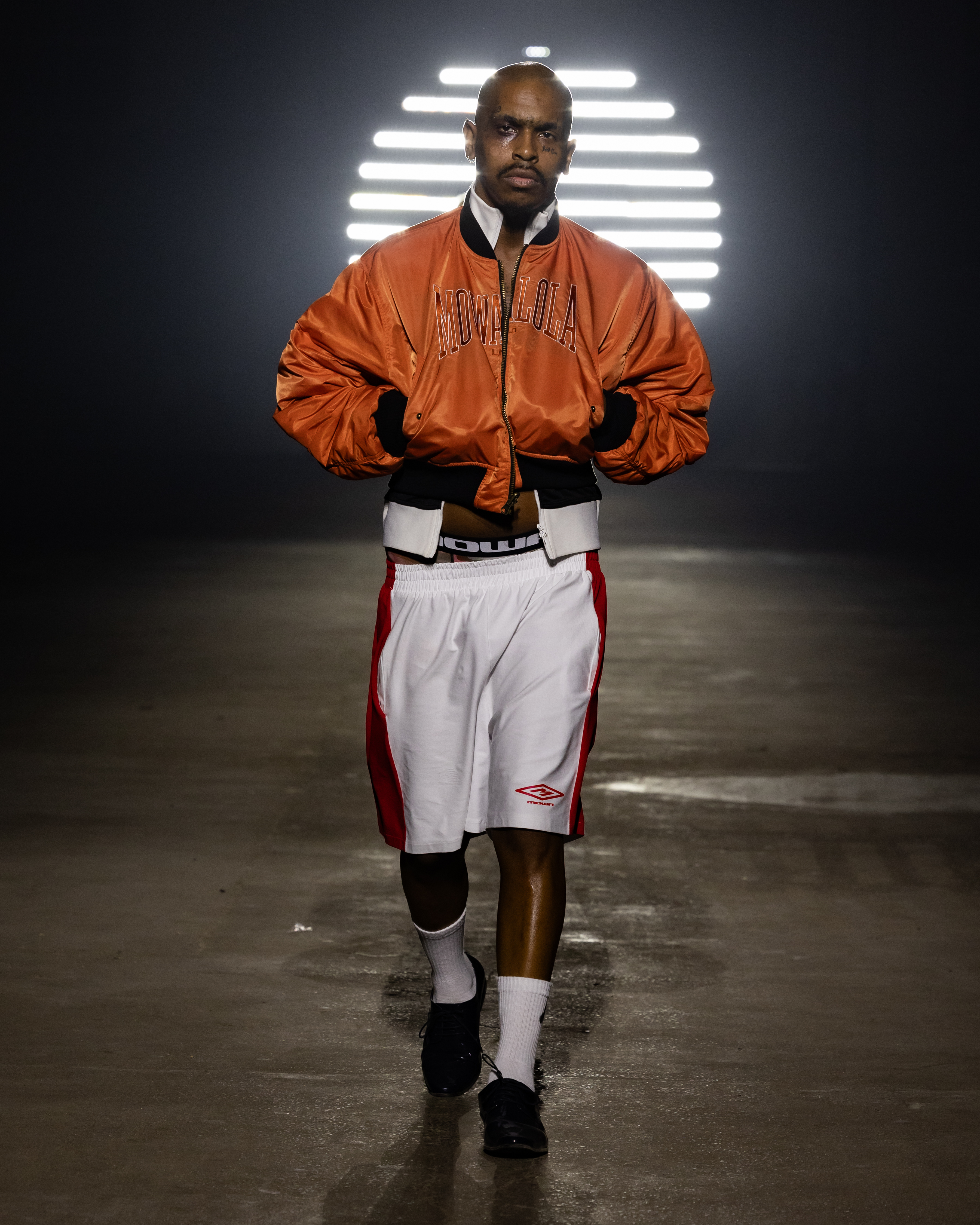 Despite the recent controversy, Mowalola's fourth return to the Fashion Week calendar was anything but a Crash. Inspired by the designer's viewing of David Cronenberg's seminal 1955 erotic thriller, the high-octane presentation saw guests head to the deepest parts of London's industrial docklands for a spectacle that left critics in awe.
To a soundtrack of Nicki Minaj and Alien Ant Farm, models furiously paced the runway both cut and bruised. As Kanye West and his wife, Bianca Censori, sat front row, Ye's ex, Irina Shayk, opened the show in a slinky, body-skimming gunmetal grey column dress, while others followed in reimagined sportswear, dirty denim, and enormous leather shoulder bags decorated with Union Jack and Japanese flags.
Various reprised pieces from the brand's SS23 collection also returned to the runway, including a skimpy falling-skirt silhouette and the brand's distinct Bundle bag. An offering that many have described as unapologetically Mowa, each piece exuded a seductive aesthetic that was refreshing and unique. Crash demonstrated a visionary approach, marked by cutting-edge designs and a deep comprehension of youth culture, to say the least.
---
OIly Shinder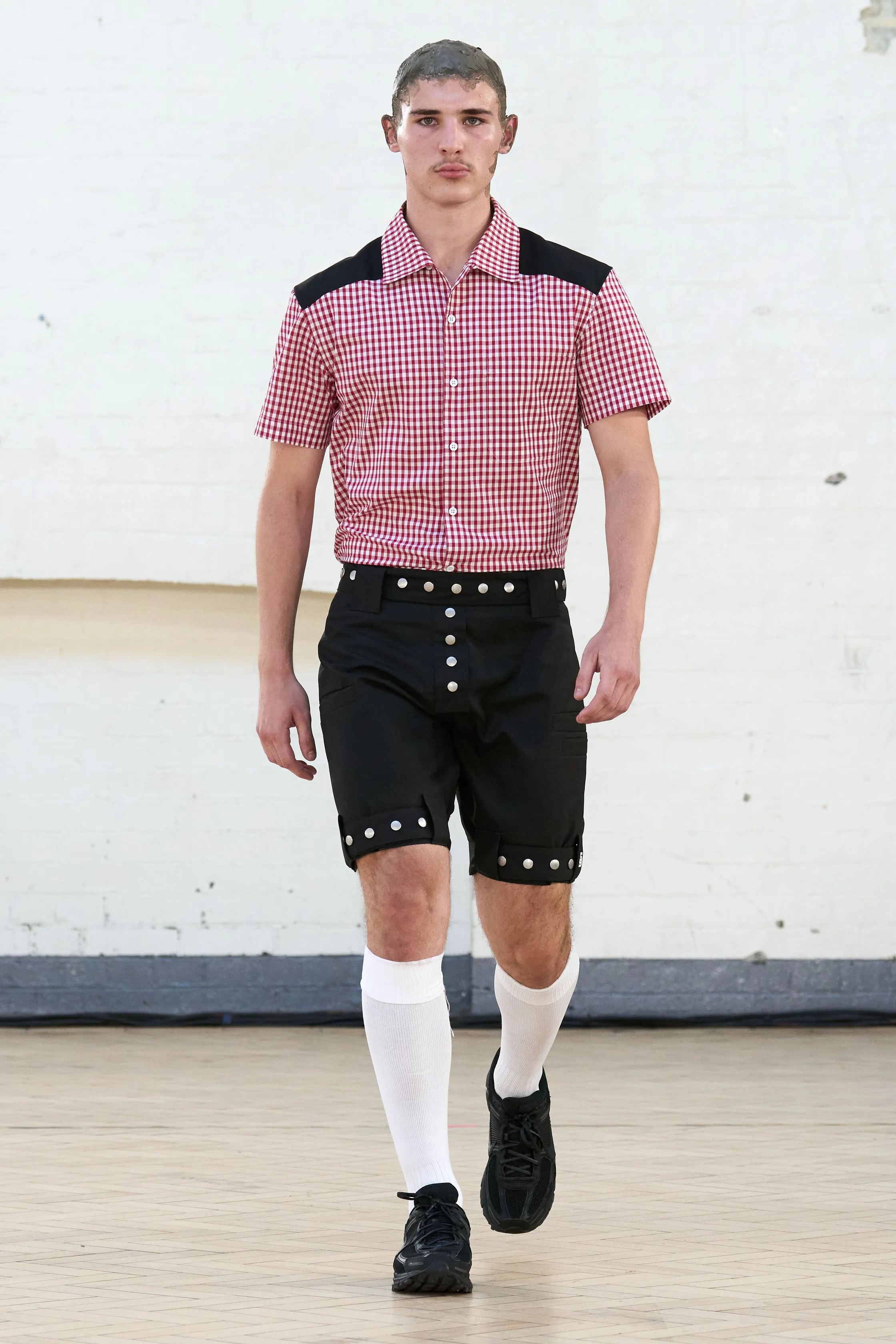 On day two at non-profit talent incubator Fashion East, Central Saint Martins' Olly Shinder presented a playful array of designs which drew inspiration from queer culture and subcultural communities, capturing the essence of the capital's contemporary nightlife.
A subtle subversion of male dressing, the IYKYK creative took to Yeomanry Hall near King's Cross to preview a line-up of military-style silhouettes and rave uniforms. High-neck zip-up tops with bright reflective stripes were matched with studded shorts, while deep-cut gilets displayed the 23-year-old's trademark whirlpool logo. Having already been picked up by luxury retailer Dover Street Market, the collection is a unique example of Shinder's growth and success in the fashion sphere.Jason Lloyd Evans / Stefan Knauer
---
Ahluwalia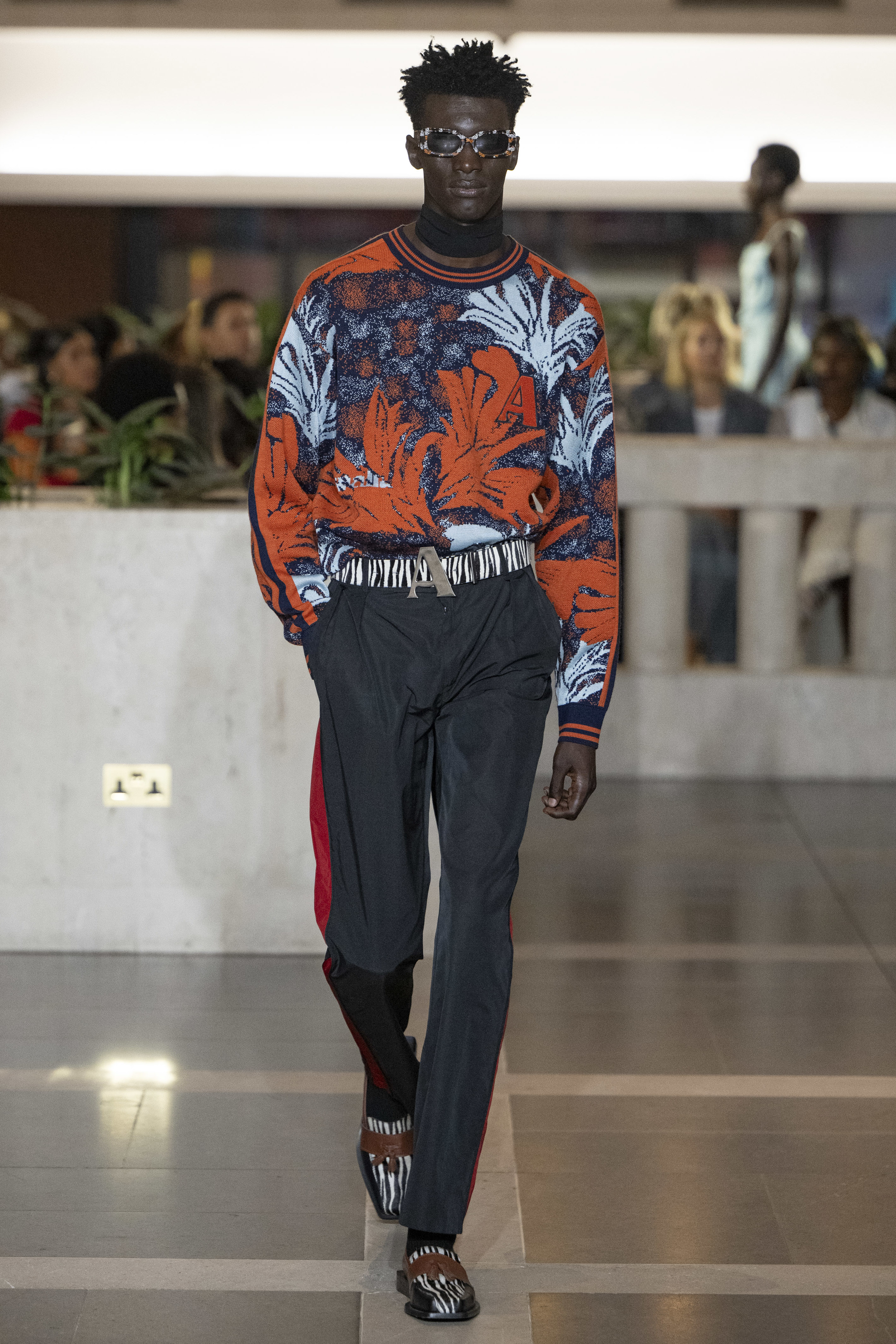 Titled Acknowledgements, Priya Ahluwalia's emotionally heartfelt Spring/Summer 2024 presentation offered a vibrant tribute to the unsung heroes of art, music, culture and social justice, whose achievements and contributions often go unnoticed.
Arguably one of the brand's strongest line-ups to date, the evening showcase was filled with illusion knitwear surfacing as a recurring motif on cardigans, sweaters, and dresses. Bold floral patterns made their appearance on silky skirts, trousers and tops for women, as well as shirts, shorts and waistcoats for men—a subtle homage to the phrase "giving someone their flowers", the designer explains in her show notes.
Shades of magenta, cyanic blue and ochre formed much of the collection's colour palette, while recycled fabrics and regenerated cellulose fibres found life in new textures and constructions. Accessories, including leather belts and calf-length boots, proudly arrived alongside Chelsea boots and tasseled loafers, broadening the label's footwear offerings for another season.
---
MAINS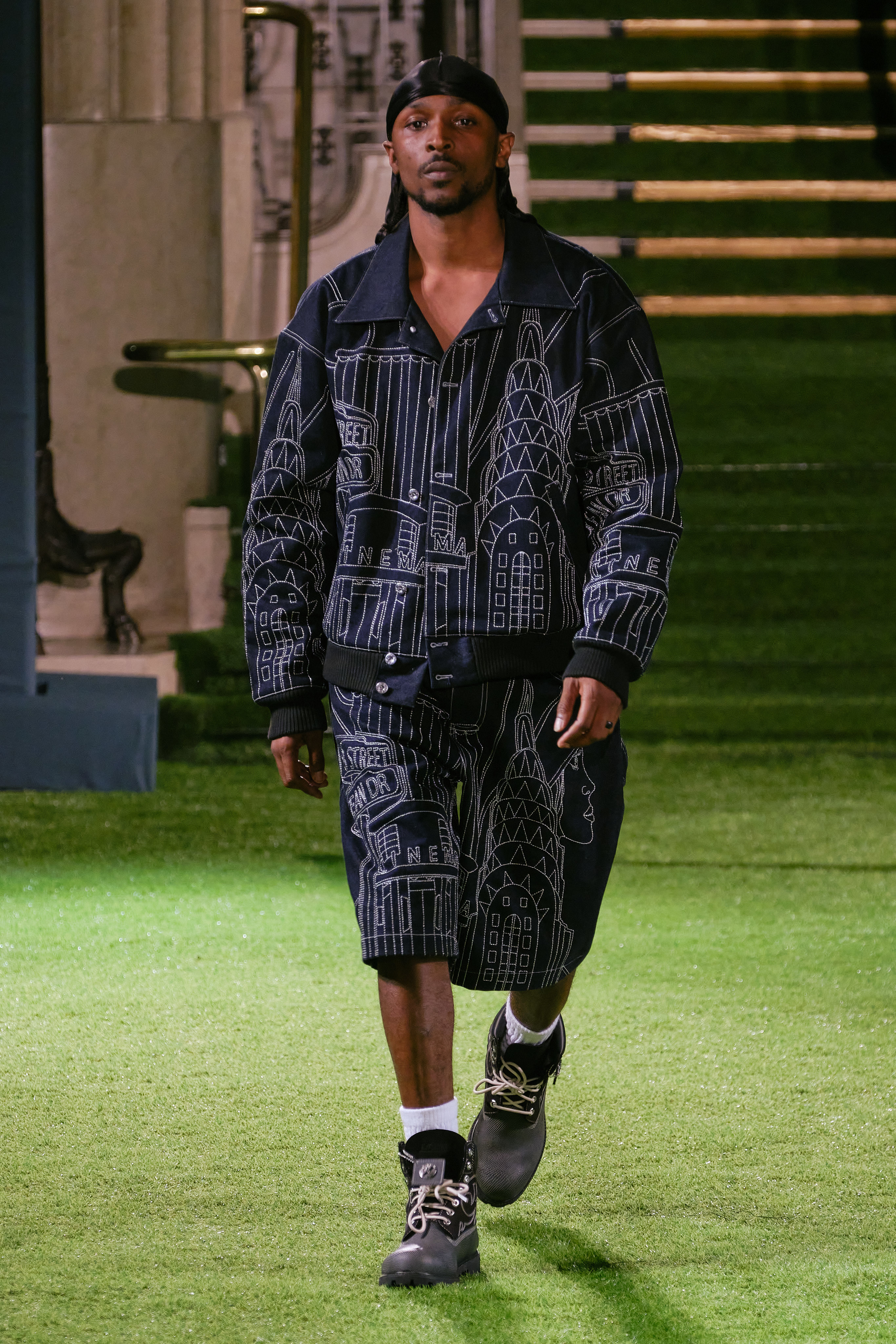 Marking its return after a four-year hiatus, there was no denying that all eyes were on Skepta's MAINS label. Initially debuted in 2017, the unisex imprint quickly etched itself into the very fabric of streetwear, leaving an indelible mark with its futuristic tracksuits, wardrobe essentials, and an iconic GQ cover with legendary supermodel Naomi Campbell.
Taking over one of London's most prestigious banking buildings, the highly-anticipated revival welcomed attendees—including documentary maker Louis Theroux, fashion it-girl Mia Khalifa, British rap stars Little Simz and Stormzy, and Chicken Shop Date's Amelia Dimoldenberg—to a Wimbledon-like setting decorated with astroturf, a large-screen scoreboard and a tennis net placed in the middle.
Describing the collection as an "evolution" rather than your stereotypical rebrand, Skepta's MAINS served up those "staple, crazy, beautiful, wearable clothes," which were first described by the grime MC himself during an interview. Inspired by the streets of London, the star-studded event saw the 41-year-old expand on the imprint's sartorial offering by introducing an extensive range of elevated sportswear staples (read more about that here). There were also graphic knits, leather biker jackets, overalls and boucle bombers, as well as noteworthy collaborations with brands such as Beats, New Era, Puma, Emmanuelle Khanh and Timberland.