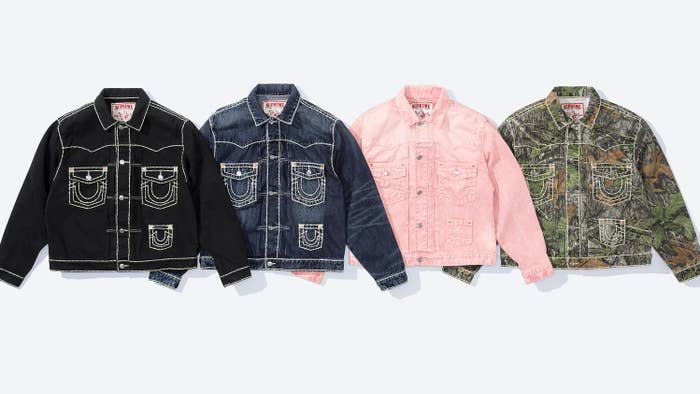 On Sept. 18, Adidas honored pro skateboarder Tyshawn Jones with a mural in the Bronx, the neighborhood he grew up in. It was yet another milestone in the long list of achievements the 22-year-old has accomplished. The painting of Jones, which was on a brick wall, was surrounded by beautiful shrubbery and a phrase that read "Black Excellence is Dreaming Big." It demanded attention, but streetwear fans with a keen eye took note of Jones' outfit too—a faded purple zip-up with True Religion's recognizable Buddha logo stamped on the chest in red. The major difference, the arched red text read "Supreme" and not "True Religion." 
Supreme collaborating with True Religion? The pairing admittedly isn't one that immediately comes to mind, but given Supreme's penchant for honing in on cultural touch points within New York City and hip-hop, the connection makes sense. Founded by Kym Gold and Jeff Lubell in 2002 in Vernon, California, True Religion jeans quickly became a uniform in neighborhoods like Harlem, thanks in large part to Juelz Santana and Jim Jones, who wore the brand throughout the 2000s. In years that followed, True Religion's relationship with hip-hop would grow even stronger. The cover of 2 Chainz's 2011 mixtape T.R.U. REALigion was styled to mimic the label's branding and featured the rapper dressed in a full denim fit from the brand. Chief Keef would frequently rock Trues during his come up in the 2010s and even had a song titled "True Religion Fein" on his 2012 tape Back from the Dead. 
As quickly as the brand rose in prominence though, it eventually fell. In 2013, the brand was sold to TowerBrook Capital for $835 million. By 2017, the brand had filed for bankruptcy. In 2019, the brand was attempting a comeback. UpscaleHype co-founder Allen Onyia was brought in as the new artistic director in hopes of connecting with the same consumers who interact with his popular online platform. As of today, Oniya appears to no longer have any affiliation with the brand. Zihaad Wells also returned in 2019 as True Religion's creative director. He initially worked as the brand's design director from 2006 to 2016 before exiting the company. The goal was that he could help return the brand to the place it was during the Aughts. By 2020, True Religion had once again filed for bankruptcy. Now trying to channel the energy that once made the brand so desirable and capture a new generation's attention, that bring us to this week's announcement.  
On Sept. 27, the rumors were confirmed. Supreme took to its Instagram page to reveal the collab was official. The collection consists of denim trucker jackets, matching cargo pants, zip hoodies, caps, and beanies. True Religion's recognizable hits like large contrast stitching and horseshoe pockets are present, but with a Supreme twist in the form of all-over camo prints or pink mineral washes. For Wells, the collab was "the perfect marriage." Released earlier this morning through Supreme's retail channels, the whole collection sold out in 10 minutes. 
Because of the Supreme collaboration, True Religion's name is back the news cycle. The collaboration also comes as the Y2K era of pop culture continues to firmly cement itself as the latest trend. True Religion's contrast-stitched denim and recognizable logos were a big part of that uniform. At the same time, Wells remains committed to the future. While a project with Supreme comes with a cache that few other collabs can provide, True Religion has also been working with plenty of smaller designers such as New York DIY designer Madeline Kraemer or choreographer Kida the Great on more limited offerings that bring a youthful lens to the product. Whether True Religion is capable of getting back to the status it held in the 2000s remains to be seen, but Wells says the future is promising. He's just happy people are talking.
"I think this is a forever brand. I really do. I haven't seen this brand going anywhere but up, we have such a loyal following," Wells tells Complex. "Here's the thing, people love us and people hate us, but they have an opinion about us. And I would rather have people have an opinion about us than being a brand that doesn't matter, a brand that people don't care about."
Ahead of the release of the Supreme x True Religion collaboration, we got a chance to sit down with Wells to discuss how the project came together, the brand's loyal supporters in New York and beyond, the resurgence of Y2K fashion, and more. Check out the conversation below.
(This interview has been edited and condensed for clarity.)