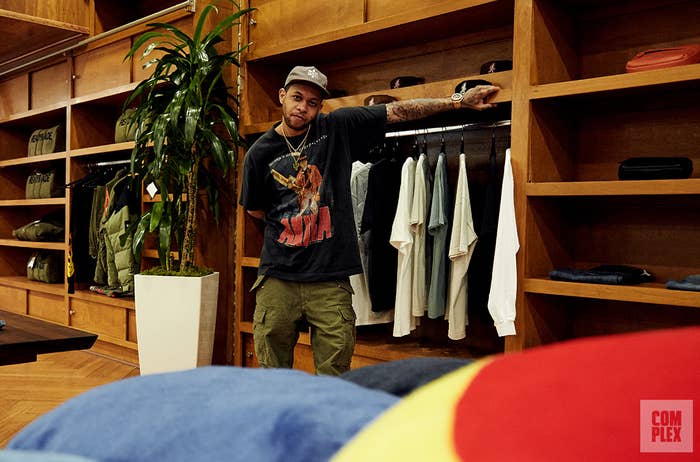 Last month, Travis Scott and his longtime friend and DJ, Chase B, opened up Space Village in their home city of Houston. The new clothing boutique, which is located in Rice Village, is something Chase referred to as a "bucket list type of thing" for himself and Travis they thought of close to five years ago.
Following its opening weekend on February 21, Chase hopped on the phone to discuss his brand new retail space. It was before the coronavirus outbreak took over everyday life. During the call, he was just hanging out with the homies and playing NBA 2K20, sporadically yelling out in celebration or frustration as he navigated his way through a game throughout the interview.
The space opened up in a big way with a limited release of the Travis Scott x Nike SB Dunk Low, which drew a large lineup of hopeful customers. There was even a mini halfpipe set up in the shop. The type of commotion has become commonplace for anything connected to Travis these days, but Chase says the shop isn't all about hype. He wants it to be a community spot that kids can visit to buy some new gear or get creative without signing up for a raffle or getting strapped with a wristband, which he says is hard to find in Houston.
"Obviously there's StockX and Grailed and all that shit now, but when it comes to just getting brand new shit for retail, there's finally a place where you can get all that shit [in Houston]," Chase tells Complex. "At the end of the day, we want to be one of the biggest retailers in the world. We want to be like RSVP Gallery and Kith."
Travis Scott merch will not be the only thing sold at Space Village, though. Chase and Travis have also curated plenty of their favorite brands like Awake NY, Infinite Archives, Online Ceramics, and Readymade to be stocked in the shop. If you aren't trying to cop some new clothes, the shop's Orbit Cafe, operated by Travis' aunt Deborah, which offers up cosmic-themed fruit smoothies and treats, is another option.
Unfortunately, COVID-19 will put a halt on anything immediate as many non-essential businesses have temporarily shut down, but Chase has stayed busy in the meantime. Along with DJ D-Nice and others, he's provided DJ sets on Instagram Live for his followers, doing his best to create a club-like atmosphere with bangers from his fellow Jack Boys Don Toliver and Sheck Wes. We suggest you follow if you can.
We got a chance to speak with Chase about the inspiration behind Space Village, his thoughts on the popularity of Cactus Jack merch, future projects, and more. Check out the full interview below.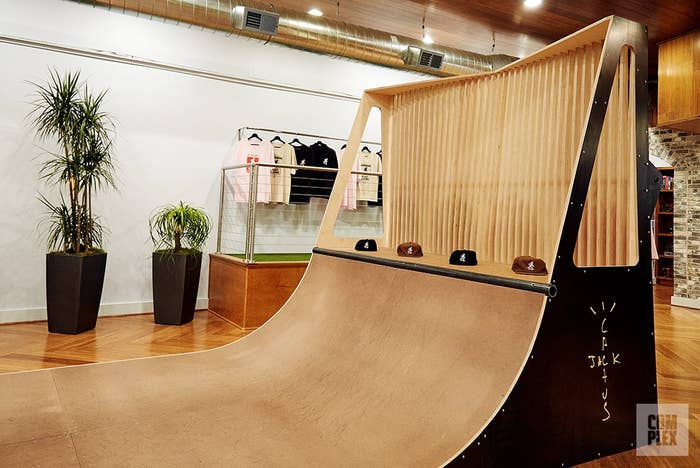 So Space Village has officially opened permanently. How long have you guys been planning this?
Ah, shit man. Space Village is an idea me and Trav had, even probably four or five years ago. It's definitely not a new concept at all. It's not something that we just thought of after Astroworld or anything like that. We definitely always wanted to do it. Even before Rodeo Tour and shit, this has been just a bucket list type of thing for us to own our own store. I went to Houston a couple of years ago and just went location scouting. Honestly, it was tough just because Hurricane Harvey had just happened. A lot of the places up for lease, they needed major reconstruction and refurbishing, all that type of shit. The actual location now, it used to be a Fleet Feet. I don't know if you know what that is. A lot of track and marathon runners go there. It's where you go get your running gear. It's a big store. They moved out of this space to a standalone location. So, we're in a plaza right now.
What went into renovating the space?
We went in there and it smelled like shit, under the tiles was mold and mildew, all this crazy shit. But the location was amazing and the size of the store was perfect. We ended up going with it and we immediately had to reconstruct everything. We just fucking redid the whole thing. Every tile in there is brand new. The hardwood floors in there are brand new. The ceiling lights are brand new. It was a complete rebuilding. We did the whole shit ourselves. That was the first step. And then obviously the second step was what we actually wanted to sell. We always had ideas of that, too. At the end of the day, we want to be one of the biggest retailers in the world. We want to be like RSVP Gallery and Kith. All those stores of the world and shit. That was always our goal. With that, it took a while and now I think we're off to a great start with this weekend and where we're going and stuff. It's been a lot of fun, a lot of learning experiences, and this is a dream come true to be honest.
With a lot of the stuff that you and Travis do, it's always go big or go home. What's the vibe you're trying to create in the store and how is it different from the other boutiques you just mentioned?
Honestly, it's more about what's inside the store material wise, more than the actual buildout as of right now. There's a teepee in there now. We're doing a whole mini ramp display. There's going to be a lot of different build outs as product comes in and out. With that, like what you said with the whole go big or go home thing, we're going to do a lot of different things. We're going to do a lot of different installations. It's really just a place for us to get our imaginations out tangibly, inside of a place where people can come see it and it's close to home. It's right next to Rice University, so college kids can come and just get their ideas out and be inspired. That's the whole premise is just reminding everybody that we came from this and you guys can do it, too.
What is your and Travis' exact involvement with the shop? 
Right now myself and our manager and operator, J. Rich, we do all the buying, literally. It's not a store that we just threw money at and just have people take over themselves. I was damn near a sales associate this past weekend. We have handled every step of the process. From hiring employees to what goes into the shop, the build outs, and the contractors. We literally handled every single step. We're 100 percent involved. We're going to be there as often as possible. I literally got a new fucking crib in Houston just to be able to be there as much as I can. I'll fly in there twice a week at this point. It's going to be a full time commitment and we love the employees, man. Took a while to find them. I feel we're spot on with who we hired. I'm super excited for them to grow and learn with us, and this whole experience. Every single detail about that store went through us.
The space theme, that's an obvious connection to Houston. You see that with Astroworld, too. It all ties to the city. How did you land on that name though? Was that always the theme?
It didn't take long. Obviously we brainstormed out a lot of different ideas and shit, and there was a lot of wild, out there shit, but it didn't take long at all for space to just come to us. Originally it was just Space by itself, but we're located in Rice Village and that's just a super important area to us. We always grew up shopping there and just being around even when we were old enough, we were at different bars around there. Just to be a part of that neighborhood finally meant a lot to us, so we added the Village just to feel more a part of that community and the neighborhood and shit like that.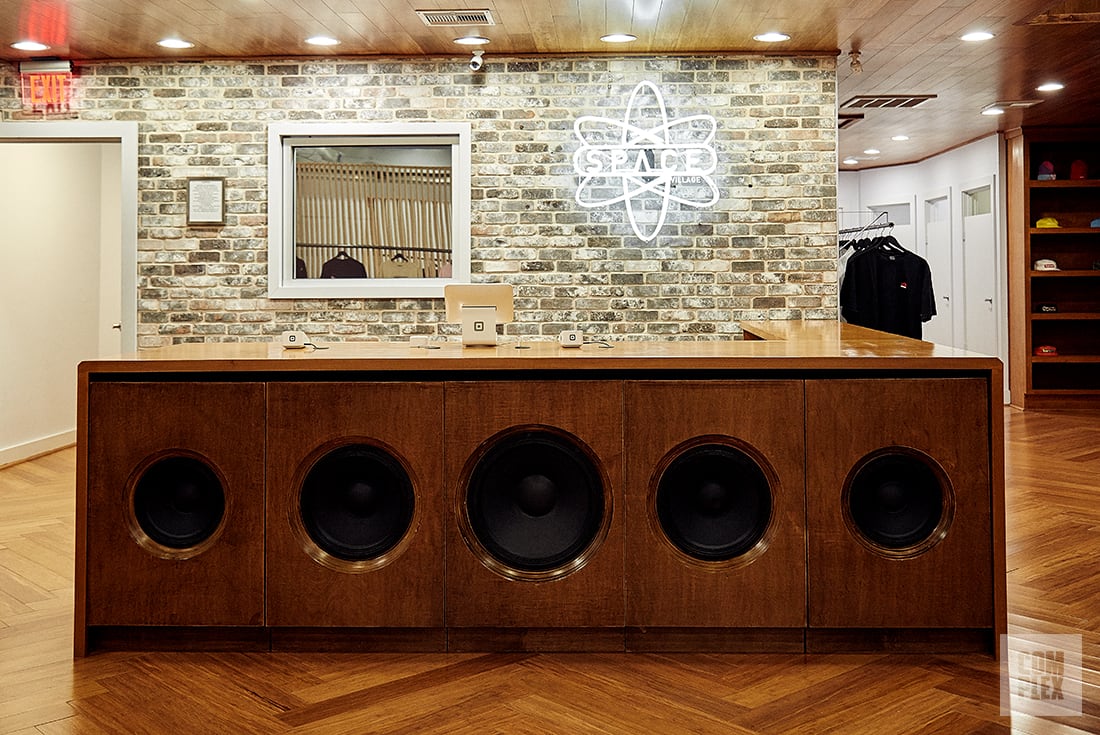 You've done pop-ups in the past for Astroworld Fest, but was it always the plan to have this permanent location at some point?
Yeah, we wanted it to be permanent from the beginning. We went through a lot of different things that we thought we could do better. Even with the hiring process. We closed down for a little bit to have some more employees come in because we thought we could use a little bit more help. It was just a lot of things that led to us to not being permanent. We never wanted to be a pop-up space at all. We had a big problem with the neighborhood thinking that every time we opened it was a huge catastrophe with 700 kids outside all wanting to get in. The main goal was always to calm that down a little bit and just have our doors open and have kids feel they could come in whenever and not just feel that they have to get a fucking wristband, get patted down by security just to walk in. We want to be a part of the community and have our doors open every day. It's a huge blessing that it's to that point now. It took a while to get there.
How are you guys handling the crowds? Because just by nature, everything that Travis does draws that type of crowd you talked about. How do you guys plan on making sure it can just be a shop that people can walk in, walk out of?
Yeah, I mean obviously the first three days was all mayhem and shit. But I feel the [live] shows give Travis fans a different connotation of what their actual behavior is. Obviously, at shows we're yelling and telling them to rage. They're going to do that. But when it comes to standing in line at the store, they're super respectful. We never had any type of riots or fights. Everyone, they just want to support. This whole weekend we really didn't run into anything.
We had all the security and shit like that, but all the kids, they just really want to see the store be successful and they come in and take pictures and they're just expressing their gratitude the whole time. It's been super easy as far as that goes. Other than that, just with drawing the crowds and just handling the crowd. I feel it's a lot to do with the wording we put around certain releases and all that type of shit. We're just trying to be as clear as possible as to what is going on in the store every day, what's required of the people that do come to the store. We're just being transparent. The kids, they love it.
Whether it's Astroworld stuff, Jackboys, or just Cactus Jack Records merch, you guys have such a high quantity of merch that comes out and it feels like it comes so regularly. What made you want to not make Space Village strictly a merch space and more of a traditional boutique?
Honestly, that's just what we love to do. We shop all the time. We have so much respect for all the stores that we've been to around the world. We fly to Berlin just to go to a certain store and maybe not even buy anything. It's just to see what they have and what it looks like. Just out of respect for all the different boutiques we've been to over the years around the world, we just want to be a part of that. And there's a lot of brands that we actually support like Angelo [Bacque] from Awake NY is a good friend of ours. Elijah [Funk] and Alix [Ross] from Online Ceramics. Adrian [Douzmanian] from Andrew in Miami has been one of my best friends for years now. Everything's organic in the store. There's not really anything in there that we don't actually support and we wouldn't wear ourselves. It's not a flex on our part at all. The brands we have in there, we actually wear and support on a regular basis, so it just makes sense.
Infinite Archives with Easy [Otabor], he's literally part of the gang. It's a blessing to see how far he's come, even in a couple of years. He's one of the biggest brands in streetwear right now. It just all makes sense. There's a lot more coming, too. We're just going to roll them out. It's been a fun experience to do all the buying and have all the accounts that we acquired and the collaborations that are on the way are super awesome and shit. It's just been a great experience. We've done so much in music and now we've been such a big part of the fashion industry since 2013, 2014, so it's just our contribution back to it.
So we can expect collaborations with these brands?
Oh, for sure. There's going to be tons of collabs. We're working on some shit right now. Not going to get too far into it, but tons of collabs. That's the best part, is that we can finally just have all these collaborations and have a platform for it. It doesn't necessarily have to be Cactus Jack or Travis every single time. Now we just have a space and a city that can represent it.
You just touched on this, but all the brands that you're stocking the store with right now are brands you all wear. Are there any brands you want in the store that aren't stocked yet?
There's a lot of Japanese stuff that we haven't gotten yet. The thing is you have to make time to go to the showrooms across the world and do your due diligence. With that, me and Travis haven't had time to actually go and do it yet, but there's a lot of stuff over there we want to carry. Even in Paris, there's a lot of emerging streetwear brands that we want to carry and shit. There's definitely a lot more that we're going to have and we want to have a lot of upcoming streetwear brands, whether it be local, New York-based, or LA-based. We want to keep it super fresh and always pushing the culture forward and shit.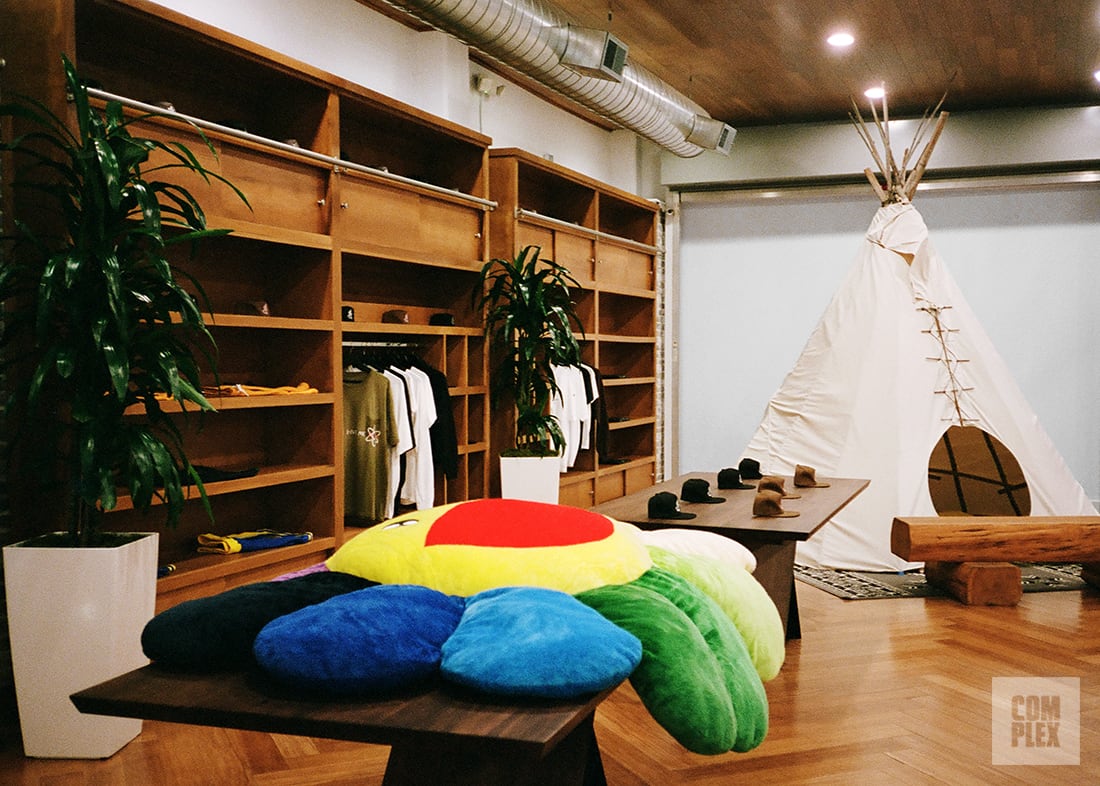 You mentioned New York. Houston is not really known as a shopping destination like New York or Los Angeles would be. How were you guys getting fresh growing up? 
Man, honestly me, I was blessed because my mother's from the East coast and shit. I was always around all the new shit. I was always North Jersey and Soho. At least once or twice a year I would go shopping there and just see all the brands. But other than that it was literally just finding those one or two websites where we can go and just get all that big shit we wanted. BBC was in Barneys back then. It was just a lot of hunting around to find shit like that. Obviously, we didn't have a Supreme store down the street and there weren't any resellers with shoes. We had Active Athlete and all that type of shit. We just had to make due with what we had. Now it's cool that Houston has a place where it makes it a little bit easy. Obviously there's StockX and Grailed and all that shit now, but when it comes to just getting brand new shit for retail, there's finally a place where you can get all that shit.
What do you think Space Village brings to the city? Why do you think the city needs this type of a destination for the kids coming up?
It makes it feel attainable, as far as being an actual business is concerned. Like I said, they've seen us do so much with the music, but there's just a lot more that can go into that. It's all possible. And just take your imagination as far as you can possibly take it. Like I said, we're pushing ourselves, too. Opening the store was not easy by any means. There's a lot of things that I thought would be handed out to us just because of Travis and who we are as a brand. It just didn't happen like that. There's a lot of things that pushed us to the limit. For kids to just come in and see exactly how this can be ran, I feel it's closer to home.
Travis and his movement has a global reach now. How important was it to open in Houston, even though you could have easily probably opened this shop in a bigger market like New York or Los Angeles?
I've lived in New York for the last six or seven years. Trav has been in LA pretty much his whole career, but now just given our positions and where we are in life, I feel home is the most important thing. There are other places for people to get that type of shit in LA. It's pretty much everywhere. If it's not the actual store, there's a reseller that has it. That was the most important part was to start at home. We do plan on expanding eventually and all that type of shit, but the whole point of the store was to be in Houston. Basically our mission statement was to bring our global clients back to where we're from. 
When you came on Full Size Run, you mentioned being involved in the brainstorming process with the sneakers. Are you involved in the design process in the same way with a lot of the merch that comes out for Cactus Jack and Travis?
Yeah, we're still extremely hands-on with all the Space merch and Cactus Jack. Corey [Damon Black] has been holding it down forever when it comes to that type of shit. We're still extremely hands-on when it comes to that. Me, my vision is to keep our drops as exclusive as possible, and have Cactus Jack merch be the anchor of the store. If you were looking for it online or whatever, you can have it, but I do want Space merch and Cactus Jack and Travis merch to be the anchor of it. Even that stuff, it's so hard to get because I know kids are fucking waiting online for drops on Trav's site or whatever, but it just cool that Houston has its own hub to give more of an exclusive experience when it comes to merch that we designed. Even festival merch that we might have in there and whatever. We're still super hands-on with everything. One of us four are going to design pretty much everything that goes on into the store.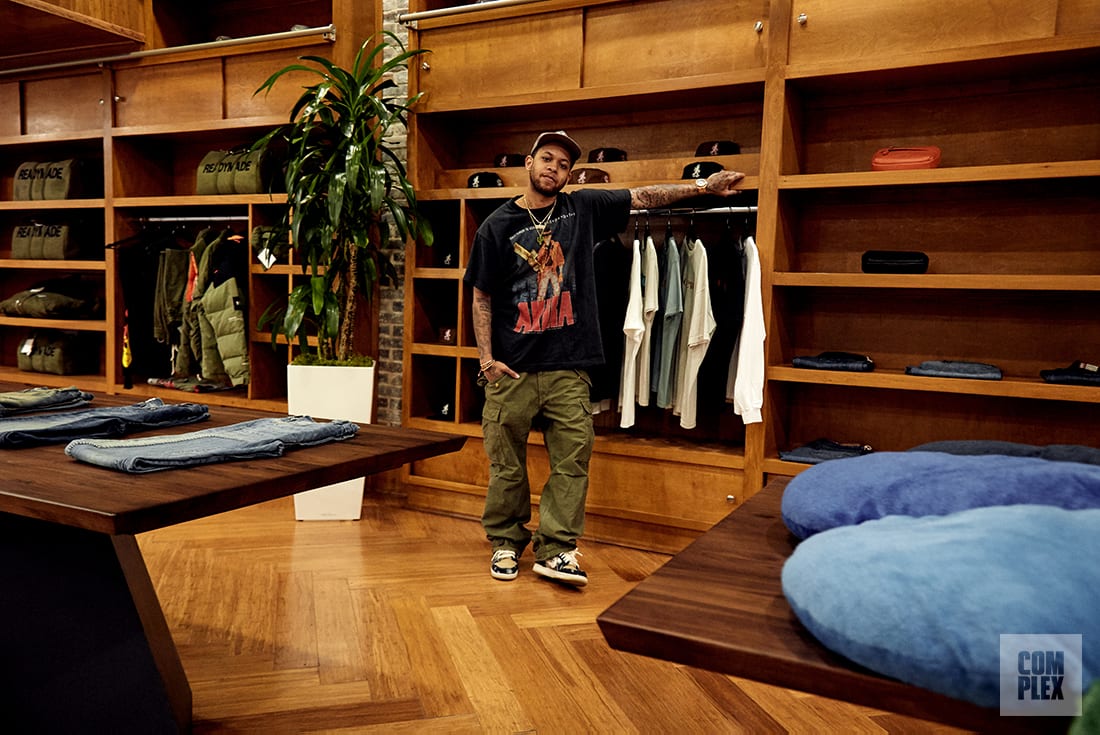 Most recently, you guys just did a special release of the SB Dunk Low. Have you seen some of the ways that the shops handled the release?
Yeah. I see Andrew [in Miami] is making kids rap on the phone. That is hilarious. I think it's just fun to see. The biggest thing we were concerned about, well not concerned, but the biggest part that we wanted to cater to were the actual skaters. The biggest thing was just making sure that actual skateboarders love these shoes too and actually skate in them and use them. That's why we wanted to have the Cactus Jack print under the [paisley] fabric. So, when you wear them and you fuck them up, there's a whole other print under there. That was a big thing to appeal to actual skateboarders. All the skateboarders, man, they seem to really love it. The video was amazing. [RAYSCORRUPTEDMIND] did an awesome job with this photography. It just came full circle with everything.
You [and Travis] can both definitely be credited with helping restore the attention, at least in the mainstream sense, on SBs. You guys have been wearing them for years. Does Travis getting an SB Dunk collab feel extra important for that reason? 
Yeah. I think the Air Force One is the most important shoe in sneaker history, but the SBs have always been my favorite. I've been dressing the same since I was fucking 15 years old. I never stopped really wearing SBs. Even with fitted hats and all that type of shit, to restore all of that, the whole feeling. To see the way people dress now, I'm finally like, finally everyone came back to where they're supposed to be in my eyes. The SB collab means a lot because we literally went on a fucking hunt for years to get all the SBs that we either couldn't afford or couldn't find when we were just living in Houston. Now with the SB collab, for it to be such a good shoe, it means a lot of shit. Other than the Air Force One, I think this means the most to me honestly.
Where do you rank these?
Man, I think on Full Size Run I said the Air Force One was my favorite. I don't want to retract on that. The Air Force One is my favorite shoe, but I think the Jordan I honestly was the best shit. I find myself wearing them most often, so I'm just going to say it based on that. I'd say the Jordan I is probably the best one,  then I'd probably put the SB, and the the ["Sail"] Air Force One.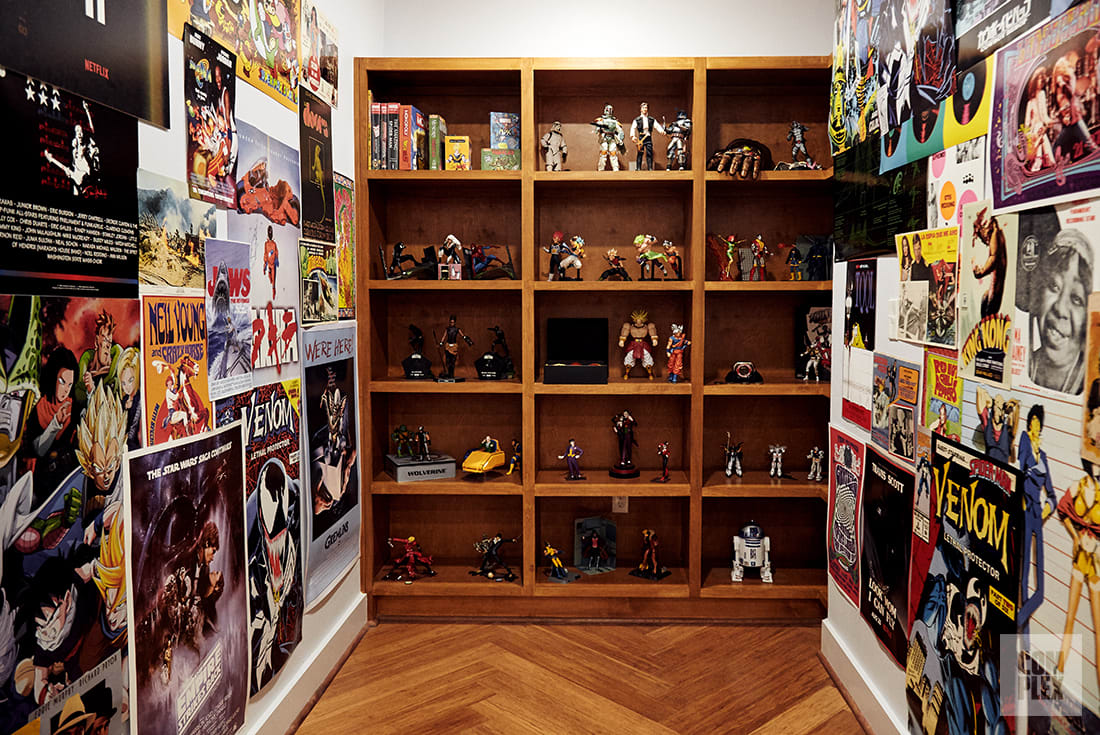 On the music side of things, can we still expect your project? Is that still something in the works?
Oh, man. Sooner than you think, man. I'm 98 percent  done with my shit. I'm putting pretty much finishing touches on my shit. It's going to be a very exciting summer as far as the gang is concerned.
Are we getting another Jackboys pack, some new Travis? What else can we expect?
Jackboys came just because everyone just had all this music and we locked in, made songs like "What to Do" and all that type of shit. I feel like Jackboys will just come whenever. Whenever we just look at our hard drives like, "Oh, we got all these bangers, whatever." They might not have gone on anyone else's album or whatever or we can do another conceptual one, but I'm sure there'll be another Jackboys[release]. That's just some energy. We just love getting it off. It's a time for everybody to link up and do some fresh shit. I'm sure there'll be another. I can't tell you exactly when, but I'm sure there'll be another one.
I know a lot of people speculated that it was the first of a series of releases.
Yeah. I don't know where people get that type of shit from. I can see if we actually said it or whatever, but people really just make up these narratives and just run with it, which is cool, too. It goes hand-in-hand with the sneakers. The demand is there, so we appreciate it. But we never said that it was going to be back-to-back-to-back. I'm sure there will be another one. The pack was just a way to get some shit off. You don't put too much thought into it, it's not a whole concept like Astroworld. Don [Toliver]'s album is the same, but with Jackboys we just wanted to get some bangers out.
Follow-up to Astroworld on the way too?
We're on a whole different vibe now. When it comes, everybody will know.
Not to close that on such a bad note, but the recent passing of Pop Smoke was such shocking news. He was another standout part of Jackboys. What are your thought on the whole situation?
It's unfortunate as fuck. He was just getting started and he was the face in and the sonics of a whole sound in the fucking biggest city in the country. And he really provided a lot of energy coming out of New York. It's just unfortunate. It's just super random. I don't know why that shit happens. I wish it didn't. I just hope his legacy continues. The reception of his music since he's passed has been unbelievable, so hopefully his name and his spirit just celebrates his sound and his life as much as possible. Even I was just in Houston this past weekend, you hear "Gatti," "Dior," and "Christopher Walking" back-to-back-to-back every time. It's definitely a mood. You know what I'm saying? It's crazy for any artist to ever have that, let alone get it as fast as he got it. He really figured it out.