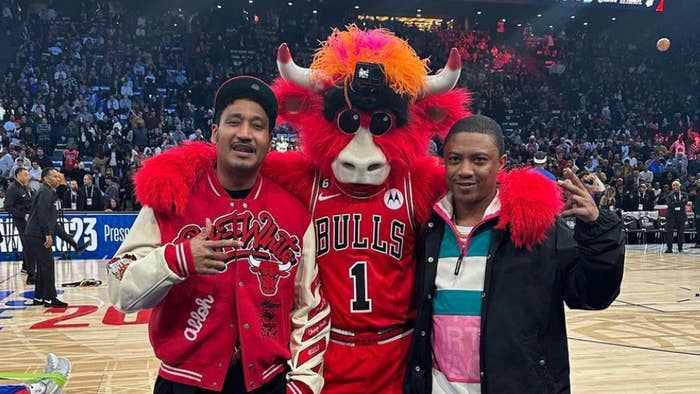 When it comes to fusing luxury fashion with sportswear, there are few individuals more solidified than Don C. His introduction of python-brimmed snapbacks and basketball shorts with logos embroidered across the front through his brand Just Don have both experienced their own trend cycles. His reputation led the Chicago Bulls, his hometown team, to appoint him as their Creative Strategy and Design Adviser last year. It's why earlier this week he was named Creative Director of Premium Goods for Mitchell & Ness, a position some people may have already assumed he had in the first place. But Don C's latest project is a bit more unconventional than some snakeskin caps. He's helping a mascot covered in red fur get fresh.
Don C has partnered up with Klarna, an all-in-one shopping service, to create a one-of-one pair of his Just Don Courtside Highs for Chicago Bulls mascot Benny the Bull. The pair was specially constructed in Chicago and features a rust-colored leather upper to nod to the bridges in Downtown Chicago, pink and orange gradient on areas like the tongue and midsole, and a special Just Don logo hit on the tongue featuring Benny the Bull.
"I saw Benny and I thought he needed a little help with his sneaker game," said Don C with a laugh over Zoom. "I think it's going to be an innovative project. Somebody's going to copy the mascot shoe release now. So remember, Benny the Bull is the first one to bring you his own shoe."
Fans will also have the chance to purchase their own pair of Bulls-inspired Courtside Highs ($460) exclusively through Klarna starting today. Anyone able to attend tonight's game at the United Center, where Don C will be officially gifting Benny the Bull his new pair of sneakers, can also visit the Klarna Concierge for a chance to win a special VIP prize pack featuring limited-edition Just Don clothing and signed Bulls gear.
In typical Don C fashion, the Chicago native has kept himself busy with plenty of other projects besides this one. In January, we saw him take a trip to Paris with the Chicago Bulls during Fashion Week for the exhibition game between the Bulls and Pistons, and the unveiling of the Off-White x Chicago Bulls collection he helped orchestrate to honor his late friend Virgil Abloh. His new creative director role with Mitchell & Ness has given him the ability to create more premium throwback collections to celebrate other areas of pro sports. Speaking of creative directors, we also made sure to ask Don C for his thoughts on Pharrell's recent appointment as the creative director of Louis Vuitton Men's.
"We wanna show support for Pharrell. He's representing the culture. I'm all for Pharrell at Louis," says Don C. "You got the highest level of production and then you got the highest level of creativity. It's gon' go."
Check out our full interview with Don C about designing a sneaker for Benny the Bull, more of his thoughts on Pharrell's appointment at Louis Vuitton, his favorite throwback jerseys, and more, below.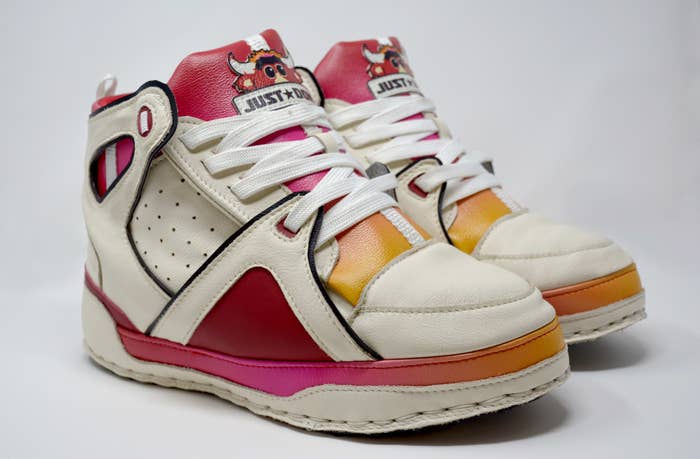 Can you tell me a little bit about this new project? I know you designed some shoes for Benny the Bull with Klarna. That's a pretty unique product integration.
It was just fun. I saw Benny and I thought he needed a little help with his sneaker game. [The Bulls] were like, "How about you customize a pair?" So it was inspired by the Courtside Highs that I do, our sneakers made in Italy. The Benny version is made in Chicago though. And then we have a variation with Klarna for people to purchase. It's an exclusive Bulls colorway of the Courtside High. I think Benny is a real viable asset of the Bulls. We need to just use him to amplify the brand.
This shoe with Klarna, I think it's going to be an innovative project. Somebody's going to copy the mascot shoe release now. So remember, Benny the Bull is the first one to bring you his own shoe. When y'all see the version of the Courtside, you'll see why they mess with ya boy. The fans in Chicago and worldwide are going to experience it.
We gotta see Benny in the tunnel, full Just Don.
Oh yeah. [Laughs.] Benny stay drippin'. He always got something fresh on.
You've done plenty of sports-related projects over the years with your brand, but as a lifelong fan of the team and a Chicago native, how rewarding has the work with the Bulls been for you?
It is beyond comparison to be with the home team. It's amazing for the home team to be able to give us the opportunity to integrate projects that include the community, that include kids in the neighborhood, high schools, and the fans. I just can't thank the organization enough for giving me this chance. We just keep trying to infuse the Bulls and make other franchises jealous of exercises we're doing.
There was the game in Paris a few months ago. I thought that was pretty amazing to see. You had the whole team out there. It happened during Fashion Week. You're used to going to Paris Fashion Week, but what was it like being able to be there with the Bulls and create this big moment that was able to break through the regular Fashion Week schedule and have people excited?
This whole opportunity is beyond anything I could dream of. They always represent for the Bulls in Paris. It's funny because a lot of my friends always say, like, "Don, when I come to Chicago, I gotta go to a Bulls game." I'm like, "Man, we brought the Bulls game to y'all." [Laughs.] On an international level, the NBA got that vision to have to set up the game to happen during the same time as Men's Fashion Week. I think it was just a melting pot of cultures and everybody was having a good time. The Bulls certainly represented. We did the Off-White collection that came out crazy, the whole team wrapped in the jackets. We had the party of the week I feel like. There were a lot of memorable moments. I think that's just something we're gonna cherish for years to come.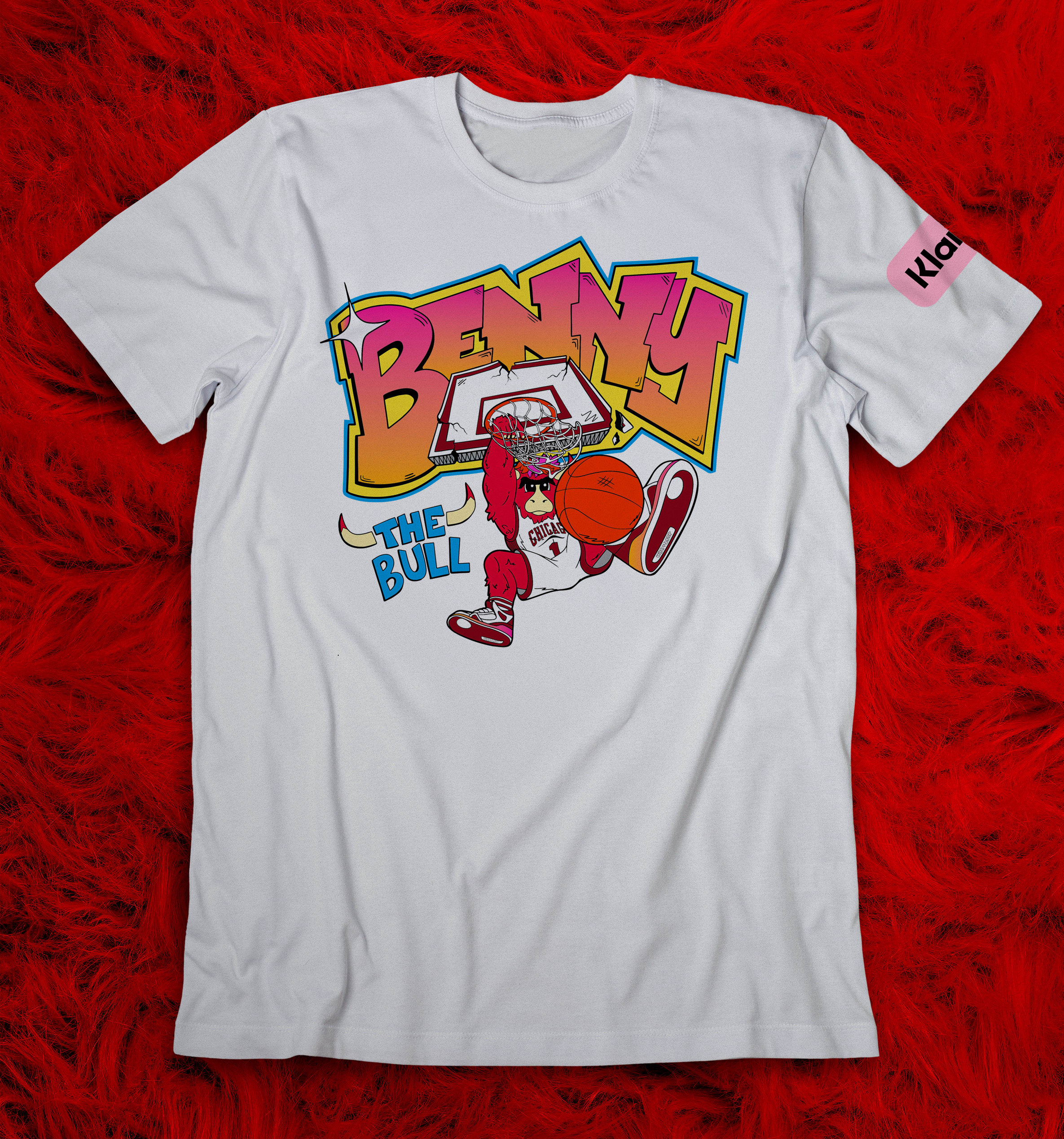 I was going to ask you about that Off-White x Bulls collection. Obviously, that's a very important project for you. Can you just talk about what executing that project meant for you?
It was a celebration of Virgil's favorite team, the Bulls. That's the storytelling that we were trying to amplify, to be able to fuse the Bulls playing in Paris with Paris being a city where he had his rise. We did the event at the Off-White flagship store. We pulled up with the Bulls' six trophies, had 'em out of the country for the first time ever. It was a memorable week and to pay homage to Virgil was super special for all of us. This being the 10-year anniversary of Off-White, we gotta keep amplifying and keep trying to keep his legacy alive.
Is that Off-White x Bulls project something that you and Virgil had spoken about prior to his passing at all?
Nah, we didn't. I wish we had the foresight. I didn't even know I was going to be with the Bulls. But man, a lot of his references came from the Bulls and those moments from the '90s coming up in Chicago. A lot of things that he referenced in his work came from that ethos of the Bulls. I think every kid that came up in that era is highly influenced by the team.
You just mentioned it now and you've been vocal about it in the past. Are there any other projects that you'd love to do to continue to honor Virgil's legacy?
I'm trying to keep supporting initiatives of his foundation. His legacy's gonna live through his foundation, through his kids, and through his companies. I keep just trying to support everything that they are doing. We are definitely going to do that through the Bulls. They're all about supporting the community. People are going to enjoy being a part of the process of anything that Virgil's brain or his brand brings to the table. Just keep supporting that.
Were you there when the team got their jackets for the first time? Did you see them react?
Yeah. That was crazy. Everybody was just hyped. I think they had a heads-up, because they had gotten fitted for 'em. So, it wasn't a total surprise, but it was definitely like, "Wow."
A little bit like MJ or Kobe getting their Jeff Hamiltons in the locker room back in the day.
Exactly. I told the GM, "Don't trade none of these guys or we might have to take they jackets back." [Laughs.]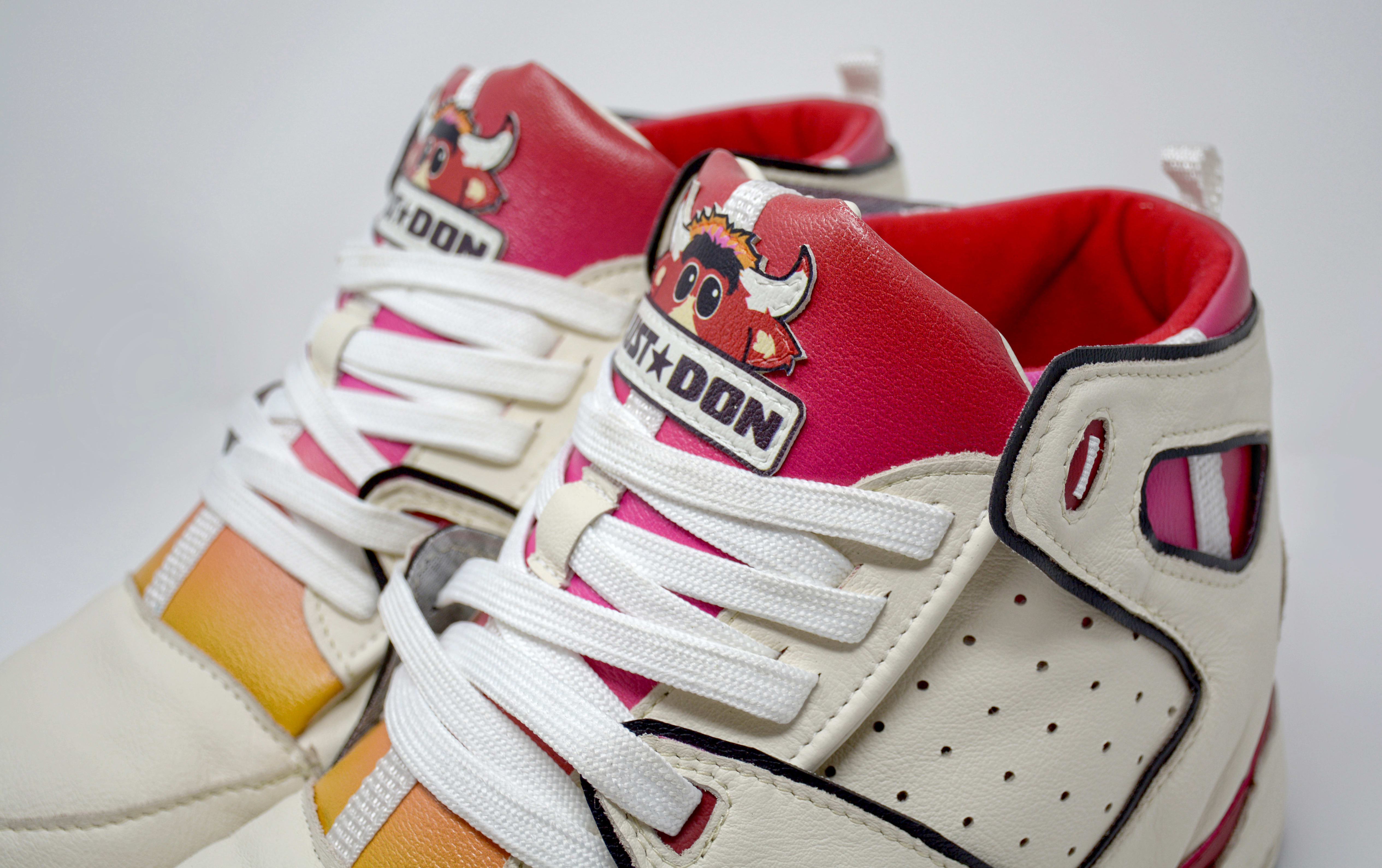 Sticking to fashion for a second. Pharrell being the new creative director at LV was big news. What are your thoughts on that appointment?
Man, I think that's awesome, Pharrell's perspective on Louis Vuitton. We've already seen a glimpse of that in the past. So now for him to just fully infuse his creative mind and his creative genius through the atelier, they're going to bring some exceptional, innovative products to the table. I'm hyped about that.
Do you think he was the right person for that role?
They selected him, so I think that's the move we should be supporting. [Laughs.] We wanna show support for Pharrell. He's representing the culture. I'm all for Pharrell at Louis. The Pharrell x Louis Vuitton season has begun. It's about to go down. I believe it's gonna be fresh. He never fails. He's always bringing fresh stuff to the table. So I think this is gonna be bar none. Why wouldn't it be that when Louis Vuitton production is at that level? You got the highest level of production and then you got the highest level of creativity. It's gon' go.
You've just been announced as the creative director of Mitchell & Ness Premium Goods. What are you most excited about with that new role?
I'm excited to be able to take on fun exercises and cool exercises that we do with the amazing storytelling that Mitchell & Ness does. I think it's going to be crazy.
We're gonna see more Jeff Hamilton jackets?
Absolutely, man. That's only a matter of getting with Jeff. His schedule is so crazy. [Laughs.]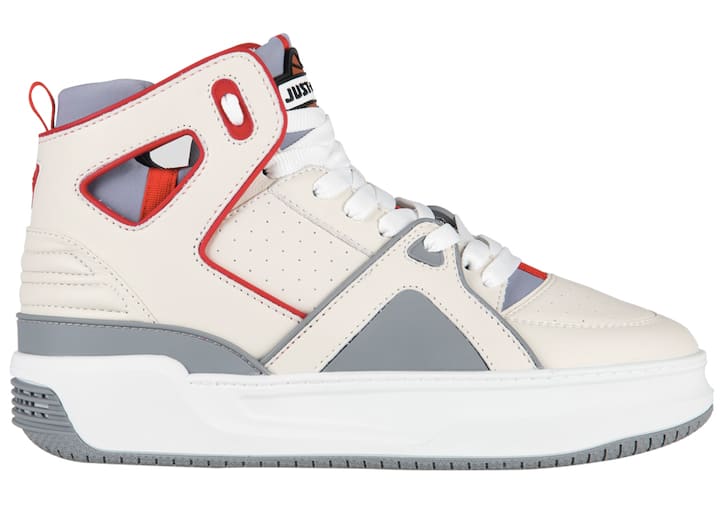 What are your top three throwbacks of all time?
That's a hard one. People forget about the '85–86 Larry Bird warm-up. That's one of my favorite ones. It's a unique silhouette and it's got the name badge on the back that comes off. I like that a lot. The Wayne Gretzky Kings jersey is hard. You can't go wrong with that. Everybody was expecting me to say Jordan, which, of course. But I feel like when you think of the throwbacks, you don't think of the basketball ones. It is more football and baseball. Those are some that come to mind that are like classics. But there's so many.
Is your throwback collection crazy?
I've had a collection on and off throughout the years. Now, my collection is in the archives.
Put that in a museum or something.
That's what I'm working on. I got the Fashion Athletic Art Museum on the Southside of Chicago. I'm working on a museum.
I know you're not a stylist, but if you could personally style or work with a player in the NBA today, who would that be and why?
It'll just have to be something natural, anybody whom I could add value to whatever they are doing. I mess with everybody. There's nobody in particular I would pinpoint.