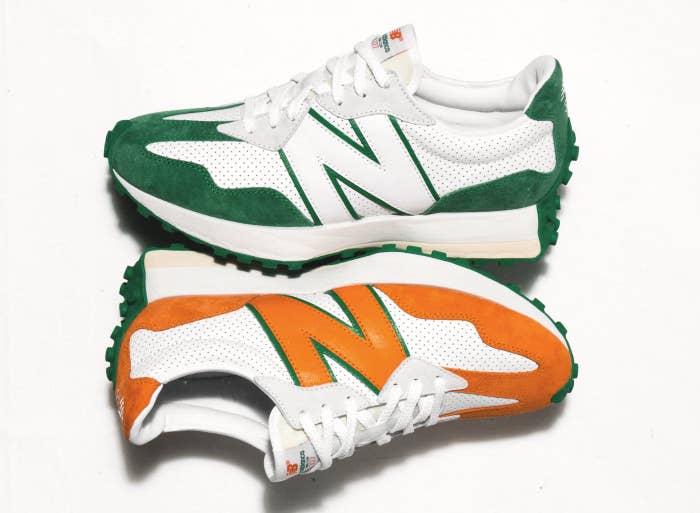 Casablanca's Charaf Tajer is used to creating his ideal version of things that don't exist. He did it when he co-founded Parisian club Le Pompon, which he helped operate for seven years. He did it when he entered the fashion space in 2008 with Pigalle, and his latest project with New Balance to create what he considers a "cool Italian grandad shoe" is no different. 
Tajer launched Casablanca in 2018 as a way to bring his French Moroccan taste to the masses. Elegant silk shirts covered in graphic prints and French Terry athleisure wear have become signatures from the young brand, which is affectionately named after the city where his parents first met. The mix of luxury and sport is akin to Tajer's previous work as a member of Pigalle's design team, which is known for its basketball-inspired apparel offerings and Nike sneaker collabs. 
While Casablanca is gradually collecting a notable crop of supporters including names like Gunna (who even walked in the brand's Fall/Winter 2019-20 show), Travis Scott, J Balvin, and Griselda's Westside Gunn, it has also been expanding its product range along the way. The latest instance is the New Balance 327, a brand new silhouette that aligns with Casablanca's cool granddad image. It was first spotted on the runway during Casablanca's Fall/Winter 2019-20 presentation at Paris Fashion Week this past January. Two colorways, each sporting white perforated leather with green or orange suede detailing, are slated to arrive at select retailers on April 18 for $150 each.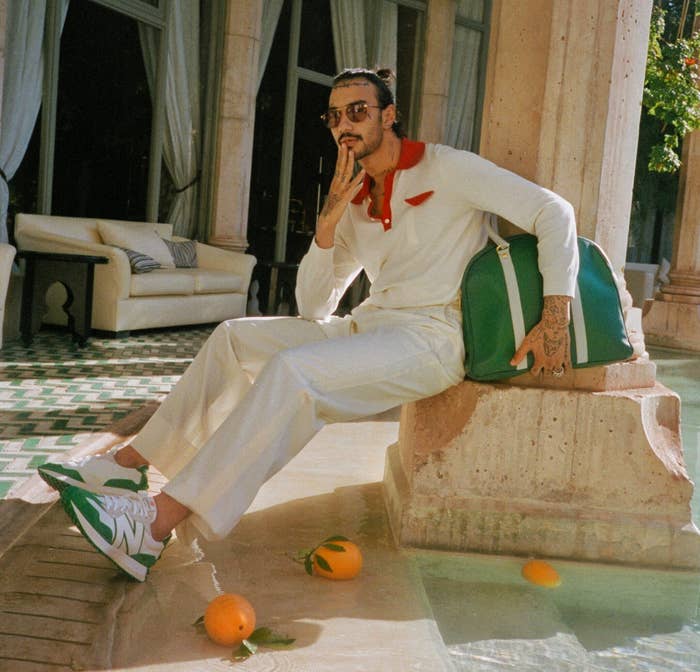 "It's an honor to partner with New Balance on this exciting new style as Casablanca's first design collaboration," Tajer says in an official press release. "I know the brand works with few fashion houses so to be chosen to do this with a new silhouette is so special and unique for me."
We got a chance to speak with Tajer ahead of his momentous New Balance release next month to discuss his inspiration for the collaboration, desire for people to appreciate the product for more than just the hype, his thoughts on being a semi-finalist for the prestigious LVMH prize, and more.
You debuted the New Balance 327 in Paris. What was your reaction to seeing them on the runway for the first time?
People were very surprised to see a new shape. We announced it just a day before that without showing the product. We showed [the 327] during the runway in Paris and had a lot of reactions online after the buyers came to the showroom. The people were very excited. It's quite rare to have that kind of collaboration with New Balance, but even more because it's an absolutely new shape. To have the opportunity to create an absolutely new New Balance from scratch, it's fantastic. The idea of having a totally new shape was so exciting to me. So when I saw it for the first time, and when I received the first samples and all of that, I was so excited. I was waiting to see the reaction after the fashion show and it has only been super positive. I mean the whole reaction was fantastic. 
Do you view a sneaker collaboration as an important benchmark for a brand?
Yeah. It's the first collaboration that we're doing with Casablanca, so it's important. But it depends on if it's justified and it makes sense between the two brands or not. I think the New Balance 327 really completes the Casablanca look and it's really matching and merging with our collection. It really makes sense for us to have it. Any collab has to make sense. And this one really makes sense. It looks so natural. The pair looks so Casablanca. 
When you started Casablanca, did you always see footwear being a part of the offering that you would give to customers? 
For me, Casablanca is a global brand. Casablanca can be applied to anything because it's more like an idea, it's more a way of thinking. This style can be applied to anything. So yes, it can be applied to a shoe, but it also can be applied to an apartment, or a car. So yes, footwear was only natural for us to make.
What inspired the 327? What was the design process like for you?
So the idea and the inspiration behind this shoe is Italian sport of the '70s, and also a little bit of '70s automobiles, things like the vintage Italian sports cars from the '70s. For me, we wanted to go as far as possible from modern sports, and the modern way of designing sneakers, and we wanted to do something that is pretty timeless. I would say this is the grandpa style, it's the grandpa shoe, like the cool Italian grandad shoe. I like the idea of how the Italians in the '70s were having their own designs for sports, so I wanted to apply that vision to this pair.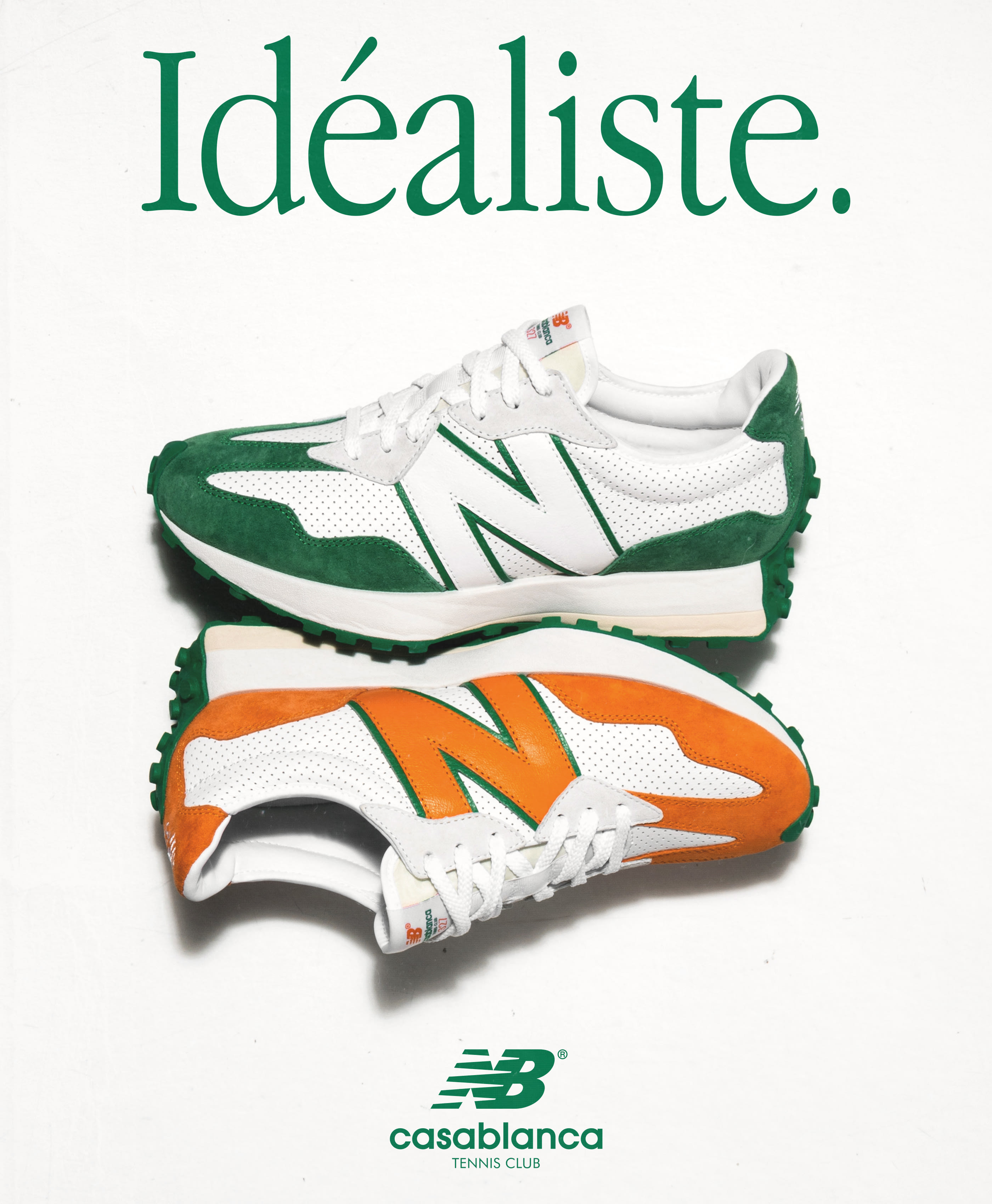 Do you have a vision for how you want these to release, the story you want to tell with the release, how you ultimately want them to get to the customer?
For me, after seeing all the collabs that happened during the past few years, and all the aggressive marketing that goes all around the world with that, I really want this collab to be like a pair of shoes that people who love design can wear, you know?
I want it to be loved for the design of the pair, not for the hype. I want it to be loved for the beauty of the pair. And that's very important because my work is always focused on the wearability and the beauty. That's what's important for me. I don't want it to be only driven by the hype. I want people to see the shape and be like, "Okay, this is interesting." The colors, the shape, the leather, the suede, the design in general. I want people to be into the design. Like you see a beautiful chair, like you see a beautiful car, like you see a beautiful house, the same kind of idea, when you see it you just love the product for what it is. And I want the product to be liked for what it is, something that is wearable, but very cool.
With a lot of these collaborations, just by the nature of the space, there is hype that comes along with it. Is that something that will bother you?
No, I'm not against it at all, it's a great thing to have. People's attention is very good to have. I'm very happy when people are looking at the work that we do. What I'm trying to say is, I want people to look at it as a design product, more than the hype product. So I want people to look at the branding, the design, the storytelling, more than anything else. My job is to be a designer.
The 327 is a never-before-seen silhouette from New Balance. What was your reaction knowing that you're getting to debut this new silhouette for the brand with Casablanca?
For me to do something with New Balance, with any brand, I always want to do special projects. I want to always do something that is a bit special, that brings something new to the conversation.
Do you have a personal relationship with the New Balance brand? Are you into the retro runners like the 99X Series, or anything like that?
Yeah, I really loved the 990. I really love the 800 series, the more mundane shoes like the 801, 802, 803. So yeah, I was wearing it when I was younger, but I always thought it was a cool pair. We all know how New Balance is a bit like the intellectual and cool guys vibe, you know? It's a designer pair. It's a sneaker for the designer.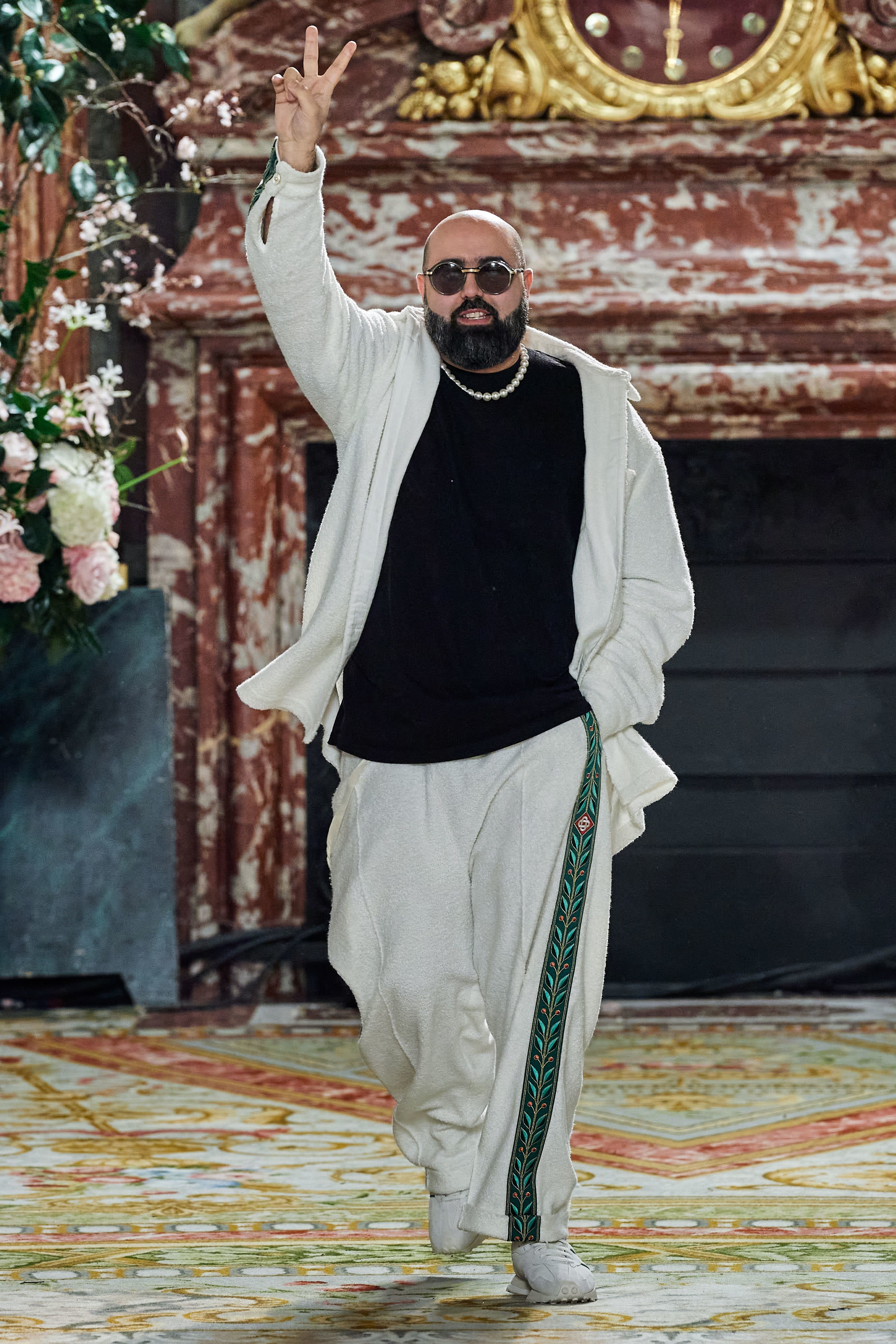 You've handled footwear collaborations in the past when you were with Pigalle. How did this process with New Balance and Casablanca differ from your past experiences in the sneaker collaboration space?
It's just another type of brand, so it's another type of work. Also the fact of having a totally new pair, it's a very different approach when it comes to the design and to the creation of the brand, it's really the first time people are going to see this. For us, it was very important that we put our identity on something. I think New Balance, it's a different type of brand in terms of it being a family-owned business. So it's a bit different than any other brand. It's a more intimate way of working.
How do you approach these collaborative projects? Is it any different than, let's say, your main collection? 
For me it's the same process because it's an idea that we are putting into life. We want to say something, like when we design a silk shirt or when we design a coat, we want it be the same as when we do the sneakers. We want to bring people into a certain world, and the idea was Italian sports. The shoe that is not a flashy shoe. It can be from any era. That is what we wanted to express. It is something that is more wearable, more simple in terms of design, but also complex. So, it's actually the same process basically. It's always an idea that we want to bring to life.
There's a few different colorways of the shoe that you did. Is there a reason why you chose this particular color palette?
Green and orange are pretty much our colors. We wanted them to be very summery pairs, and we will release all the colorways in the six months or so. I think also those colors are quite aligned with our design and also it's very classic colors, a bit luxury, so this is where we wanted to sit in the conversation.
What is your ideal styling of the 327?
We tried it with everything and, really, to be honest, this pair goes with everything. Shorts, denim, suits, tracksuits, it goes with everything. I mean, just try it yourself to see. It's so easy to wear, it's crazy. It's like just everything works with it. It's really exciting to have a pair like this. It's really elegant. It's a sneaker, but it's really elegant, and that's why I love it. It's comfortable, too.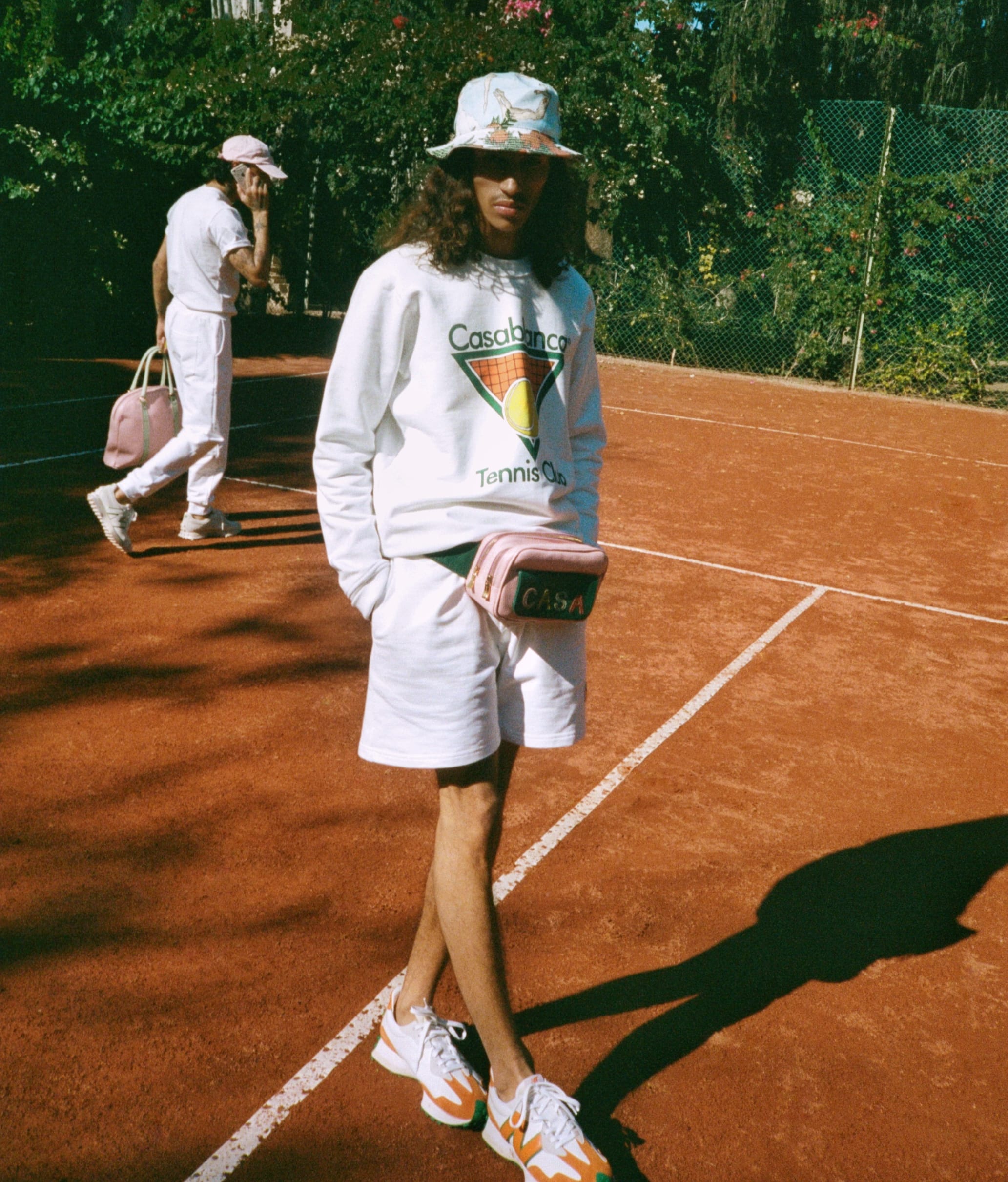 The tennis club is a theme that you use for Casablanca often. Why?
The first collection of Casablanca was named Casablanca Tennis Club, and it's a theme that's always coming back. Casablanca is a bit like hotel life. And often hotels will have a tennis court, the aesthetic of tennis is very cool. As I told you, a lot of the granddad style.
What is it about that aesthetic that you're drawn towards so much? 
I find it very elegant and very comfortable. Tennis is a very relaxing sport. It's an aesthetic, so it's not only the sport of tennis, but it's also the lifestyle that goes with it. This is why I like this sport. What I like in this shoe is the sport and elegance together. The work that we do is always comfort and elegance. They work together. This shoe is really the elegance in sport, and for me, the most elegant sport is tennis.
Casablanca has been seen on rappers like Gunna. Westside Gunn was at the Paris show. What are your relationships with some of these names and how do you feel about your brand being embraced by them?
Some of the musicians and artists are friends of mine, but some of them I don't know, they just love the clothes, so I'm always surprised and it's always a pleasure to see people who have taste wearing the clothes. I'm always the first one surprised like, "Whoa, okay, that's cool." Me, I never expected that the brand would have so many people wearing it so fast, so it's always a pleasure really, it's always a surprise.
Is there anyone whose style you admire that you would like to see in the brand?
There is a guy who was really inspiring for me. His name is Aristotle Onassis, and for me that is one of the most elegant guys ever. The guy who was married to Jackie Kennedy, and he's from Greece. We made some paintings of him for the last show, and this is what...this is one of the guy that I would love... I would love him to be wearing the brand if he was alive. 
What do you see as the next step for Casablanca as a brand? Where do you see it going next?
More awareness around the brand. We are working on many things, so there is so many things coming. I hope we're going to win the LVMH prize.
You're a semi-finalist.
Yeah.
What was your reaction to that? Why is that such an important thing for you?
I mean, to have our brand shortlisted for such a prestigious prize, it means a lot to us. As I mentioned, LVMH is the number one luxury group in the world, and just having our name associated with them, it's an absolute pleasure, and it's an honor. Winning or not, the prize, it's already a great thing to be nominated.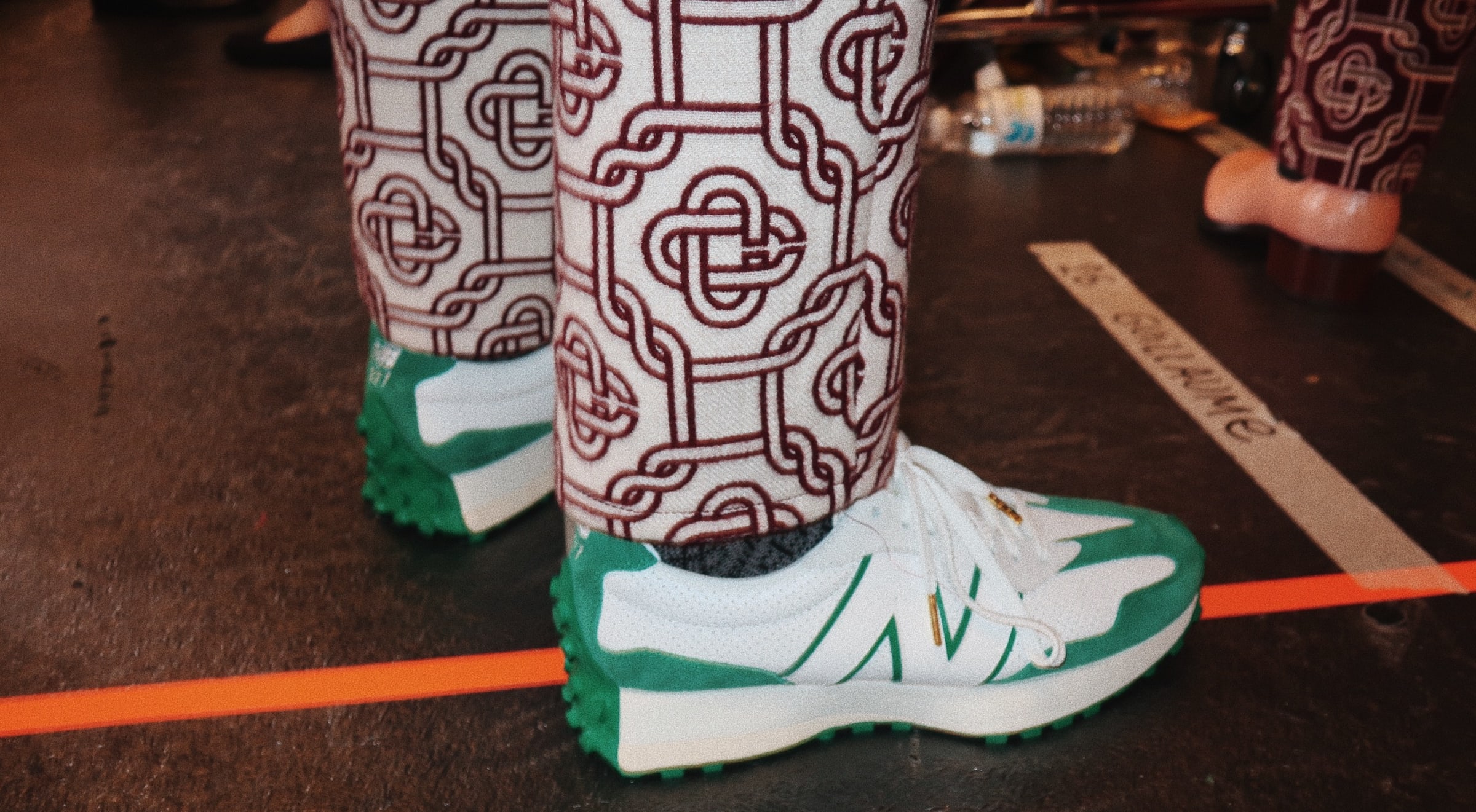 It feels like New Balance has had a lot of notable footwear collaborations lately. How do you feel that your work fits into the fold of what New Balance has been delivering? 
I think the pair speaks for itself. But also with Casablanca, we are speaking a different language. Like what I was telling you about tennis, and luxury sports, and all that. This is the area where we operate, and maybe it's complementary with the brand and that kind of angle.
Can we expect more New Balance projects in the future? 
Something exciting, but I cannot say yet. What we want to do with Casablanca, with my team, is to create something that is balanced in fashion for menswear, and most importantly is wearable. We are in the era where a lot of things are very cool, very beautiful, that are hard to wear. And for us, what is the most important thing is people to be able to wear it and feel good in the clothes. So that's why we always push that things are wearable.
For us, it's very important to have it wearable and for any type of age, I don't want it to be just a sneaker for the 16 year old. I want even the 65 year old guys to see the pair and be able to wear it and be even cooler. I think menswear is for everyone, so it is very important to make it wearable. Even though I really respect people who are doing more experimental stuff. But for us it's... I'm very inspired by, for example, a French furniture designer from the mid century, and how functionality and beauty really works together. I want to use this mentality for the clothes that we're doing, the brand.