Though some of you may not be familiar with the name Charaf Tajer, there's a good chance you're familiar with his work.
The 33-year-old French-Moroccan designer has served as the creator director for various brands, has collaborated with names like Virgil Abloh, and was a key figure in the 2008 launch of Parisian streetwear brand Pigalle. Clearly, Charaf is no stranger to the industry; however, most of his career has been spent working in the shadows, helping other creatives and business people successfully execute their visions. But now, after more than a decade of working behind the scenes, Charaf has decided to step out on his own.
This month will mark the debut of Charaf's Casablanaca brand—an effortlessly cool menswear line that aims to fuse comfort and elegance with a touch of irreverence and humor. Charaf has definitely achieved that goal in Casablanca's inaugural collection, which includes everything from bold, all-over print button-ups, T-shirts, linen suits, and terry cloth tracksuits.
"I just wanted to go fully in my direction, show who I am and fully show my aesthetic. That's why I created Casablanca," Charaf said. "It's been about three years since I've been thinking about the project."
Weeks before Casablanca's official launch, Charaf spoke to Complex about his journey within the fashion realm as well as the inspiration and expectations for his very first brand.
You can also check out the lookbook images for the upcoming range, which Charaf calls "Collection 0," below.
I know you've been working in the industry for many years, but when exactly did your interest in fashion and design begin?
As a young man, I always loved clothes and I always designed clothes. But my family, my mom and my dad met while working in an atelier in Morocco—in Casablanca, actually. My mother and father were working there—my father worked in leather. So, I grew up around it.
Early on, I started designing clothes and all that. Then I started in architecture around the same time I was in Pigalle. But I also did a lot of art direction and design for many other people. And now, I'm launching my own brand.
What kind of challenges did you face while working on your first solo project? Did you have any fears?
Of course, I asked myself so many questions. And, as everybody, I had some doubts and all that. But the clothes that I designed are so obvious to me. And it's really what I love. So for the last 10 or 12 years of designing nightclubs, restaurants, clothes and getting into photography, all that was kind of like my school. And now, it's time for me to put everything in the same box. All those years of work have become Casablanca.
That's also why I'm not really in fear. I know my job, and I know what I'm doing. It's not like, when I was 19 years or 20, 21 years old, when I was experimenting with things. Now I have more experience, and I pretty much know where I'm going. I know the fabrics, I know how all that works.
But then, you always have kind of a fear of how people are going to react. That's why I put all the good energy I have into it.
The Casablanca debut collection has been featured on a number of sites as well as social media. What kind of response has the collection received?
From what I see, today, people love it. There is a good feedback, a small feedback so far, but it's very good.
I have a lot of messages from people following the Casablanca Instagram, people putting tons of comments, sending DMS, telling me that the clothes look very good.
And when I wear the samples in the streets, people really stop me to ask me what brand it is. So, people are reacting to it pretty well.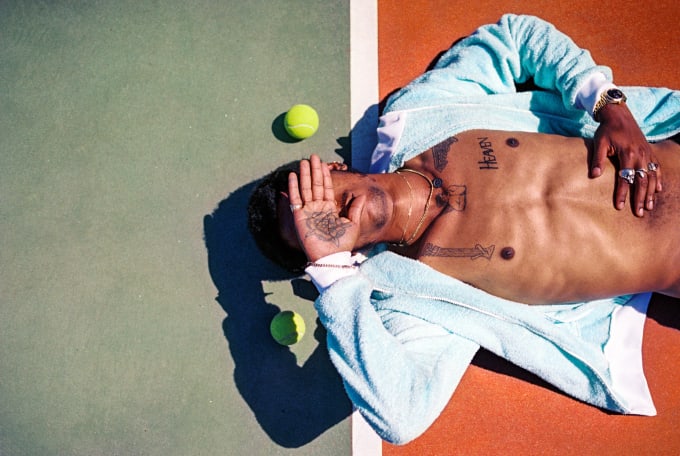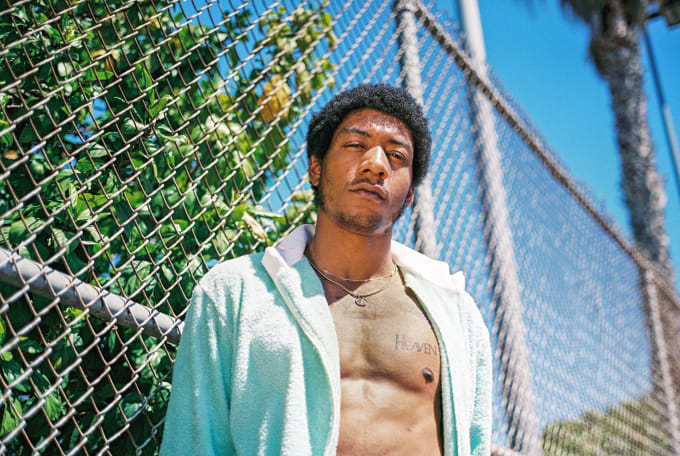 How would you describe Casablanca? What would you like it to represent?
It's a menswear brand that represents the cross between comfort and elegance. Most of the time I live in hotels because I travel a lot. But even when I'm in Paris I love to be in hotels. And that's just something that I love, particularly the hotel bathrobes and lobbies. Lobbies are a place where people are relaxed but everybody is kind of well-dressed and all that. It's something that I really love, and the brand represents that.
I think what makes the clothes even better is when you are comfortable. When someone is wearing something too stiff or uncomfortable, the look is not that great.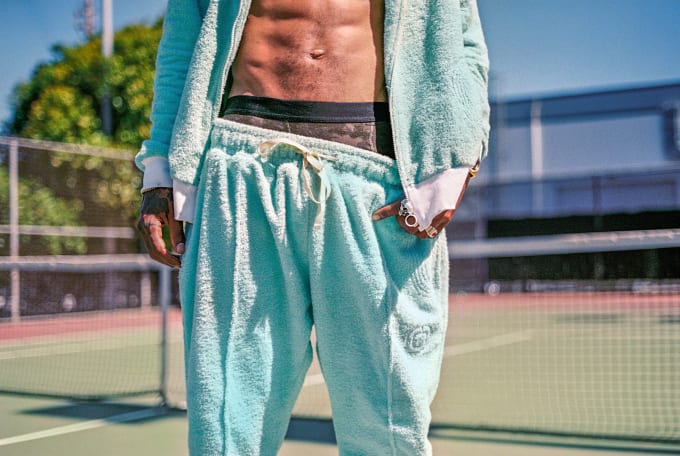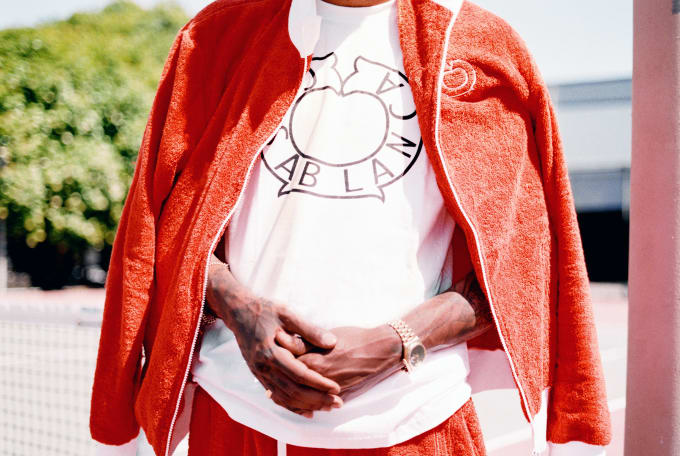 I agree. I've never seen a well-dressed guy who looked uncomfortable.
Right. I remember one day I was in the airport, and I saw an old man wearing loafers—or relaxed sneakers, I would say—with a tracksuit, and a very nice Rolex with a newspaper under his arm. I think he was one of the best-dressed men I've seen in my life. This was one of the images I tried to reproduce with the brand. I really love that concept, that luxury but comfortable aesthetic.
And there is also a notion that I really love to say and love to think: Casablanca clothes are not made for doing sports, they're made to wear after sports. That's a concept I really love. I love having the idea of a tracksuit, something relaxed and elegant to wear after you run or after you play tennis.
Even the suits that I design are always very, very comfortable. It's almost like wearing pajamas.
It sounds like the tracksuits are the main attraction in the collection.
Yes. I think the idea was to have a main product that people would remember and recognize and understand what the brand is about. I think the tracksuit does that. I think the tracksuits is the main piece because it is the most wearable piece but with a touch of luxury.
How do you describe luxury?
When I say luxury, I want to say that I don't mean expensive. Sometimes a brand is too expensive, and some very cool people with good style cannot afford it. This is not what I'm trying to do with Casablanca. I think it's smart to keep it accessible. Luxury isn't all about money, it's also about knowing how to pick a good product.
Accessibility has definitely become more and more important within fashion. Who do you consider to be the Casablanca customer?
I'm not trying to target a specific demographic. I'm just trying to target people who understand the concept of comfort/elegance. People who enjoy the feeling of traveling, being in a hotel and being very comfortable.
When I design clothes, I always think someone who is 16 years old can wear the tracksuit or someone who is 70 years old can wear the tracksuit. It doesn't matter the age or social level, it's more about the cultural point where we can all meet.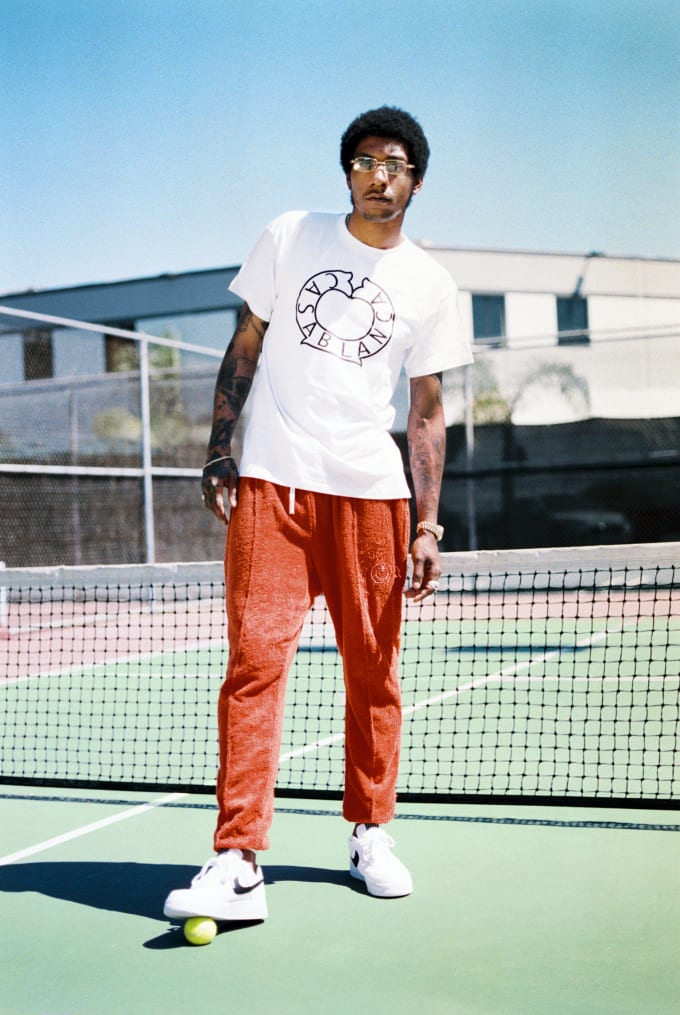 What do you want your customer to feel when they put on a Casablanca piece?
I want them to feel on point.
Can you expand on that?
I want them to feel like they took a risk, but not too much. They took a risk, but it's a controlled risk. And it's my job to control that risk. It's my job to make them wear a special color or a special type of fabric. I want them to feel original, but not clowny. That's why I said "on point." It's almost like when guys do drift in powerful cars. They know exactly what they're doing. This is the beauty of it. Yes, you take a risk, but it's very controlled.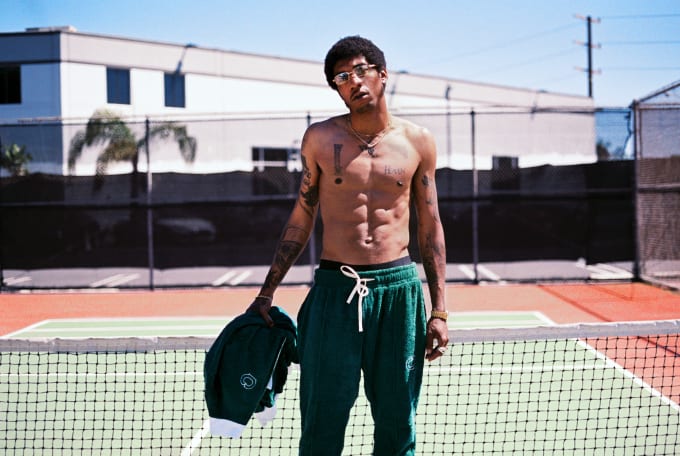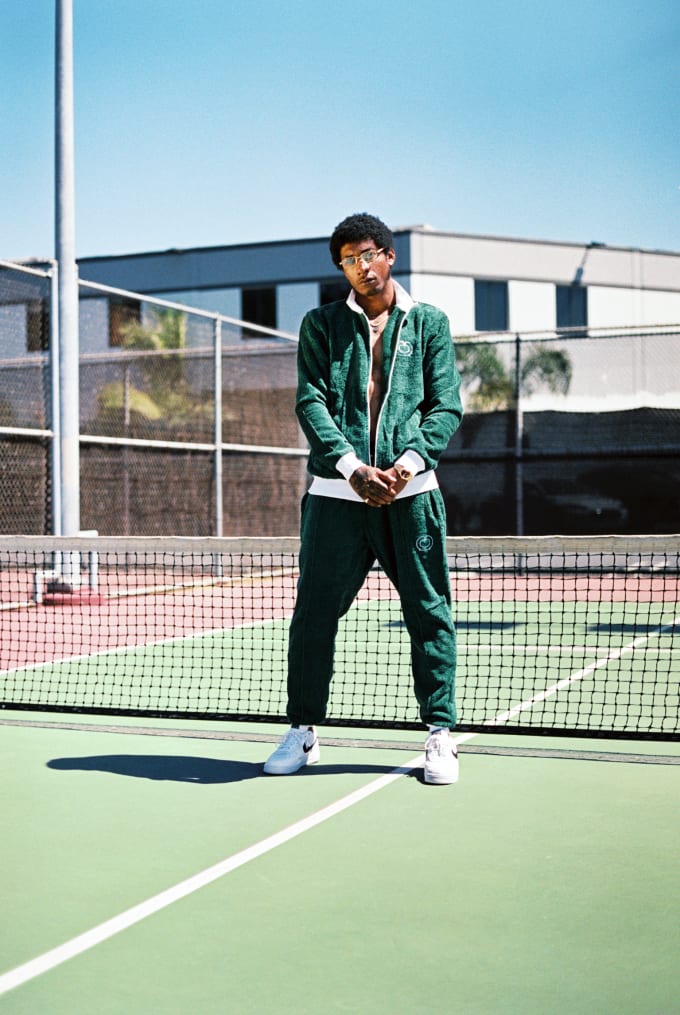 How do you ensure the clothes don't become too risky or too unwearable?
I make sure it's never too much. That's when it's cool. You never wanna cross the bad taste line, but it's cool to be fearless, especially in a time where everything is very Tumblr-ized. I'm not thinking of a particular brand, I'm just thinking about how certain aesthetics are very Tumblr-ized.
I want to come back to a real-man aesthetic, and remind [people] that beauty matters. This is something that really touched me when I was younger: a friend of mine said, "Beauty matters." And it's true. Irony is one thing, but beauty is what I love.
What are your thoughts on ironic fashion?
I'm kind of tired of all the irony that's been going on. When you're ironic, you're not taking a risk because you're making a joke. So nobody can judge you because it's always a joke. Casablanca is not a joke, because my work is not a joke.
Sometimes, I like to use funny things, but it's not ironic. This is very important to understand. I'm trying to reproduce the feelings I have when I go to a tropical country and I arrive at a hotel. It's a specific moment. There is no irony.
But let's be clear. Just because something isn't ironic, doesn't mean it doesn't have humor. In Casablanca, I use humor and I will continue to do so. But irony, I think it's something that is, how do you say, played out?
Do you believe Casablanca is filling a void?
I do. It fills the void for men who are tired of irony. I'm not talking about a particular brand. I love what Raf Simons is doing. I love what Virgil Abloh is doing. I love Heron Preston, Astrid Andersen—I love all those guys, because they're all my friends. I'm not targeting anybody. I'm just talking in the global sense of things.
I make clothes that I don't think exist anywhere else. I did this because I really feel like there's something missing in the market—not saying that other designs are not good, but there was something missing. I wanted to make something that fits me more, and something that fits many other people: the non-ironic clothes, and clothes for clothes. Again, I'm not saying anything bad about other brands. I just want to offer an alternative.
The brand is Paris-based, but all the clothing is manufactured in Casablanca, correct?
I was born in Paris, I'm based in Paris, and the clothes are designed in Paris, and I think in French. But it was important to make the clothes that are made in Casablanca, because my family is there. I think it adds something to the brand, to be honest. And it makes sense: the brand is named Casablanca. It wouldn't be fair to make it somewhere else. There are amazing factories, there are amazing craftsmen over there, and so I definitely wanted to use that.
What are your hopes for Casablanca? What would you like to see it evolve into?
I really want to do women's collections, but starting with small pieces. There are many, many girls who want to know if we'll ever do womenswear, so that has encouraged me.
I really want to make Casablanca a classic, a real menswear classic. That's my goal. I'm from a city that's known for menswear. Atlanta is known for music; Paris is for fashion. This is where I grew up, I saw it all my life. I've been inspired by it.
I have different inspirations, of course. I'm French and Moroccan, so the mix of both is something I love.
Casablanca is expected to drop June 21 at Casablancaparis.com.