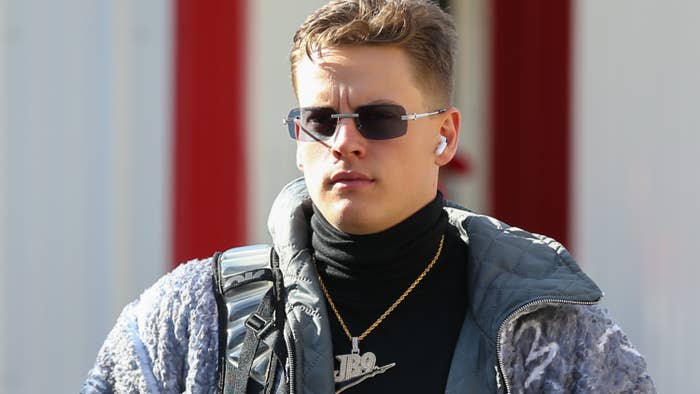 New year. New jewelry. At least, it seems like that is how some of our favorite celebrities decided to ring in 2022. Most of us may never be able to walk into Icebox in Atlanta and spend six figures on a custom pendant or have Gabby Elan craft us a one-of-one set of diamond grills. But that doesn't mean that seeing some of the custom pieces that celebs shell out their hard earned money on every month, and maybe even using them as motivation, isn't still entertaining. 
In January, America's favorite quarterback Joe Burrow showed off his new diamond pendant before securing his spot in the Super Bowl, Fat Joe started an avalanche, and DJ Khaled dropped millions on his new wrist piece. Take a closer look at these and some of the other biggest celebrity jewelry purchases from January below.
Joe Burrow's 'JB9' Chain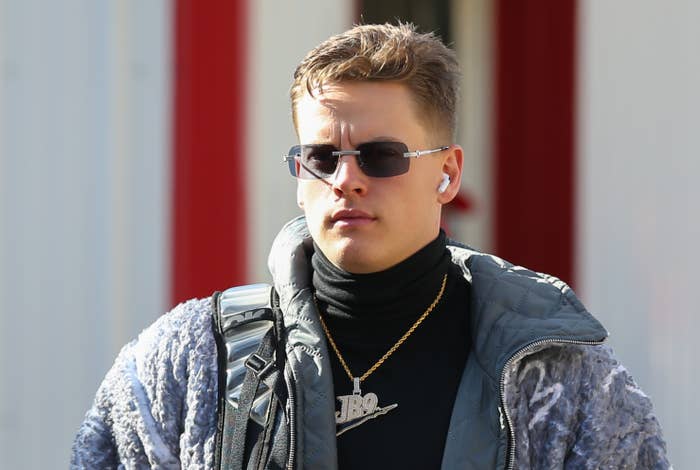 Price: CHF 124,500.00 (app. $135,121 based on current exchange rate)
Quavo recently dropped off his new solo record, "Shooters Inside My Crib." It looks like Huncho is celebrating already as he recently took to Instagram to show off his new watch, a Audemars Piguet Royal Oak Frosted Gold Double Balance Wheel Openworked "Rainbow." As the name suggests, the watch features an 18-carat yellow frosted gold case, skeletal face, and bezel set with baguette-cut rainbow gemstones. Quavo is obviously a fan. In the Instagram caption of the post where he gives an up close view of some of the watches intricate details, he concluded with, "Muthafucka nasty." A fitting description.
Price: $3 million
Major bag alert. DJ Khaled dropped $3 million on his new watch. Dubbed the Billionaire III, the watch from the legendary Jacob and Co. features an 18-karat white gold case, skeleton dial with 19 jewels, and bridges and bezel that have been covered in 714 hand-set diamonds. The extremely limited watch is limited to just 18 pieces in the world. 
Obviously not many of Khaled's followers have the means to own a $3 million time piece. As his Instagram caption read, "For motivation and inspiration vibes only."
Price: "$4 mill"
Fat Joe has had a rough last couple of days on social media with tons of people clowning one of his latest outfits featuring a pair of Yeezy NSTLD boots. He defended his polarizing fashion choice already. And it looks like he will get the last laugh too. In the days that followed the fit pic, the Bronx native went back on Instagram to unveil a new custom time piece from New York's Pristine Jewelers that he calls the "Avalanche." The watch is an 18 karat white gold swiss made automatic flooded in 196 karats of GIA certified diamonds. "This how I'm pushin P," he said on Instagram, a nod to Gunna's massive hit single. In a follow-up post he even poked fun at the aforementioned Yeezy boot incident in the caption writing, "This why i wore the boots, THE AVALANCHE WAS COMING."
Moneybagg Yo's Diamond Teeth