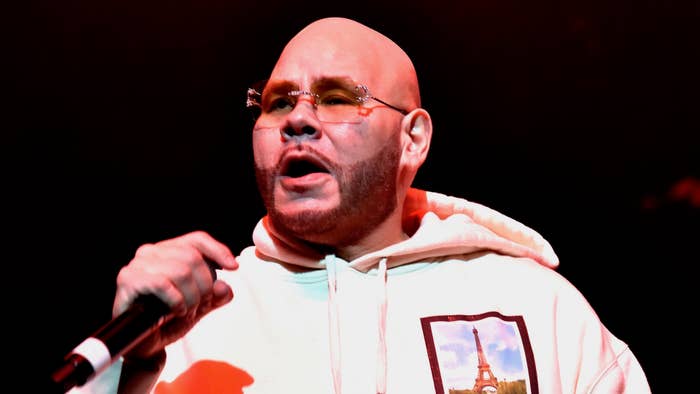 Fat Joe is making no apologies for his widely mocked Yeezy boot look.
The Bronx-born rapper created a stir this week when he posted a fit pic ahead of NYC's winter storm. Joe was seen rocking a tan Balenciaga jacket, a pink Celine hoodie, and a pair of medium-wash denim. But the items that received the most attention were his YEEZY NSTLD boots, which were criticized as ugly, outlandish, and inappropriate for someone as old as Joe.
"What the fuck do y'all mean by, 'Dress your age?' … Should I wear a golf shirt?" he said during an Instagram stream with journalist Brian "B.Dot" Miller. "I don't know if you know this, I've been so fly that it's, like, working against me now. I'm getting backlash for being so fly … I wanna know why I can't be fresh. Those Yeezy boots are sold out."
B.Dot said he thought the Kanye West-designed boot looked "a little bit too bloated," and suggested he swap about the Kanye-designed boots for the classic Timberlands.
"People make mistakes," B.Dot said. "It's OK."
"No, I don't a mistake, that shit fly," Joe replied. "And let me tell you something, I'm supporting Black-owned businesses when I throw on some Kanyes."
The 51-year-old then returned to the topic of "age-appropriate dressing," and questioned why he was getting mocked for rocking, what some may call, fashion-forward 'fits. And although he didn't drop any names, Joe criticized his fellow rappers who peaked in the early aughts and have kept the same style ever since.
"They stuck in that box. For years!" he said. "… So when somebody says to me, 'Dress your age' or something, that means 'played out.'"
B.Dot reassured Joe that he was a "fly guy," but insisted the Yeezy boot was a miss. 
"That's a fly boot," Joe said. "B.Dot, you might be trapped in that era … I've seen some legendary rappers pull up on me in the 2000s—in '20 '21, '22, looking like '94, '96. I don't know if they want you to remember them by their outfits, [but] my whole life I said I'm not gonna be that rapper. I'm not gonna be played out. I refuse … I love the boot I wore. I'm not taking it back."
The two continued to debate Joe's now-viral look, and ultimately agreed to disagree. 
"Fashion ain't for everybody. Everybody just don't get it," Crack said. "You're right: the 40 Below, Timberland, super fly. But that's the comfortable, the norm … The [Yeezy] boot is good money. I'm telling you. I'm ready to sell this boot. I'm ready to make an NFT of this boot … The boot is here to stay."
You can check out the exchange in the video below.
Shortly after his conversation with B.Dot, Joe returned to the 'gram to share some of the Yeezy boot-inspired memes, most of which compared the shoes to moon boots.