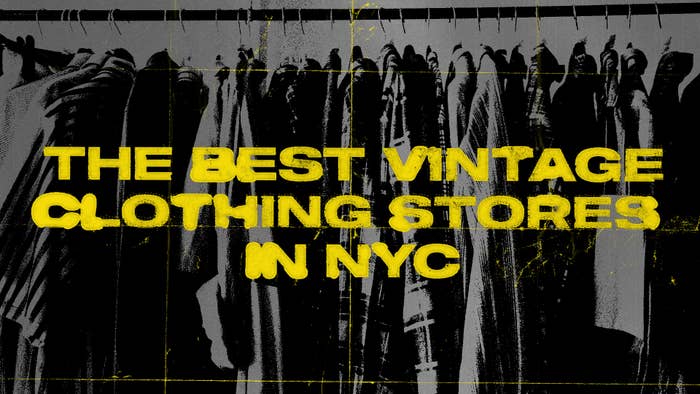 Shopping for vintage clothing in New York City is nothing short of an adventure. You can walk for miles and spend an entire day sifting through racks at clothing stores throughout the city. But let's be real—sometimes you want to shop somewhere that has a little bit more curation than your average Goodwill or Salvation Army. Thankfully, New York City is home to so many great vintage boutiques that carry everything from vintage Polo Ralph Lauren grails to archival pieces from high-end designers. And the best part about shopping for vintage is not just finding sweet old clothes that no one else has, but also giving used clothing a second life. Which, in best-case scenarios, could mean picking up slightly older items from brands like Supreme for reasonable prices.
Whether you're looking for vintage streetwear at Round Two or vintage sportswear at Mr. Throwback, there's definitely a good shop out there for you. Stores like Procell and Tokio7 will have plenty of garments to satisfy customers looking for higher end vintage, while stores like L Train Vintage and Beacon's Closet will offer more frugal options that will send you off on a treasure hunt for the best deals. Check out our list to browse through some of the best vintage clothing stores in New York City below. 
10ft Single by Stella Dallas
Neighborhood: Several locations in Manhattan and Brooklyn 

Address: 74 Guernsey St., 92 Fifth Ave., 10 W. 13th St., 23 Bogart St.

Website: beaconscloset.com
For those looking for a mix of vintage and contemporary, Beacon's Closet is the perfect place for you. The inventory at Beacon's is built off what customers sell to buyers at the store. And those buyers at Beacon's have a great eye for not just vintage but designer brands as well. Trust us, they're not just buying anything they could possibly sell, and will certainly reject clothing that they think is wack. So if you're lucky, you might leave Beacon's Closet with a reasonably priced Supreme T-shirt from a couple of seasons ago, some cheap vintage pieces, and maybe a high-end designer coat from a brand like Maison Margiela if you're really lucky. The store is known for giving out great deals, so expect a line outside on the weekends if you're buying or selling.