Hours after Tombogo's founder, Tommy Bogo, put out a call that he was looking to hire interns on Instagram, his inbox was hit with over 200 applications. 
"I've always been a one-man band up until now when it comes to the back end of operations,'' says Bogo, who independently launched his brand less than five years ago. "Since I've been in LA the ball has kind of been rolling a lot faster than it was. It's getting to the point where I can't really do everything by myself now." 
Even while Bogo is on vacation in New York City with his family, he's still committed to the grind. On the phone with Complex, he reveals that he's currently putting together the third restock for his Fall 2020 collection "Freelance" and is in the city to collaborate with the New York City film camera brand Manuel NYC to shoot a new lookbook for one of his most popular collections. Bogo had a busy 2020 and screening the brand's first-ever interns is a new experience for the 27-year-old designer, whose utilitarian clothing brand—one of three emerging brands selected by Complex for its "Brands to Watch" initiative at ComplexLand this June—has been co-signed by celebrities such as J Balvin, Freddie Gibbs, Kehlani, and more. 
Last month, Bogo opened Tombogo's first office and showroom in Downtown Los Angeles. A huge milestone for a small label that flourished during the pandemic last year. While many brands struggled to find their footing in 2020, the Bay Area-native took off in a sprint. While working from home he produced "Freelance," a collection inspired by the freelance hustle mentality of creatives during lockdown. The range featured an array of dynamic workwear garments that celebrated, but also elevated, Bogo's functional approach to design. The collection included garments like two-tone corduroy half-zip work shirts with zip-off sleeves, heavyweight sherpa jackets and zip-off cargo pants, and double knee pants with detachable and reversible pocket panels. The double knee pants, which are sold out everywhere, have become one of Tombogo's signature pieces and have been worn by celebs like Kid Cudi, Bad Bunny, and more. New colorways of the double knee pants, along with matching work shirts and essentials from the "Freelance" collection, will be available exclusively at ComplexLand as part of our "Brands to Watch" project, before a wider release on Tombogo's e-commerce site this summer. 
"We're bringing those [pants] back in six different colorways and a button-up work shirt to match. But there's going to be some upgrades to those pieces as well," Bogo says about the brand's upcoming summer collection, which will first arrive at ComplexLand. "We did some R&D and figured out what could be improved in terms of subtle details."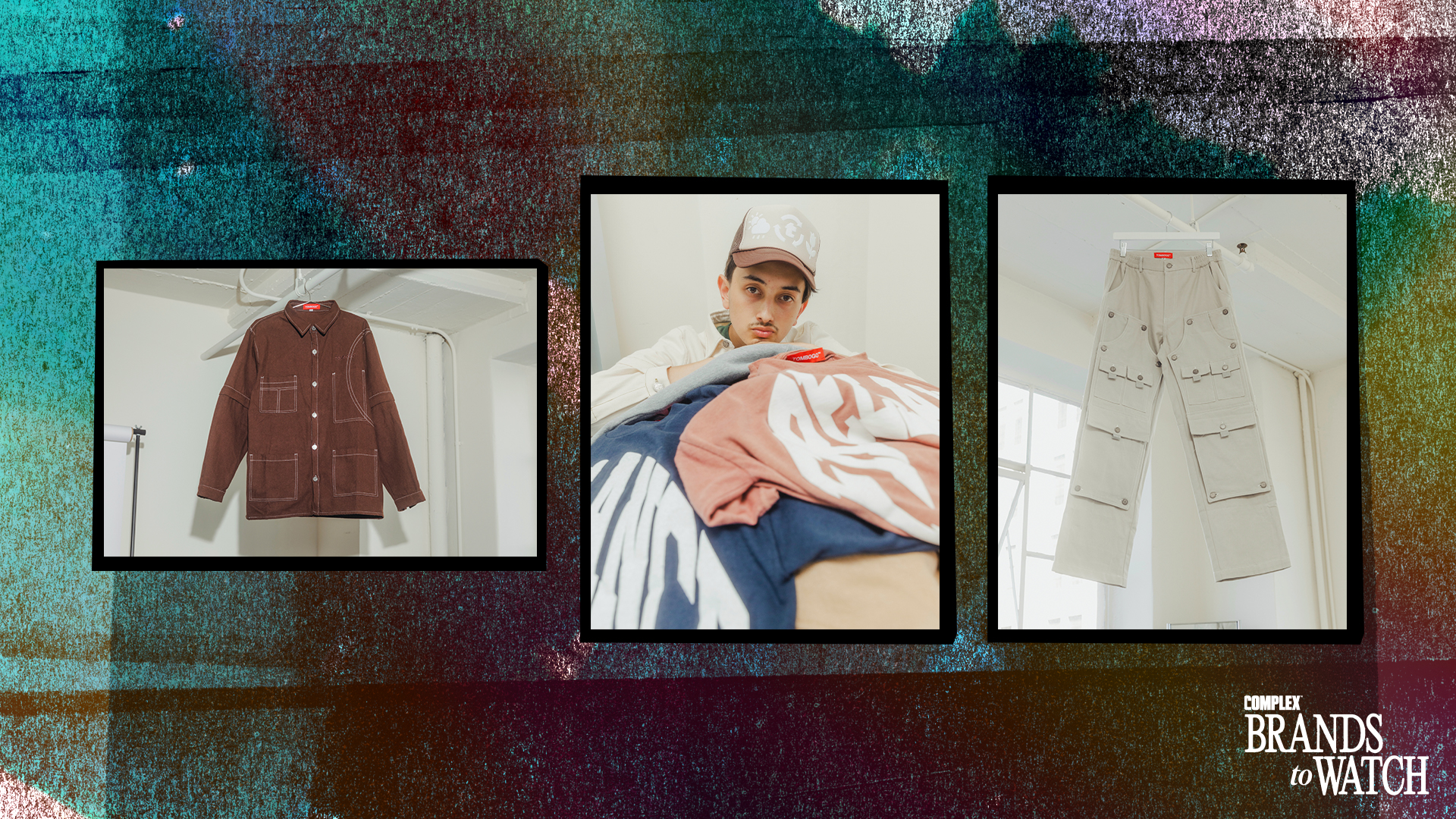 Although Bogo's "Freelance" collection was co-signed by everyone from Lizzo to Kerby Jean-Raymond of Pyer Moss, it was just a warm-up to his Fall 2021 collection "Lost & Found." That collection traced Bogo's bi-coastal journey from starting his brand in the Bay Area, to developing it in New York City, before settling down in Los Angeles. The inventive range of apparel further showcased Bogo's unique vision for functional and luxurious menswear. There were garments made out of upcycled fabrics sourced from carpet stores and draperies he stumbled across during his travels. Outerwear inspired by vintage military silhouettes, intricate wool knits that capture both New York's skyline and California's deserts, and even puffer jackets filled with upcycled bubble wrap. Standout pieces included tailored button-down shirts with lace details and coach jackets with airbrushed artwork by Leon Xu. The collection was one of Bogo's best and was properly inaugurated as his debut presentation for New York Fashion Week in January. 
"Now that things are opening back up, I would love to have more live and in-person activations when possible," says Bogo, who originally launched his brand to host pop-ups and concerts for Bay Area artists. I would love to do something for New York Fashion Week that's live since everything was digital last time."
Granted that the pandemic and its lingering effects have created a lot of challenges for Bogo, he says that the main challenge he faces right now is trying to build a creative team he can trust. Aside from finding interns that are good team players, he's looking for multifaceted creatives that are similar to himself and have a wide variety of creative skills. Aside from fashion, Bogo has an ear for music and also showcased his own talents by creating an original song for his "Lost & Found" collection. He hints to Complex that he has plenty of unreleased music in the vault and is interested in continuing to broaden his creative potential as a designer in the near future. 
"I'm definitely in the process right now of transitioning from streetwear into more like menswear and luxury to a capacity. I kind of want to play both fields at the moment," says Bogo. "But also, womenswear because I haven't really done anything in that area. I've done a couple of samples and people have expressed interest so I definitely want to get into that as well. I am also working on some projects outside of fashion within the realm of furniture and creative technology."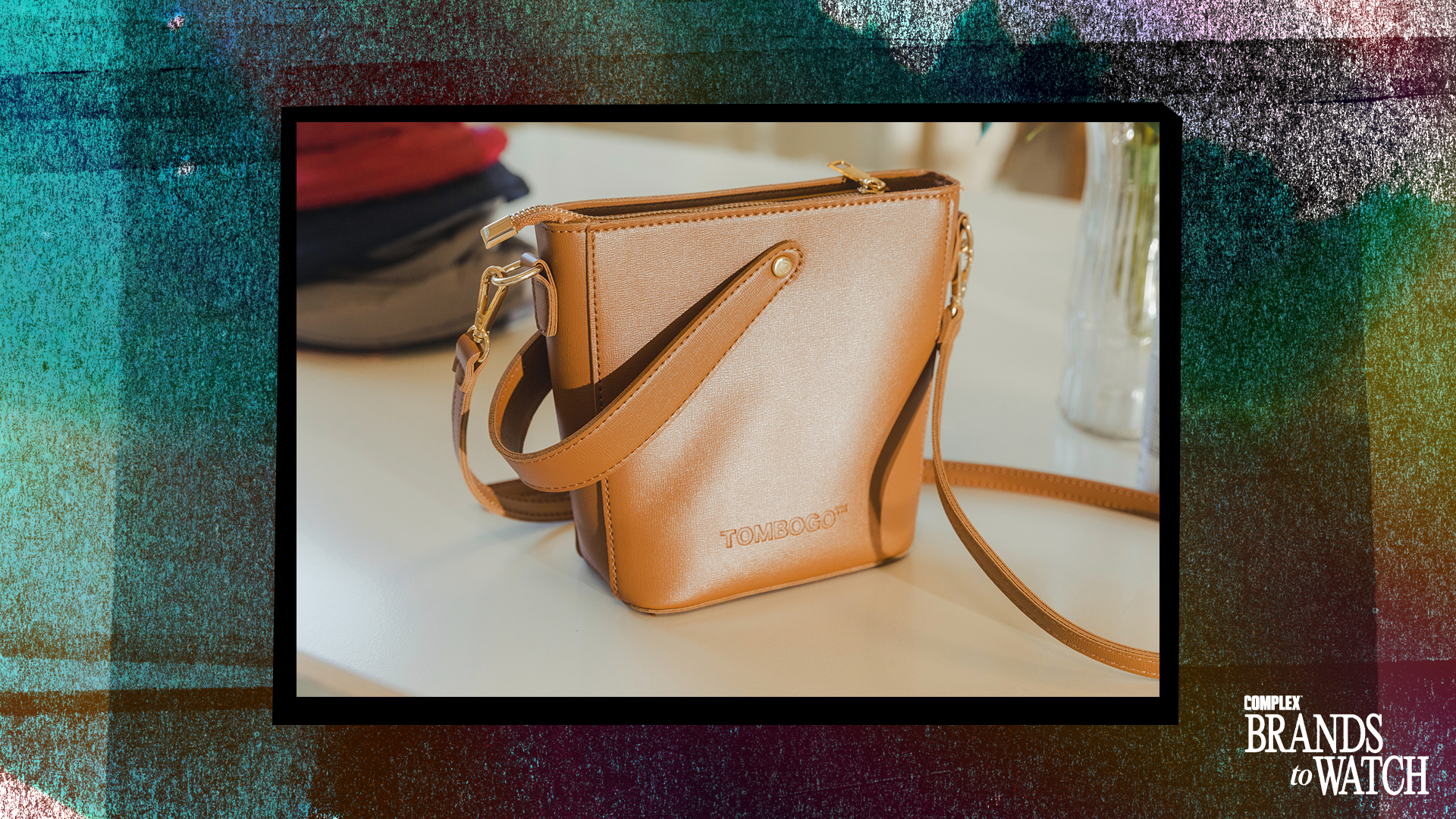 Although Bogo has remained happily independent since he started, he has entertained the idea of getting investors involved. "I'm definitely looking for someone to help not just financially but also with infrastructure," he says. He has applied for grants and prizes from organizations like the CFDA this year and the Amiri Prize. Currently, Tombogo makes most of its revenue through direct-to-consumer sales on its web store, but is currently stocked in Japanese retailers like Journal Standard and GR8 Tokyo. This summer, his latest wares will be stocked in Fred Segal on Sunset Boulevard in Los Angeles. To reach more stockists is another goal that Bogo has for 2021. He seeks to foster relationships with retailers like SSENSE, Dover Street Market, Nordstrom, and Marc Jacobs' new Heaven flagship on Fairfax. Although Bogo keeps his lips sealed about future collaborations, he does hint there's an exciting one on the horizon.
"What I can say is we do have a really big collaboration coming with a really amazing human being and artist,'' says Bogo. "I can't say what it is yet but it's locked in and it's happening. So you can look forward to a big collaboration this summer."