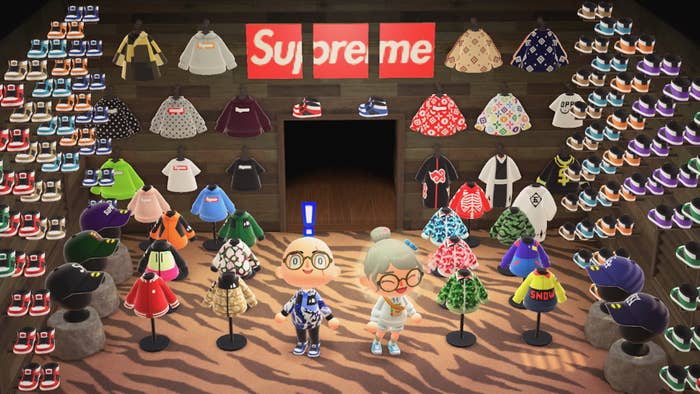 For Americans like David Rhee, this past week has been brutal. On top of the fact that he's self-quarantined at his home in Whittier, California, the 26-year-old SoCal native was unfortunately one of the thousands of Americans who have recently been laid off due to Coronavirus or the COVID-19 pandemic, which has forced many businesses to close.
But there was one thing that Rhee and his wife had to look forward to last Friday: the release of Animal Crossing: New Horizons—a Nintendo Switch game that likely led to the console suddenly selling out like toilet paper last week. For those unfamiliar with the popular series of Nintendo games, Animal Crossing is a social-simulation game where the only goal is to simply live your best life inside a tranquil town filled with anthropomorphic characters. Unlike the real world, you can build your own house, pay off your mortgage with bells, and sustain an extravagant lifestyle by catching fish and hunting for fossils. So what was the first thing that came to Rhee's mind? To digitally remake some of his most desired streetwear Grails and get these fits off in front of Tom Nook—a beloved character on Animal Crossing. 
"When I saw the creation tools in this game, that's when my mind really started to race with ideas of what to make," says Rhee, who's designed replicas of over 40 pieces including Pastelle varsity jackets and several Supreme x The North Face collaborations. "With the game being a life-simulation game where you can do whatever you want, I also wanted to be able to wear whatever I want. If I can't afford a $5,000 hoodie in real life, I'll just make one for the game."
Since New Horizons dropped last Friday, many players have been liberally using in-game design tools to create coveted pieces of streetwear. What started with users posting simple designs on Reddit and Twitter—such as Off-White shirts and Supreme box logos—has led to high fashion rips of Dior technical sweaters and archival Issey Miyake bomber jackets. "Animal Crossing is the new runway," tweeted Grailed's marketing director Lawrence Schlossman. And honestly, during this moment of self-isolation and lackluster #StayAtHome fit pics, we're here for Animal Crossing fits. 
Rhee, who has a background in art and recently worked at a reprographics company, says making these Grails is a process of trial and error. Sometimes he finds pieces that are too intricate to simplify into a pixelated image, such as a Supreme x Wise racing jacket that Rhee owns in real life. If there are any annoying restrictions, it's the fact that the game only lets a player design and save 50 pieces. But despite the game's limitations, a community of Animal Crossing streetwear enthusiasts have started bubbling on Reddit and Twitter, which now boasts a popular hashtag #AnimalCrossingDesigns. And no one is currently out here trying to resell their streetwear in Animal Crossing. In fact, most gamers are just giving out QR Codes to download streetwear pieces they designed for free.
"This game certainly has a second life on Reddit and Twitter where people in the Animal Crossing community are always posting what they've created. This COVID-19 pandemic has given us, among other things, plenty of time to stay home and work on stuff," says Rhee. "The great thing about the Animal Crossing community is that everyone freely shows off and encourages one another's creativity." 
We spoke to Rhee about the process behind creating streetwear on Animal Crossing: New Horizons.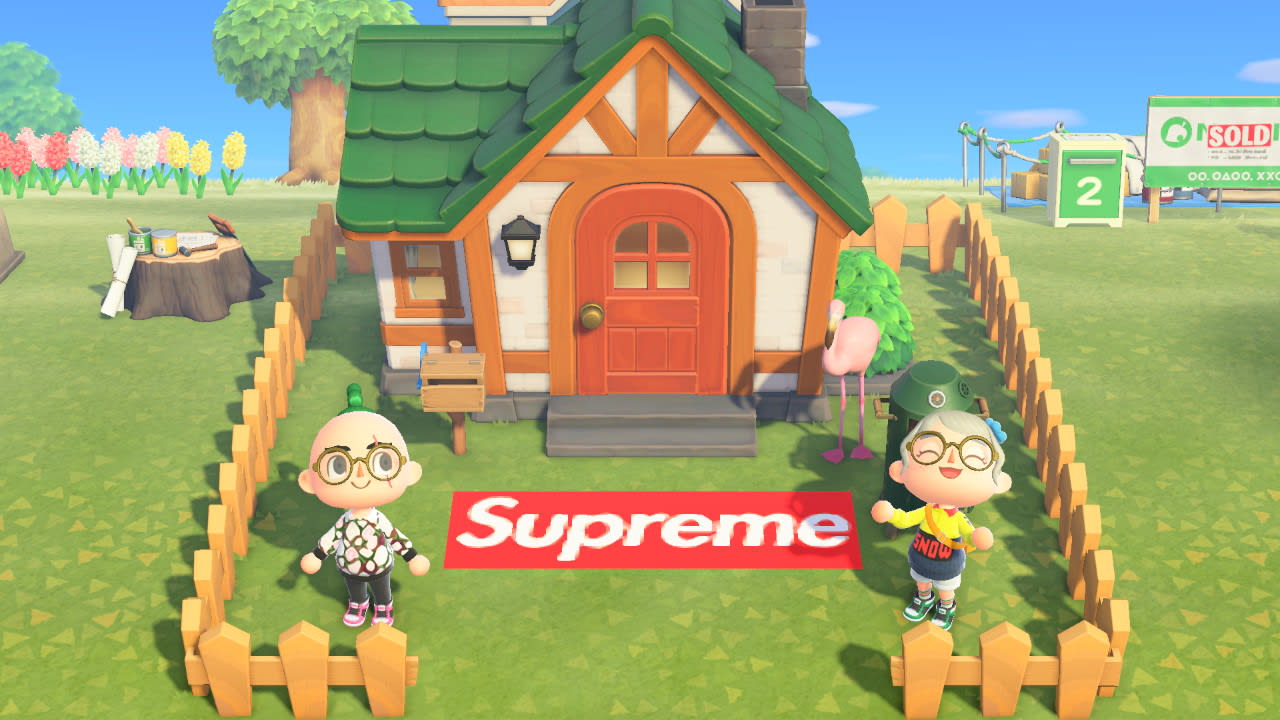 How long have you been playing Animal Crossing? What do you enjoy the most about the series? 
My first Animal Crossing game was actually New Leaf for the 3DS. I probably started playing around 2013 when I was just looking for a new game to play. I'm the kind of scumbag gamer who really likes games that involve a lot of grinding and farming, so New Leaf was a ton of fun just earning bells by catching rare beetles and sharks over and over again. But I also really gravitated towards the creative community who used the game's editor to create really ingenious outfits, patterns, flooring, and more. It was super cool to see what people could do within a 32 by 32 pixel art board, and this new game only took that to the next level with smart-smoothing and a ton more colors.
When did it click in your head that you wanted to make streetwear in Animal Crossing?
I made a couple box logos in New Leaf. Real ugly ones, too. Huge on the chest with ugly pixel-thin letters. It wasn't until I really settled in my mind that the game came with its limitations. I then tried to work within those limitations, and at the same time, try to push them to the best of my ability.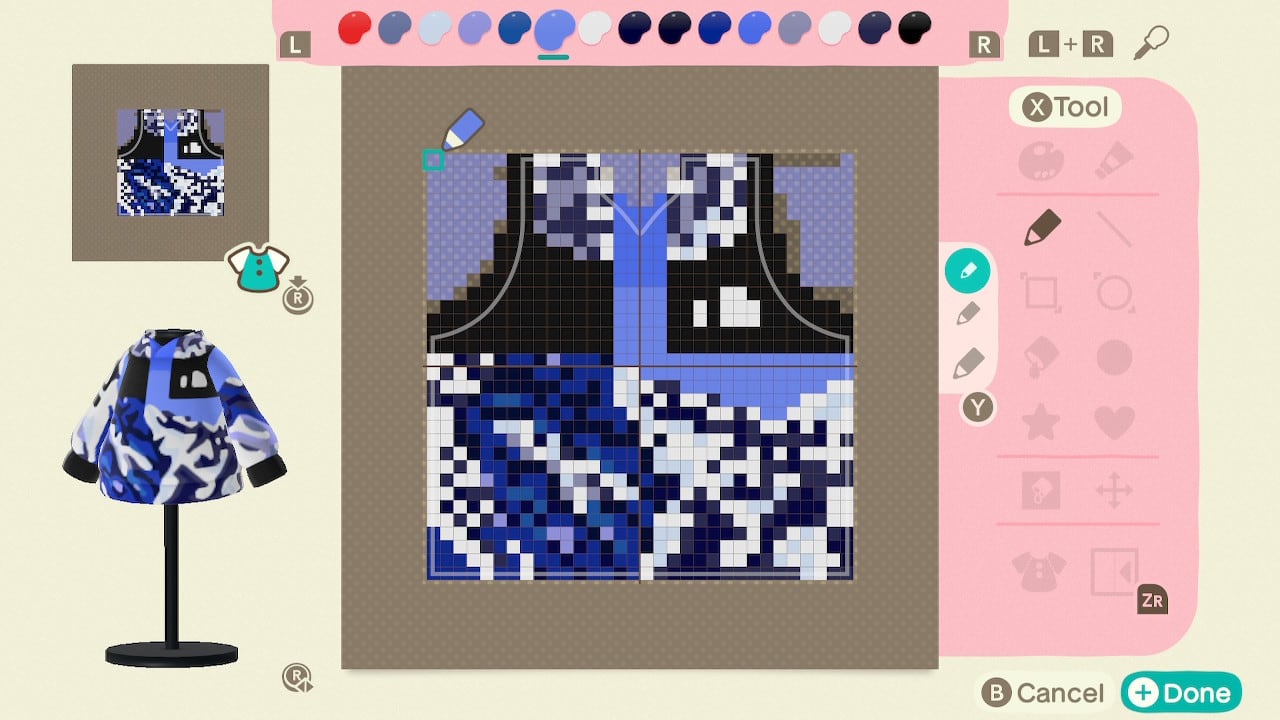 How did you start designing these streetwear pieces in New Horizons? Did you fill it out by hand? Or did you use something else to help you? How long did it take to make each one and how many streetwear pieces have you designed so far?
For me, I think it started with an appreciation for streetwear, particularly when it came to colors, patterns, and variance. There are some very iconic streetwear pieces and "grails" in the culture. I wanted to recreate as many as I could to wear in the game. Now New Horizons does have its limitations. Some designs are too intricate to look any good in this game, but there are some that could work. A lot of it is trial and error, and  trying to simplify the designs as much as possible. From there, it involves a lot of Google image searching for reference photos, and then just hand painting each pixel. I have a background in drawing, painting, and graphic design so this was a fun challenge for me. Making box logo hoodies were really simple, but others were obviously much more complicated. My first real challenge was making an Supreme x The North Face Mountain Jacket from Fall 2017. That one took me almost an hour. But after I actually accomplished that one, I felt motivated to make more ambitious pieces like the Supreme Fur Nuptse jacket, and the BAPE Shark hoodies. Out of the 50 available Pro Design slots, I think I've taken up like 40 of them.
So I see you designed a Polo Snow Beach jacket, a Supreme Faux Fur jacket, and some Louis Vuitton pieces. Is all that just like wall art, or can you wear it too? 
Anything you see hung on a wall or on a mannequin is totally wearable, designed front and back. Some pieces you need to wear to show off the back, like the Supreme faux fur patchwork jacket, the Playboy varsity jacket, and the Pastelle jacket.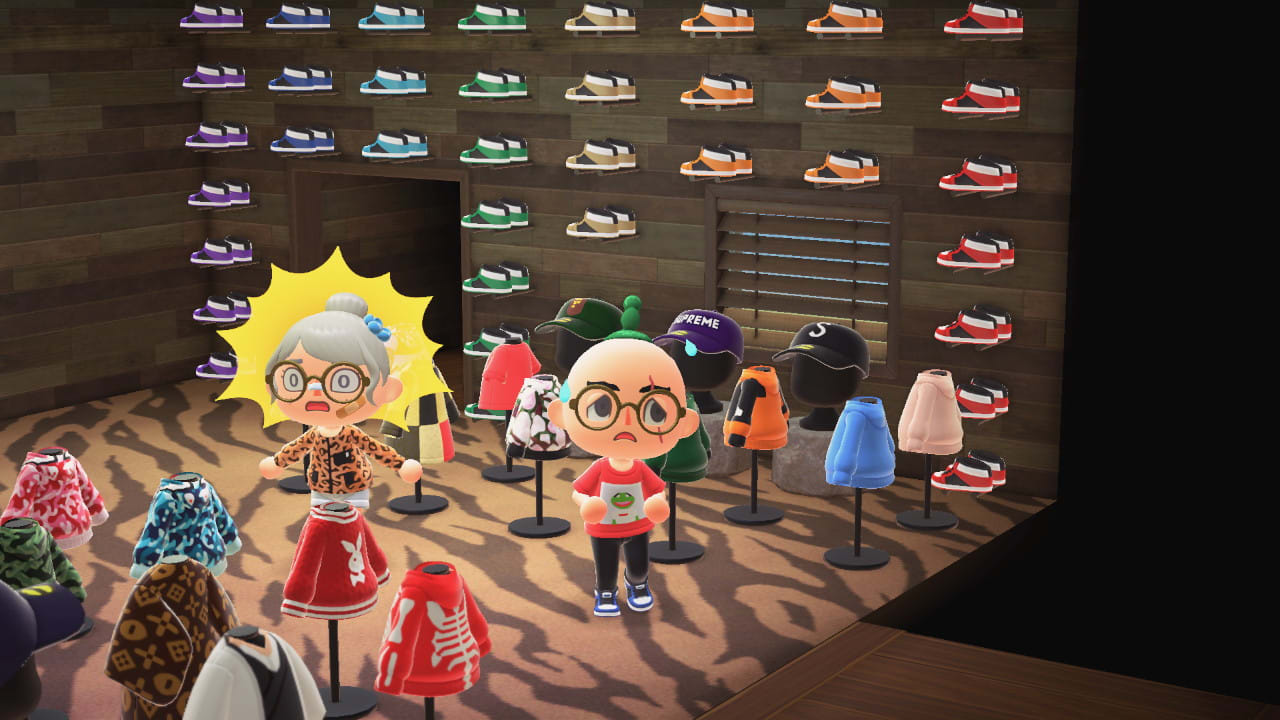 Do you personally own any of these pieces that you made in real life? 
I only own the "Power Corruption and Lies" hoodie, and the "Fur" Supreme Nuptse, but only as a vest. I also have all the hats. I do have a decent archival Supreme collection I've made for myself, but unfortunately a lot of it just isn't really transferable to this game. My biggest wish would be to transfer my Supreme x Wise racing jacket and my Supreme NCAA varsity jacket.
I don't know how Animal Crossing works in terms of people talking to each other over the game. But can other users see you wear these pieces in the game? Or do you have to share it on social media to show it to others? 
There is a social aspect to this game, but people can't just show up unannounced. You can invite your Switch friends or generate a code that allows other people to visit your island. But the biggest selling point in this game is the complete freedom to personally customize your living space for you and everyone else's enjoyment. Anyone who visits sees exactly what you built and set up, from your outfits to your furnishing of the island. You can eventually get the ability to terraform your island, but I don't have that unlocked yet.
Have you seen anyone try to buy and sell QR Codes for in-game streetwear? 
I haven't seen anyone do that yet, no. Although maybe… haha, nope. I really hope that day never comes. For anyone interested in my designs, I haven't unlocked the ability to share my catalogue, but follow me on Twitter for when I will. And I hope that what I've done just inspires other people to make even more, even crazier, things.