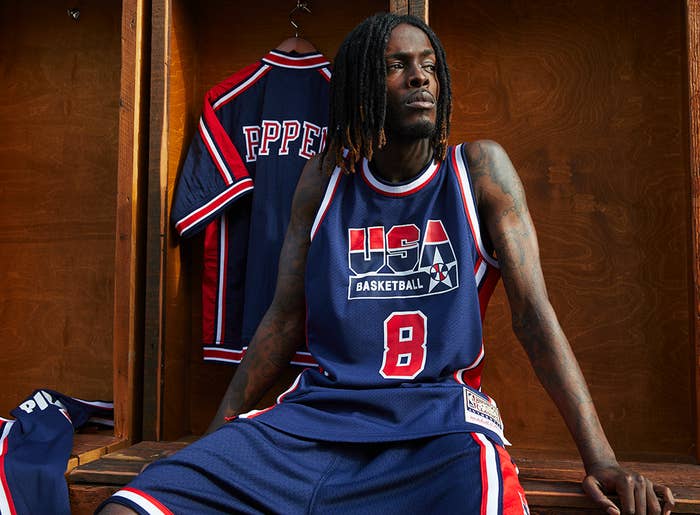 1992 will always be remembered as the year the Dream Team dominated competition in Barcelona, restoring the USA's air of hardwood invincibility and truly expanding the game of basketball to a global audience.
It wasn't just Michael, Magic and Bird who made waves in '92, though. The year was impactful right across the culture with big moves in music and sports.
In 2019, Mitchell & Ness are bringing back the best of 1992 with a new Dream Team collection, including jerseys, tees, warmups and more. Cop the collection now, and take a moment to get familiar with the many ways 1992 shaped the culture as we know it today.
Dr Dre Releases 'The Chronic' and Changes Hip-Hop
The Bulls Go Back to Back and Jordan Takes Over the League
'Ooooooohhh... On The TLC Tip' Introduces a Raw New Female Voice in R&B
For years, the USA opted to keep professional basketball players away from international competition. But after being humbled with a bronze medal at the 1988 Olympic Games, Team USA had a facelift. Gone were the college players (with the exception of Duke's Christian Laettner) and instead, Team USA featured the best of the NBA. Michael, Magic, and Bird were joined by Barkley, Malone, Robinson, Ewing and more.
The Dream Team annihilated the competition in Barcelona and captivated the sporting world. The impact was instant, with more people around the world picking up the game, and the number of international players in the NBA growing continually since 1992. Basketball had been a part of Olympic competition since 1936, but in 1992, the Dream Team made it one of the Games' prestige events.
In 2019, ahead of the upcoming Team USA tour, Mitchell & Ness have released a complete collection of Dream Team apparel. The collection includes authentic jerseys and shorts, shooting shirts, plus warmup jackets and pants, all using the exact specs and materials worn by the players in Barcelona.
You can cop the Mitchell & Ness Dream Team collection now at Glue, Throwback, Rebel Sport, Culture Kings and leading basketball specialty stores. For more info, check Mitchell & Ness on Instagram.