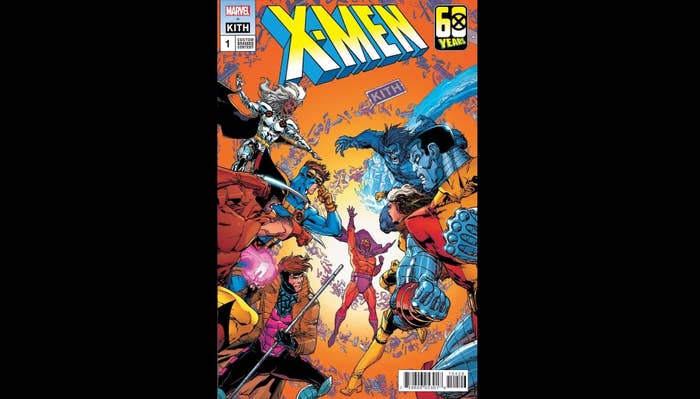 Kith partnered with Marvel to celebrate the 60th anniversary of X-Men.
To honor the moment, the two brands released a collection of apparel, accessories, and collectibles "reimagining iconic X-Men artwork through the Kith lens," according to a press release.
Ronnie Fieg's history of collecting Marvel trading cards as a kid served as the inspiration behind the collaboration.
"Only the people who grew up with me really know this, but the first thing I started collecting wasn't footwear," the Kith founder, creative director, and CEO said in a statement. "The very first thing I started collecting were Marvel Universe Series 2 and Uncanny X-Men trading cards. Those were the items that turned me into the collector I am today. So when we finished our Spider-Man partnership, I reached out to the Marvel team, and I learned that 2023 was the 60th anniversary of X-Men. I knew I wanted to do an X-Men collection and bring the beginnings of my being a collector full circle."
Kith and Marvel worked together with a handful of other companies to bring the collection to life: ASICS, Arcade1Up, Modernica, Upper Deck, and PSA. Kith took archival X-Men illustrations, graphics, and logos, and remixed them to create an apparel line that includes tapestry coaches jackets, wool varsity jackets, satin bombers, as well as intarsia knitwear and vintage tees. The accessories also boast headwear, skate decks, keychains, and pin sets.
Additionally, Kith and Marvel created a special edition X-Men comic book with an original storyline and custom illustrations. "The story follows the X-Men on their 'day off' in New York City, which sees the heroes attend a New York Knicks game, shop at a Kith store, and defeat multiple villains on a subway train," the release says.
Fieg and his friends Greg Yuna, Nigel Sylvester, and Motofumi "Poggy" Kogi are featured as characters in the bespoke comic book.
Paul Gitter, Disney's executive vice president of global brand commercialization, said in the presser, "The authentic connection between Kith and Marvel allowed our teams to create a collection that takes storytelling to a new level. This collaboration offers core fans and the Kith audience the opportunity to celebrate the X-Men through a fresh assortment of modern, lifestyle products, further establishing this iconic franchise with a new generation and audience."
The collection will be available to the public at Kith and Marvel's pop-up at San Diego Comic-Con from July 19-23. The collaboration will release on July 28 at all Kith shops, on Kith.com, and on the Kith app while the Arcade1Up game will drop on July 24.