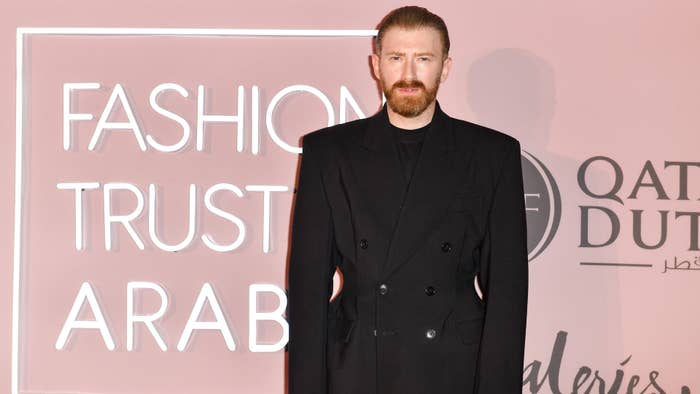 Guram Gvasalia isn't shy to announce that he's next up in the fashion world.
It seems that the 37-year-old creative director of Vetements feels like he's living in the shadow of his older brother, Demna, who is the Creative Director at Balenciaga. But in a new interview with The New York Times, Gvasalia is setting the record straight that he's the one to look out for.
"My brother is six years older. When I'm in the second grade, he's in the eighth. He got certain opportunities in life earlier. But if you consider where I am today, where my brother was when he was my age, I think I'm far more advanced," Gvasalia told the publication.
When explaining why he is set to come out on top, he referenced Kylie Jenner and Kim Kardashian, and Venus and Serena Williams, saying Kylie has "been very successful without having sex tapes, without having to go through all the things that her sister had to go through."
As for Serena, she "managed to kind of take over" from Venus.
Gvasalia continued, "I think my brother is very talented, but I have a completely different approach to things. He had his good run of 10 years, and I think his era is slowly going to its finish line. Now it is my time."
"The moment I do something, the bar is really super high," Gvasalia told The Times. "Because we changed the industry, because we were so shocking. And because my brother has a big name and has done a lot of things. Having him in my life puts more challenge on me. You know, it's not enough to be good. I need to be very good."
Demna and Gvasalia started Vetements together in 2014, and a year later, Demna became CD of Balenciaga. He eventually left Vetements altogether in 2019.
Both Gvasalia and Demna preferred not to speak to The Times for this piece, with Demna telling writer Vanessa Friedman via a spokeswoman that he doesn't do press when it doesn't relate to Balenciaga. He added, "My experience at Vetements was amazing, but I'm leaving it in the past as fond memories."