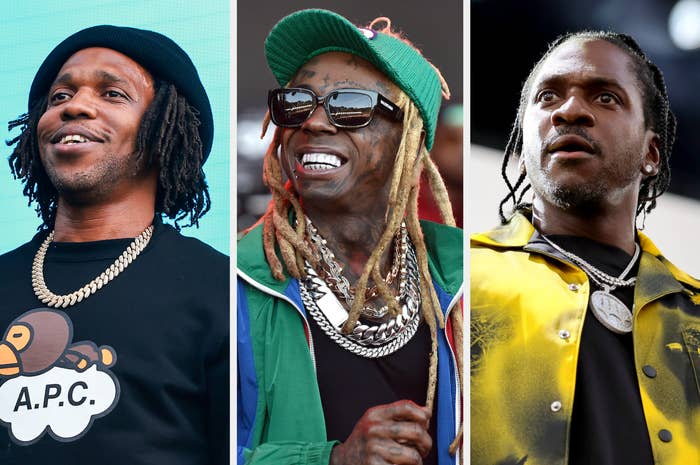 Even after all these years, Currensy is still trying to set the record straight in the Pusha T and Lil Wayne feud.
The most popular fan theory is that Push is mad at Weezy for wearing BAPE. In a new interview with Say Cheese, Currensy explained that he introduced Nigo's brand to Wayne after seeing Jadakiss wear Bapestas in the music video for the 2004 song "Time's Up."
"They shot that video in New Orleans," Currensy explained around the 30:55 mark. "[In the video, Jadakiss] picked his pants leg up and he had green, yellow, and blue Bapestas on. … I felt like that was the first time I saw them."
"That's before I had an N.E.R.D. album and knew that Pharrell had them," he explained. "That's my fault. I'm pretty sure I feel like they had them first but I didn't know. I saw Jadakiss with them first."
He continued, "I always say Wayne caught a bad bag with the Clipse about that. Pusha T was all pissed at [Wayne] for BAPE and it's like I fuckin showed the homie BAPE. He didn't fuckin take that from y'all. He thought I had Converse on in the studio, and I was like, 'No,' and showed him on the computer what they were. Then he proceeded to fucking flex a Lil Wayne wallet and buy the whole website on me."
Pharrell, the Neptunes, and the Clipse are often acknowledged for introducing hip-hop to BAPE clothing. In the early aughts, Pharrell and Nigo became friendly, and the designer started sending clothes for Skateboard P and Clipse to wear.
And Wayne and King Push weren't always beefing. In fact, the New Orleans native appeared on the Clipse's "Grindin'" remix in 2002. Their relationship later soured in early 2006, after Wayne started wearing BAPE, infamously rocking the brand in his "Hustler Musik" video and later on the cover of Vibe. Clipse responded with the diss track, "Mr. Me Too," where they accused people of biting their style—and it was pretty clear who they were talking about.
Later that year, Weezy responded to Clipse's accusations that he copied their style, telling Complex, "I don't see no fuckin' Clipse… They had to do a song with us to get hot."
Wayne also denied biting Pharrell. "Who the fuck is Pharrell? Do you really respect him?" Wayne told Complex. "That n***a wore Bapes and y'all thought he was weird. I wore it and y'all thought it was hot."
Currensy has been trying to clear up Wayne and Pusha's feud for years. In a 2018 episode of Full Size Run, he addressed the two rapper's miscommunication, saying, "They was mad with that dude for BAPE​​​​​​​, and I'm the one who told that dude to get that. So I was like, 'Don't be mad,' like motherfuckers thought shit was dope. [Wayne] wasn't ignoring their existence … he didn't get it from them."