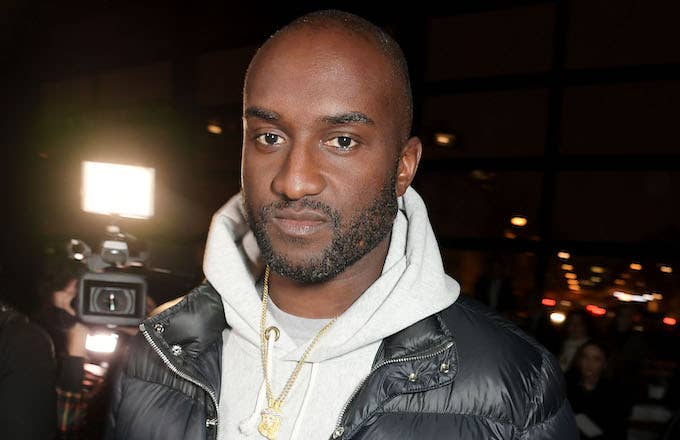 UPDATED 7:02 p.m. ET: A rep for Virgil Abloh has provided a statement to Hypebeast regarding criticism the designer received over issues of diversity. 
"My design team is diverse as the world is big. The video shown was an Off-White ™ dinner at the headquarters in the city of Milan, Italy. This party was to celebrate the hard work of the local Italian team."
Off-White also sent out a statement on the matter. 
"When questioned about diversity, Virgil Abloh takes pride in being African and American. His design team is diverse, and his practice has been built on making the art and design industry an inclusive community. Fellow designers like Samuel Ross, Heron Preston, No Vacancy Inn – by Tremaine Emory and Acyde Odunlami, Everard Best, Photographer Fabien Montique, amongst many others have been given a platform via Off-White ™. These are just a few of the many global voices and people sitting at the table and helping evolve the brand. Off-White ™ is a black founded and owned business."
See original story below.
Virgil Abloh's Off-White staff has been criticized for being too ... well, white.
The designer received backlash this week after he posted photos of a recent Off-White event attended by his employees. The pictures included shots of the brand's melanin-free "graphic team" and art directors, who Abloh described as a "crazy talented crew of kids." Followers were quick to point out the lack of diversity among the staff and began accusing Abloh of failing to support other black creatives.
Abloh—Louis Vuitton's first black artistic director—responded to the criticism Friday afternoon, posting photos of POC creatives whom he has worked with. The list of figures included Kid Cudi, Playboi Carti, Serena Williams, Heron Preston, Tremaine Emory, Andre Walker, and Fabien Montique.
He also shared a screenshot of a 2017 Complex report about his work with Chicago's at-risk youth, as well as a Vogue story about his support for an immigrant soccer team in Paris.
He concluded his series of Instagram stories with these words: "Follow my whole design team. Support their creative ideas. Buy their clothes. Attend their events. Like their photos [...] Be global. Travel. Eat different food. Listen to techno. Walk don't Uber. Love your neighbor."